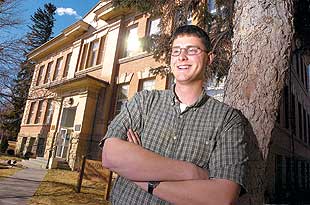 Scott Steinbacher, a Montana State University - Billings junior, is taking a full load of classes and working up to 30 hours a week on campus this semester.
The tall, slender 21-year-old student is so busy working toward a degree in business management that he doesn't have much time to worry about the cost of college.
Although he received some grants the first couple of years, he now borrows much of the nearly $4,500 it costs each semester for his tuition, books and living expenses. By the time he graduates, he may have more than $25,000 in loans.
MSU-B sophomore Kevin Majewski, 18, works 10 hours a week in the university's grants office in addition to going to school full time.
During summer and school breaks, he works 40 hours a week or more at his grants office job and at another job in the dorms, checking people in and out and cleaning rooms. He's also active in student government.
Although less than halfway in his quest for a bachelor's degree, Majewski already has taken out $10,000 in loans and expects to have at least $20,000 in debt by the time he graduates.