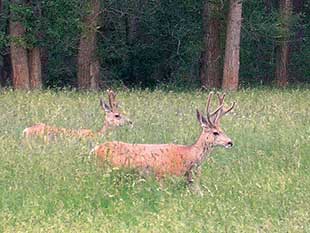 Mule deer numbers in the prairie areas of southcentral Montana are in serious decline.
"It's probably related to the extreme drought conditions," said Ray Mulé, Region 5 wildlife manager for the Department of Fish, Wildlife and Parks in Billings. "The mild winters are the only things that have saved us from a catastrophic decline."
According to spring surveys last year, Region 5 had a low of 11 fawns per 100 adults. The high in the region was 37 fawns per 100 adults. Mulé said the average wildlife managers like to see is 30 to 60 fawns per 100 adults.
"So even our highest area is low," Mulé said. "Some districts are down only 5 to 10 percent. Others are down as much as 65 percent in total numbers. None of them are up."
To help slow the decline, Region 5 requested and received a more restrictive set of regulations for the 2005 hunting season in five of its 12 hunting districts. The hunting districts with more restrictive seasons - 500, 570, 575, 580, and 590 - cover a large swath of country. Here's a visual: make a loop traveling east from Billings along Interstate 94 to Custer, then north from Custer to Melstone, then west from Melstone along Highway 12 to Harlowton, south from Harlowton to Big Timber, then east from Big Timber along Interstate 90 to Columbus, carving south to encompass the lands between the Stillwater River and Rock Creek drainages before returning to Billings.
Under the more restrictive management, hunters would no longer be able to hunt mule deer does in the five districts, only antlered bucks.
In addition, FWP will allow mule deer doe hunting in HD 530 only on B licenses. The large district, covering portions of four counties, is bordered on the south by Highway 12 between Ryegate to the west and Melstone to the east and bordered on the north by the South Fork of Flatwillow Creek and Highways 244 and 200.
Region 5's mountain mule deer populations are weathering the decline better than their prairie counterparts.
Mountain mule deer numbers tend to be more affected by harsh winter conditions, Mulé said. "Typically, summer conditions are fairly good. It's the deep winters that really drive those populations."
But on the prairies, it's a matter of forage. Poor spring and summer forage means deer go into winter in weakened physical condition. Bucks especially are prone to dying in winter following the strain of the fall rut.
Although restrictive hunting regulations in the five districts will focus hunters on bucks only, Mulé said fewer antlered deer will be found. That could continue for four or five years, Mulé said, because fawn numbers are down.
"There could be a big gap in age structure," Mulé said. And even when there is a rebound in overall deer numbers, hunters may still be hard pressed to find mature bucks, he added.
The decline in deer populations was reflected at the Region 5 game check stations this past season, but it was slight. Mulé said the mule deer harvest was down only 5 percent below average. In comparison, the elk harvest was 15 percent above average, whitetail deer were 30 percent above average and the antelope harvest was about average.
But in a look just at the mule deer buck harvest, Mulé said only 15 percent of the total were yearlings, the lowest since 1991.
"The point to be made is that the number of yearlings out there is low," Mulé said.
He said antler growth was also poor in yearling bucks, and antler growth is very sensitive to forage conditions.
Skimpy antler growth was also reflected in the antelope buck harvest, Mulé said. According to Region 5 check station statistics, 2- and 3-year-old antelope bucks had their lowest rate of horn growth ever recorded. The records go back to 1991.
Despite the discouraging outlook for Region 5's mule deer, Mulé said big game populations are incredibly resilient.
"I don't like to get too excited," he said. "They always come back and rebound."
How's the rest of the state?
Fortunately, Region 5's mule deer decline isn't repeated in other areas of the state.
"The interesting thing is we've essentially had no winter," said Gary Hammond, chief of the wildlife management bureau for Fish, Wildlife and Parks. "Given the fact that we've had a mild, open winter, even animals that are not in prime condition will survive."
The exception, in addition to Region 5, was the southeastern corner of the state south of Miles City and around Broadus where drought persists.
But in southwestern Montana, which years ago saw a significant decline in mule deer numbers, their populations are doing well under more restrictive regulations. In 1997, FWP enacted controversial regulations allowing buck mule deer hunting by permit only and halted all antlerless mule deer hunting. Many of those districts have evolved to unlimited buck permits, which are good only in the declared district.
Hammond said with the populations rebounding, the agency is devising criteria to trigger when those permits can be dropped.
"When we get good fawn production and fawn survival, we want to have a strategy," Hammond said.
Be the first to know
Get local news delivered to your inbox!