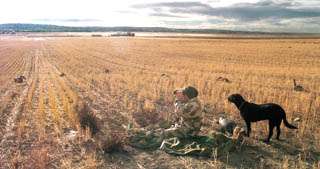 The Canada geese wings swished, swished, swished as they swooped overhead, the sound punctuated off and on by sonorous honks.
They warily eyed the formation of three dozen decoys in a harvested wheat field. It looked like they wanted to land, but then they flared and flew off to a nearby field.
Late-season geese are notoriously cautious. By January, they've seen a lot of decoy spreads and heard hundreds of calls. Simple mistakes by hunters can make days afield frustrating. What do the experts do to boost their chances?
Three things seem to be the most important to ensure Canada goose hunting success as the season wears on, and geese get wary:Scouting, to ensure you know where birds are landing;
Concealment, so geese aren't scared off by ill-hidden hunters;
Flagging, to give stagnant-looking decoys some lifelike movement.Noted goose guide and decoy inventor Darrel Wise, of Corvallis, adds another element to that list – he likes to put out fewer decoys late in the season.
"Maybe a dozen and a half," he said.
Seasons The goose season in the Central flyway runs through Jan. 11, 2002. The daily limit is five light geese – snow, blue, Ross' – and four dark geese – all other geese. The possession limit is twice the daily bag limit.

In the Pacific flyway the goose season runs through Jan. 6, 2002. The daily limit is three light geese and four dark geese. The possession limit is twice the daily bag.
addition to designing his own silhouette decoys, Wise guides and has made three videos on goose hunting. He lives south of Missoula, in the Bitterroot Valley, and guides hunts in Alberta, Canada.
In his newest video – "Up Close & Personal, Six Simple Steps to Successful Goose Hunting" – Wise details some of the tactics he uses to fool geese into close gun range.
Scouting tops Wise's list of six steps to success. Putting the geese "to bed" at night is the best way to know where geese will be in the morning. Geese usually return to the same field to feed the next day.
"You just have to get there first and hide yourself," Wise said.
Miles City goose hunter Eric Deseth agreed. "I like to be in the exact spot where the geese were the night before," he said.
If you're worried the geese won't come into the field you picked, there is one tricky tactic to keep them out of adjacent fields. One hunter told of some friends who made cardboard cutouts of black Labrador hunting dogs and set them up in the fields they weren't hunting.
Deseth said he'll even scare geese off adjacent fields, owned by the same person, if they are within a half-mile of his spread.Concealment is kingOnce hunters have picked a hot spot, they've got to set up the decoys and hide.
"Concealment is the most important thing you have control of," Wise said. "If you're not hidden, you're not going to do well."
Wise makes a small blind out of wire fencing and steel rebar. He dresses the wire up with local grasses, weeds, stalks or brush. The homemade blinds take about 10 minutes to create and work well along fence lines and ditches where grasses and brush are taller.
"The key to it is to have a top," he said. "When you brush it up you can't see it from 10 yards."
Wise also likes to dig pits in fields to hide in.
"Coffin pits are just killer," he said.
Wise uses two lightweight sheets of plywood to cover the pit. Over that he throws some dirt and natural ground cover to blend it into the surroundings. He cuts a hole in the top sheet, allowing the hunter to see out. Over the hole he mounts a magnum shell decoy to hide the hunter's head.Flag geese inGiving a decoy spread life is another way to pull in wary geese. This is achieved in two ways, through calling and by giving the appearance of motion with flags.
There are commercial nylon flags on the market, starting at about $20. Some are made out of nylon with fiberglass struts. A long dowel or rod is attached to extend the flag and help give it a flapping motion. The movement attracts geese and gives the decoys a more lifelike appearance from a distance.
Wise said he starts flagging geese that are up to two miles away.
Deseth said he's had good luck with jack kites attached to a fishing rod. As the geese get closer, he reels the kite in.
"I'll flag them all the way in until they set their wings to land," Deseth said. "If they show any sign of flaring off, I'll flag again.
"I probably flag more than I call," he added.Better off to shut upAlthough calling can make a decoy spread sound alive, Wise said most hunters probably should not use a call.
"Eight out of 10 guys would be better off leaving their call in the truck," he said. Because if you don't sound like a goose, you're not going to pull geese in.
Wise said goose calls used to be poorly constructed and unrealistic in tone. He said he went 25 years without calling. Now he favors a Sean Mann Eastern Shorty ($49.95 to $159.95 depending on material).
Mann, a World Goose Calling Champion, includes an instructional tape with his calls.
Wise said the Shorty is easy to blow and makes all the goose sounds you need.
But then he adds, "Calling is the least important part of the whole picture."
Plenty of geese to go around By BRETT FRENCH Gazette Outdoor Writer

The Billings area can offer great goose field hunting to people who have access, or can find a good Block Management parcel.

Jim Hansen, Central Flyway coordinator for the Department of Fish, Wildlife and Parks, said hunters still have a pretty good chance of getting access to farmers' fields if they're polite, persistent and knock on a few doors.

And, if the mild weather continues, the geese should stay through the end of the season, he said.

"With the way things are going this year – not much snow, not much cold weather – they could stick around for awhile," he said.

There are plenty of geese to go around. Hansen said past waterfowl counts have topped out at 60,000 to 80,000 geese between Billings and Miles City on the Yellowstone River and up the Bighorn River.

Hansen said that number may drop to 15,000 to 20,000 geese in a cold year, but that's still a load of birds flying around.

Geese tend to be creatures of habit, which is to a hunter's advantage. If the weather is really cold, Hansen said, the geese may only fly off the river once a day to feed in surrounding fields.

"When it gets below zero they stay in bed longer," he said.

Otherwise, geese will often fly off the river in the morning to feed, fly back to the river around lunch time and then hit the fields once more before returning to water at sunset. With snow on the ground, the geese may not return to the river at midday since they can get moisture for digestion from the snow.

"They feed on a little bit of everything out there," Hansen said.

Wheat, sugar beet, alfalfa and hay fields are just some of the foods that bring geese in. Hunters may also see geese on dirt fields. They could be loafing in the dirt, Hansen said, or they might be picking over the refuse left from plowed fields.

"They don't like cornfields until they've been harvested and they don't like 16-inch high stubble," Hansen said. The tall stubble hits their wings and makes it difficult to land and take off.

In an article on www.camohunter.com, Mike Gnatkowski recommends setting up decoys in forms similar to the letters J,W,V and C.

"The

on the web Check out Darrel Wise's Web site at www.thewiseman.com/wiseman.htm.

Wise's decoys are available through his Web site, at sporting goods dealers and from Cabela's. The Pro Series cost $129.95 per dozen plus shipping and handling. His video is $19.99

For Mike Gnatkowski's article, check out www.camohunter.com/decoys.html

Sean Mann's goose calls can be ordered from his Web site at www.duck-goosecalls.com/index.html, through Cabelas, or sporting goods stores.

closed end of the letter should be the closest to the blind and facing the wind. I usually place more decoys at the closed end of the letter and fewer toward the open end. Birds generally land where there are the fewest decoys," he wrote.

Use the decoy farthest from the blind as a distance market, setting it no farther than 30 to 35 yards. Any goose farther away is outside shooting range.

Miles City goose hunter Eric Deseth said his decoy arrangement is dictated by the weather. He places decoys closer together in cold weather, further apart on warm days.

Wise uses his own Real Geese Pro Series Canada goose decoys for his spreads. The silhouettes have a nonreflective, textured surface, also a plus when hunting wary honkers. If you've already got a good set of decoys, there are new light-absorbing paints you might want to use to touch up those old decoys and make them look more lifelike.

Deseth said he steps back 100 to 150 yards to check out his spread and make sure it looks good. "If it can't fool me, it can't fool the geese," he said.

Another tip to make a spread look more realistic is to take a broom along, Hansen said. Next to his decoys, Hansen sweeps round circles into the snow to simulate spots where geese have landed.

Shotgun loads recommended for geese by the Cooperative North American Shotgunning Education Program (CONSEP) are: BB and BBB for geese over decoys and BBB to T for geese at long range. The CONSEP steel shot lethality table can be found in the state waterfowl regulations booklet.
Be the first to know
Get local news delivered to your inbox!