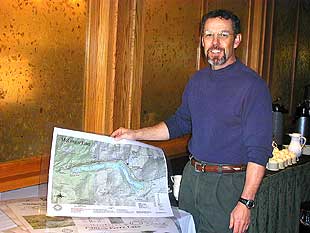 Mark Henckel MONTANA OUTDOORS
Think of Mark Reller as the lone mapmaker with a goal of providing high quality fishing maps of Montana waters.
As such, Reller is filling a niche that's sadly in need of filling. Very few lakes in Montana have good bathygraphic maps available, which show the underwater depth contours of points, bays and other likely fishing spots.
While some of his maps are based on old Montana Fish, Wildlife and Parks or USGA data sets, Reller, of Helena, does most of his mapping with his own four-boat fleet and GPS linked to sonar.
"I operate a small GPS mapping firm called Constellation Services," he said. "I use GPS (Global Positioning System) and an integrated sonar system to create maps of underwater terrain. I've mapped nearly 20 lakes in Montana and a handful more in Oregon. These include Canyon Ferry, Hauser, Holter and many others.
"My equipment rotates between four boats so I can match the boat to the water, from a pack-in boat for high mountain lakes to a boat for big lakes. Out of water, I've used the GPS equipment on bikes, backpacks, skis and snowmobiles to delineate trails or other features of interest," he said.
So far, many of the lakes that Reller has mapped have been in Western Montana, but his operation is starting to head eastward this year with sights set on places like Nelson Reservoir, Tiber Reservoir and Tongue River Reservoir - maybe even Fort Peck.
Reller's mapping starts with a GPS tour around the body of water to set the perimeter. Then he starts following a gridwork pattern.
"I drive a controlled grid over each body of water using GPS navigation techniques," he said. "Transects and longitudinals are spaced to accommodate the body of water, usually in the 100-meter spacing range for large lakes and 25 to 30 meters for small lakes. Depths are collected every 25 to 50 feet or more often if I see features are changing rapidly. Each depth is tagged with a GPS coordinate to make a data point.
"Even a small lake generates thousands of data points," Reller said. "These points are processed with a surface contouring computer package that generates depth contours by interpolating between the transects. I use GPS software, GIS software and CADD to make the final product."
What Reller ends up with are contour lines showing the lake depth in 5-foot or 10-foot increments. He then colors the lines for each depth to make the map easier to read.
"While at each lake, I also GPS the locations of points of interest such as boat launches, day-use areas, campgrounds, marinas, stores, lodging, etc. I also, as needed, GPS the roads, mile markers, trails, etc. And I take a picture of the lake," he said.
Reller then prints out the maps in poster size and laminates them between sheets of heavy plastic. He said most people roll the posters up to store them and many anglers carry them that way in the boat.
"The size of the lake determines how long it takes to do the grid," he said. "I have mapped some lakes at night to avoid boat traffic.
"Everyone asks if I fish when I collect data," he added. "Sometimes yes, but generally I am cruising at 5 to 7 mph which is a bit fast to troll. But I have picked up quite a few rainbows at that speed and even a couple of grayling. The equipment is so accurate that it picks up the boat movement, such as wind drift, when you land a fish, so I don't fish that often. However, the sonar does show fish and I have saved some data in a personal 'fish here' file."
Reller said his most requested lake has been Fort Peck Reservoir, but he admits that even thinking about mapping something that size has been daunting.
"From a publishing standpoint, it would be logical to create a 'book of bays' or a series of many Fort Peck posters to cover the entire lake," he said. He's thinking about the Hell Creek area as a possible starting point. But no plans have been confirmed yet for the big lake.
Reller's maps sell for about $10 each and can be found in about 30 retail outlets, mostly in Western Montana. But he said that anyone who couldn't find a retail outlet could contact him by e-mail at mreller@mt.net or leave a voice mail at (406) 457-9197 and he'd be happy to help them.
Mark Henckel is the outdoor editor of The Billings Gazette. His columns appear Thursdays and Sundays. He can be contacted at 657-1395 or at henckel@billingsgazette.com.
Lake map list
Posters are available for the following lakes:
Canyon Ferry Reservoir
Hauser Reservoir
Holter Reservoir
McGregor Lake
Stillwater Lakes
Thompson Falls Reservoir
Lake Frances
Salmon Lake
Placid Lake
Alva Lake
Inez Lake
Flathead Lake
Georgetown Lake
Thompson Chain of Lakes
Loon/Horseshoe
Data sets collected with maps ready by spring:
Lake Mary Ronan
Como Lake
Tally Lake
Holland Lake
Possible target lakes for 2005:
Nelson Reservoir
Tiber Reservoir
Tongue River Reservoir
Clark Canyon Reservoir
Deadman's Basin
Georgetown Lake (new data)
McDonald Lake
Swan Lake
Fort Peck n Hell Creek