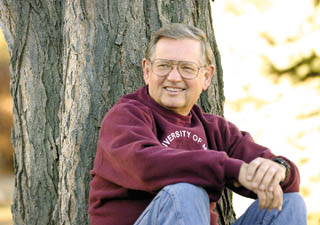 Montana's collection of wilderness areas is largely due to the efforts of one person - former Democratic Sen. Lee Metcalf.
Metcalf, who died in 1978, was instrumental in the creation of the 1964 Wilderness Act. Through the act, more than 105 million acres in the United States have been set aside, just more than 4 percent of the total U.S. land base including Alaska, according to The Wilderness Society.
During the contentious times when conservationists battled big business, Billings resident Teddy Roe was in the trenches as Metcalf's legislative director.
"It was a dream job," he recalls in a recent interview. "But very difficult. Very contentious. It was a very controversial period.
"We were called communists daily for trying to preserve a portion of Montana for Montanans," he says.
A former newspaperman and editorial writer, Roe also served on Sen. Mike Mansfield's staff for 10 years. In December, Roe was honored by the Montana Wilderness Association for his volunteer work with its local branch, the Eastern Wildlands Chapter.
He takes no credit for the award.
"In my opinion, the award was to the chapter. It's the most dynamic chapter in Montana," he said.
Roe didn't show up to accept the honor. He doesn't like the spotlight. He even regretted consenting to an interview. But, true to his word, he followed through.
First things first: Don't call him Ted, he'll ignore you. And don't call him Theodore or he threatens to punch you in the nose. It's Teddy.
Roe is plain, slow and thoughtful in what he says. He's also as unabashedly an environmental activist today as during his years on Metcalf's staff.
Roe grew up on Billings' South Side. He had his first full-time job when he was 11. He almost flunked out of school in ninth grade. But he stuck it out, eventually graduating from the University of Montana with a journalism degree in 1959.
Although he left the state shortly thereafter, Roe says he knew he would always return.
"Montana has always been my home," he says. "My heart was always here even when my carcass wasn't."
With his return, Roe once again became involved in wilderness activism. At his home computer he logged more than 800 e-mails in a recent fight to remove a cabin from the Absaroka-Beartooth Wilderness.
…There's less and less excuse for abusing a precious, shrinking resource as time goes by.
— Teddy Roe, Billings environmentalist
The battle over the Crippen cabin near Nye was what prompted the award from the Montana Wilderness Association. The cabin, given to MSU-Billings, was nestled just inside the Absaroka-Beartooth Wilderness. Wilderness, by definition, is supposed to be free of the signs of man. So when the cabin was rescued from demolition by Sen. Conrad Burns' political maneuvering in Congress, Roe got his hackles up. Through his and others' efforts, MSU-Billings eventually agreed that the cabin should be torn down.
The Absaroka-Beartooth holds a special place in Roe's heart. Growing up in Billings, he fished, hunted and hiked in the mountainous area, about an hour's drive west of his home. While working on Metcalf's staff, he helped lay the groundwork for protection of the Absaroka-Beartooth, the largest contiguous area above 10,000 feet in the United States.
Looking back, Roe says Metcalf's most vocal adversaries were the big timber companies. Following World War II, the companies were fueled by a huge demand for lumber to build new homes. Roe says then-President Eisenhower told the forest industry to come and get the Northwest's trees. Eisenhower's secretary of the Interior even proposed giving federal land to timber companies to encourage harvesting.
"The big timber companies were pretty much having their way with Montana," he recalls.
"That's one of the things that energized Lee," Roe says. He quoted Metcalf as saying " 'Sometimes a vertical tree is more valuable than a horizontal one.' He was one of the original environmentalists."
Metcalf argued that extractive industries had run their course. He also had the foresight to recognize that some day Montana would be appreciated - even sought out - for its wild places. That was before tourism occupied a major place in the state's economy.
"The danger today is having a pristine area loved to death," he says. But if America had more wilderness, pressure would be dispersed, he reasons.
Without more protected lands, Roe says, "The day is coming when you'll have to have a permit to go into a Montana wilderness area."
Even now, with tourism one of the top components of the economy, Gov. Judy Martz has hailed extractive industries as financial saviors of the state. To that end, she has pushed development of coal and coalbed methane in Eastern Montana and logging in the state's western region.
Roe says what was done to lands in the past was short-sighted and to fall back on extractive industries is equally imprudent.
"You have to look over the horizon," he says.
He also realizes that there has long been an ebb and flow with regard to public land in America.
"But there's less and less excuse for abusing a precious, shrinking resource as time goes by," he says. "To damage the natural resources on the Rocky Mountain Front, for example, to extract a few seconds of national energy is not good stewardship of the land.
"The traditional handling of public lands has been dictated by economics and a lot of the abuses have flowed from that. Economics should be taken into account, but the resources still belong to all Americans, and all Americans will have a say."
That's Roe's way of saying that legally Montanans' comments carry no more weight than out-of-staters' when it comes to deciding how public lands should be managed.
To multiple-use advocates, who claim public lands are being locked up, preventing them from riding their snowmobiles, motorcycles or all-terrain vehicles, Roe offers little sympathy.
"The West is huge. There's lots of space in Montana to run snowmobiles or for motorized recreation. But there's very little left of our original legacy."
"Wilderness supporters today are engaged in a holding action to try to convince people that we still have unfinished business with wilderness," Roe says. "Barely 4 percent of Montana is wilderness. That's not much."
Whereas extractive industries used to pose the biggest threat to wildlands, Roe says that role is now played by motorized recreationists and their sometimes-illegal trail blazing.
He points to the Pryor Mountains, southeast of Billings, as an example. He also uses the management of the Pryors, by three federal agencies and the Crow Reservation, as an illustration of the inconsistencies of fragmented management.
"Damage is occurring despite the best intentions of those agencies," he says, as recreationists continue to carve new roads and trails.
"Unwarranted roads and trails not only damage the ecosystem, but affect (the Pryors') preservation."
Roe praised the work of local conservation organizations and their attempts to protect the Pryors. "If it's ever going to work, the Eastern Wildlands Chapter and its sister organizations are going about it in the right way."
The problem with campaigning to protect areas, Roe says, is that in the process of highlighting the landscape to gain public understanding and attention, more people are attracted to the land.
Even people unable to enter the wilderness should take pride in the lands that have been set aside.
"A lot of people won't go there or won't be able to, but it's theirs," Roe says.
Mountainous wilderness is also important in another way, as a watershed for downstream farms and cities.
"How much water would be in the Yellowstone if the slopes of the Absaroka-Beartooth were denuded?" he says.
"We are the good guys," he says of environmentalists. "The Absaroka-Beartooth didn't just happen. It's a monumental plus for Billings and its environs."
The Absaroka-Beartooth Wilderness was created in 1975 by President Carter. Since then, Montana's congressional delegation has been unable to pass another wilderness bill.
"The thing about wilderness and the Absaroka-Beartooth is how much it's taken for granted now," Roe says. "What a positive thing it is for Billings. In addition to its wilderness values and the great joy it gives people to go up into the area, it's a valuable recruitment tool for the chamber of commerce trying to get business to come into this area.
"The thread really still is that over time people will realize that this is the right thing to do and why didn't we do more of it.
"That's why I say we are the good guys. The people who are supporting wilderness are getting nothing out of it in a personal sense, other than a psychic satisfaction.
"To the extent that environmentalists are successful, your children and grandchildren will thank them."
WILD FACTS According to The Wilderness Society, 3.7 percent of Montana (3,442,416 acres) and 5 percent of Wyoming (3,111,132 acres) are designated wilderness.

Wyoming's biggest wilderness is the Washakie (704,274 acres). It is part of the Shoshone National Forest in north central Wyoming. The state's smallest wilderness is Encampment River (10,024 acres), part of the Medicine Bow National Forest in southern Wyoming.

Montana's largest wilderness is the Bob Marshall (1,009,356 acres), part of the Flathead and Lewis and Clark National Forests. The state's smallest is Medicine Lake (11,366), a national wildlife refuge in northeastern Montana.

The last year that wilderness was designated in Montana was 1983. Wyoming last designated wilderness land in 1984.
Be the first to know
Get local news delivered to your inbox!