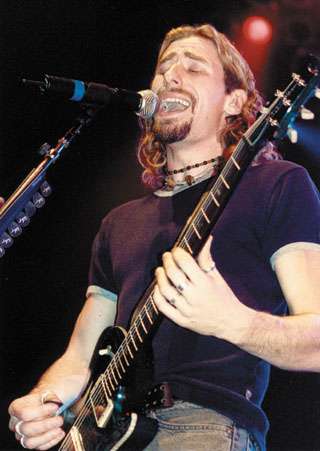 Nickelback certainly has earned more than a nickel back for its hard work. With "How You Remind Me," it has become the first Canadian rock band since the Guess Who to have a No. 1 single in the United States and Canada at the same time.
The band has gone from touring in one bus and one trailer to using four buses, four semi-trailers and a crew of 30.
"The statistics are too mind-boggling. I don't get it, and I don't want to," guitarist Ryan Peake said on the phone from the Albuquerque Convention Center, the first stop of the band's current tour.
Nickelback's road to success reads like an American dream. Even its name is derivative of its humble beginnings. Bassist Mike Kroeger used to work as a Starbucks cashier. Coffee was $1.45, and he would always give a nickel change back.
Growing up in Hanna, Alberta, Peake, Kroeger and Kroeger's brother Chad formed a cover band that had a small following in western Canada. But the boys soon grew tired of playing other people's music.
Now at concerts, Peake said, he sees everyone from 9- and 10-year-olds to 50-year-old construction workers.
"If you like the album, come see the show," Peake, 29, said. "We are definitely a live band first and foremost. We hope that when people walk away from the show, they will think the show sounded better than the CD."
If you go: Nickelback plays Billings on Thursday. Good seats for the Metra concert are still available. Tickets are $26.25 and all seats are reserved.
Peake said the band, with a sound reminiscent of Creed and Staind, plays rock, not alternative, or alternative of alternative, or any other label people stick on the music.
"We're not out there to necessarily be role models," he said. "We're a rock band, so be prepared. We make music that you can sing along and hum to. But also expect us to swear and drink on stage."
Asked about "How You Remind Me," Peake said that one day Chad came over with the skeleton of the song, and as soon as he heard it, Peake knew Chad had something. In 10 minutes, he said, he and Chad had pieced the song together.
They would love to keep making hit singles, Peake said, but the band doesn't want to become a "slave to radio hits."
In their off time, band members like to play golf and to watch other bands. Though Peake's own roots are in country (he loves bluegrass), he listens to such acts as P.O.D., Incubus, Bob Marley, Pantera and basically "any music that sucks you in."
His love for music began when he watched his father play bass in a country band. He then shared his brother's guitar. He now has about eight guitars.
Guitar has become "an addiction," he said, "a horrible addiction. Some days you want to smash it. And other days it makes you feel so good."
Copyright © 2002 Knight Ridder/Tribune Information Services. All rights reserved. This material may not be published, broadcast, rewritten, or redistributed.