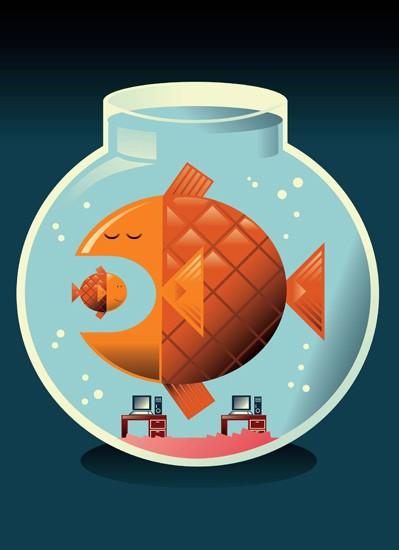 HACKENSACK, N.J. - Carmine Cacciavillani won the business equivalent of a megabucks lottery a couple of months back.
He sold his company - Palisades Technology Partners - to mega-giant IBM.
Like a number of tech companies purchased recently by major players, Cacciavillani's Englewood Cliffs, N.J., business now sits snugly under the wing of a corporation with deep pockets and numerous assets.
"It's like going from single-A ball to signing with the Yankees," said Cacciavillani, whose company's 2005 annual revenues topped $25 million.
Along with Palisades Technology, other recent deals include Microsoft buying Fort Lee, N.J.-based Whale Communications in July. And Electro-Radiation Inc., formerly of Fairfield, N.J., was purchased by technology giant Honeywell.
In each case, a large corporation purchased a smaller one for an undisclosed sum and the key employees stayed to work for their new bosses.
For many small and midsize tech startups these days, being purchased by a larger company is an increasingly attractive option, especially with investors losing their appetite for IPOs.
But as Cacciavillani's story and others illustrate, the stars need to be aligned just right before a deal is sealed. Many purchases take place, not out of the blue, but after lengthy partnerships where the parties get to know each other. Other purchases result from deals brokered by investment bankers hired to link buyers and sellers together.
Either way, a smaller company selling to a larger one is "a lot like getting married, and becoming part of the family," said Cheryl Traverse, CEO of Jersey City-based Xceedium and a veteran chief executive whose specialty is building small technology companies into bigger ones.
When his company was just getting off the ground, a big banking client gave Cacciavillani an ultimatum.
They'd do business if he took out an additional million-dollar life insurance policy and named the bank as beneficiary.
"They wanted to cover their risk," said Cacciavillani. It was one of the challenges of running a start-up.
Cacciavillani, whose company developed software used by large banks for mortgage processing, grew from eight employees in 1999 to just over 100. He dealt with all the growing pains and business headaches that accompany a new venture: from handling payroll to buying insurance to coping with employee benefits.
Without question, Palisades Technology Partners had a strong product - Cacciavillani and his team knew the mortgage business and had success getting their software into a significant number of the nation's largest banks.
But he knew the next step was likely the hardest - to grow Palisades Technology into the industry leader. "Five out of 10 banks use our software and that's pretty good but it's not 10 out of 10," Cacciavillani recalled.
Palisades' mortgage-processing system ran on IBM hardware and software, but it wasn't until last year that the two companies really got to know each other. Seeking business from a major bank, IBM and Palisades teamed up to run a free "stress test" to prove the capacity of Palisades' software and the IBM systems.
Working together for a common goal, Palisades and IBM spent long hours together and in the end they both won the bank's business. IBM sold new hardware to the client and Palisades sold its software.
Several months later, in early 2006, Cacciavillani picked up the phone. IBM was on the line ready to talk about a possible acquisition. Cacciavillani was pleased but not surprised. "We knew it would be a good fit," he said.
With Palisades, IBM gained a foothold in the mortgage-processing business.
With its purchase of Fort Lee-based Whale Communications earlier this year, software giant Microsoft gained a key product in an emerging market.
Whale, which has offices in several countries overseas, developed a range of software products aimed at providing security for business users who access their corporate network from remote locations.
The company's dealings with Microsoft "evolved over time," said Doug Mazlish, the former vice president for business development at Whale, who has stayed with the company.
The companies' relationship began in the late 1990s. Whale's developers wrote their software program to run on a Microsoft Windows platform, and subsequently much of Whale's sales efforts targeted Microsoft's customers.
"Not only were we tied together from a technical standpoint, but we were also tied in from a sales and marketing standpoint," said Mazlish.
In Whale's case, Microsoft saw several key things it was looking for, said Margaret Dawson, group product manager at Microsoft. "They had a product that filled the gap," she said.
The Redmond, Wash., software giant was looking to expand into software that could be used by an increasingly mobile work force. Whale had developed a key product that would make those systems more secure. As Microsoft learned more about Whale it "became obvious," said Dawson, that acquiring the company made more sense than developing similar security products on its own. Whale "already had a strong reputation in the marketplace," said Dawson.
Acquisitions for Microsoft "tend to be a combination of the product or technology and the key people," she said.
Mario Casabona, an engineer by training, started his firm, Electro-Radiation Inc. in Fairfield in the early 1980s.
He changed directions several times, and eventually the 20-person business developed patented technology for the defense industry. The inventions helped prevent jamming of GPS (Global Positioning System) devices used in electronic warfare.
In 2003, he hired an investment banker to look for a strategic partner, ideally a larger company that could help bring ERI's product to market. Hiring an investment banker to do the shopping proved to be a key move.
"I didn't have time to search for potential partners and I wanted to make sure I was perceived in a serious fashion," said Casabona, adding that he never intended to sell his company.
But the banker helped bring aerospace heavyweight Honeywell to the table and an offer was made.
For Casabona, one of the most difficult parts of the year-long negotiation process which ended in June 2004, was the initial decision to sell.
"ERI was my creation and my company and deciding to let it go was emotional," he said. He was also faced with giving up control.
In the end, Casabona knew it was the right move. He was able to negotiate good deals for his employees, and he describes Honeywell as a "fantastic acquirer," which has treated his team with respect and understanding. The group now works in Honeywell's Teterboro offices, and Casabona serves as a director in Honeywell's Electronic Protection division.
After much due diligence on the part of the purchasing companies, the smaller players became really small fish in much bigger ponds, but with a laundry list of advantages.
Cacciavillani, for example, has the strength of IBM's technical staff to call on if he needs it.
"There are so many different things compared to a small business - a company like IBM gives you unlimited capabilities," he said.
Another benefit is the access he now gets when knocking on the doors of the larger banks. Prior to the IBM deal, his sales team might have made a presentation to someone at a large institution who really had no decision-making power. The name "IBM" and the connections the company has means Cacciavillani is meeting with people at the right management level.
Traverse, who holds her sixth CEO position and sold one company to software giant Novell, says a key ingredient is openness with the company that's looking at your firm.
"This is an honest relationship - you've got to tell them everything and you can't act like there is any hidden agenda," she said.
And, she advises, don't build your company with an eye to be sold. Build it to stand on its own. "Do all the hard things," she said. "Then you'll get bought because you have value."