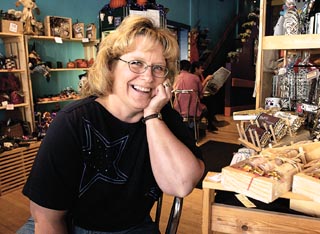 Just when you think everything that can be dipped in chocolate has been dipped in chocolate, along comes Sarah Ferro.
Sarah runs Paula's Edibles at 2712 Second Ave. N. in downtown Billings.
She offers chocolate-dipped cinnamon bears, Oreos, Nutter Butter cookies and apples.
Oh yeah, and champagne bottles.
It's that kind of creativity, and the reaction of people who enjoy her creations, that convinces here she's chosen the right business.
"I can't imagine doing anything other than this," she said. "Having the ability to create something that brings pleasure to other people is a wonderful way to spend one's day."
Ferro can be reached at 655-0865.
Here's what else she said about buying the business from a previous owner and making it her own:
Nature of the business: Along with chocolate-dipped champagne bottles and other items, we have a large assortment of Western-themed chocolates for those who are looking for that type of souvenir or gift. To go along with that, we have coffee and espresso drinks and light lunch items for people on the go. We also offer the option of special order, custom-made, chocolates in the shape of the customer's logo or design.
Why start this business? I was originally employed by Paula McClave and worked for her for about 21/2 years before she decided to retire. When she offered me the opportunity to purchase the business, I happily took her up on the offer and haven't looked back since.
Where did start-up funding come from? We used our personal savings and a loan against the equity in our house.
How long have you been in business? Paula's Edibles has been in business since 1995, and I purchased it in April of 2002.
Biggest challenges in running the business? Since buying the business, we have opened a second retail location at 3925 Grand Ave., inside the Bottles and Shots liquor store, and also moved the original store from Enterprise Avenue to downtown Billings at 2712 Second Ave. N. One of the biggest challenges has been getting the word out to the public on where we're located and what our store hours are.
What was done to overcome those challenges? We've done advertising for both locations and also did a grand opening for the downtown location during the Saturday Farmer's Market to make ourselves more visible and to keep our name out there for new and old customers alike.
What is being done to expand the business? We are marketing for additional corporate business and developing new and creative ways to help us stand out among the competition. By offering daily UPS shipping, we can handle any size order in an efficient and timely manner to add convenience for our customers. We will also make deliveries in Billings for a small additional charge.
Your worst business mistake? Underestimating the importance of having enough start-up capital available and the need to have expert financial people on your side to help answer your questions.
Advice for someone running a business? Make sure you thoroughly research every aspect of the business, including potential customer needs, and then have a plan for how you are going to make those things happen.
Number of workers? Along with myself, I have one full-time employee and three part-time employees who work as needed according to our workload.
What's your five-year plan for the business? To become accessible to Internet customers and to work on our corporate business relations is at the top of our priority list. We would also like to market our specialty items to gift shops and destination locations throughout the area.
A question you would ask other entrepreneurs? Where is a good source of information to help with the everyday questions that arise?
If you weren't doing what you are now, what would be your dream job? This is my dream job.
"Entrepreneurs" appears regularly in the WorkWeek section. The feature will help readers become familiar with new businesses, as well as educate others in the challenges of starting a business. If you have been in business for at least one year and would like to tell your story, please contact:Chris Jorgensen Billings Gazette 401 N. Broadway Billings, MT, 59101 657-1311, office 657-1208, fax cjorgensen@billingsgazette.com
Be the first to know
Get local news delivered to your inbox!