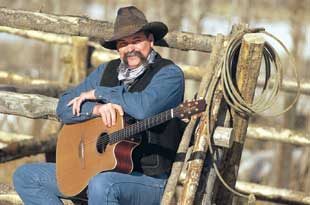 TJ Casey doesn't exactly have a job.
He's not the clock-punching type.
But, that doesn't mean he's idle. He's actually got a lot of jobs; cowboy singer, poet, artist, furniture maker, horse trainer, teacher, record executive, teller-of-tales and all around pretty good guy.
Casey has been writing poetry since he was 14 and currently is working with the Montana Arts Council traveling the state to teach cowboy poetry to grade school students.
All of those jobs fit under Casey's business umbrella called Cowboy Enterprises. His wife, Marcie Cantin, does a lot of the leg work for the company, calling county fairs and organizations and music festivals to line up concerts for Casey. He just got back from a string of shows in Arizona and he's got a show booked at the Round Barn in Red Lodge for March 20.
"Everything is looking pretty good for this year," said Cantin said of the bookings. "But, you have to do it all over again every year."
Cowboy Enterprises can be reached at 245-0734, and unlike some old-time cowboys, Casey keeps a Web site at www.tjcasey.net. Here's what else Casey had to say about turning his passions into a paycheck:
Entertainment for fairs, festivals, cowboy poetry gatherings, private parties and school assemblies. Writer and publisher of western, western swing, cowboy music and cowboy poetry. I have my own record label, Montana Cowboy Records. I custom-make horseshoe, wood and rope art furniture from lamps to beds to tables. I also train horses from halter-breaking weanlings to specialty training of roping horses.
God gave me the talent to share with people through my music and artwork and also gave me the ability to work with animals.
Where did your start-up funding come from?
How long have you been in business?
I have been entertaining people with my music and poetry for more than 25 years. Training horses has been a part of my life as I was raised on a ranch.
Biggest challenges in running the business?
Learning how to market and promote myself. Also looking for sponsors.
What was done to overcome those challenges?
Created a Web site. Also networking with other people and radio stations.
What is being done to expand the business?
Daily contacts with venues across the United States, to let them know I am available to perform. I am also working with the schools through the DARE Program and 4-H groups to get our young people involved in preserving our Western heritage.
Your worst business mistake?
Quitting the business several years ago due to a family tragedy.
Advice for someone running a business?
Don't get stuck in a rut, continue to go forward
My wife and I, and when needed for a performance the band members
What's your five-year plan for the business?
To have a Top 40 Western song in the American Music Charts and on Billboard. Record charts and more CDs and write another poetry book.
A question you would ask other entrepreneurs?
How one gets over certain obstacles.
If you weren't doing what you are now, what would be your dream job?
Training horses and working cattle.
"Entrepreneurs" appears regularly in the WorkWeek section. The feature will help readers become familiar with new businesses, as well as educate others in the challenges of starting a business. If you have been in business for at least one year and would like to tell your story, please contact Chris Jorgensen.