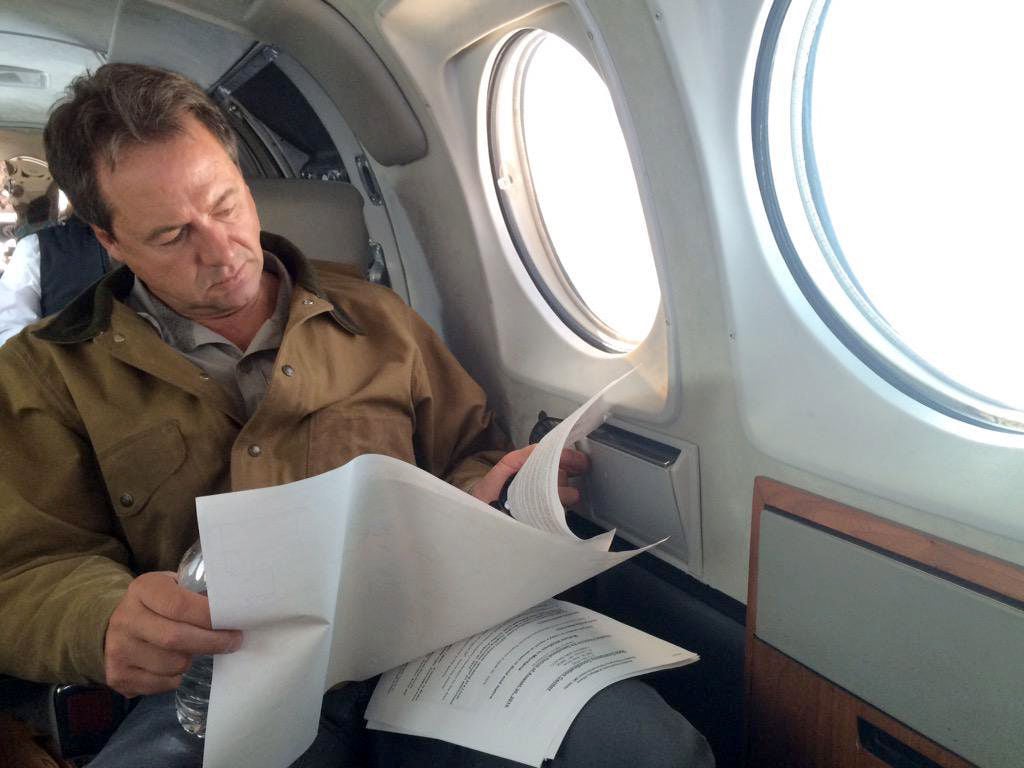 Montana Gov. Steve Bullock has agreed to settle a campaign violation case involving his state airplane use during his 2016 re-election bid.
Bullock and his 2016 campaign organization "Friends of Steve Bullock" have agreed to pay a $3,000 fine to avoid a lawsuit involving the governor's use of the state plane for campaign purposes during the Democrat's successful re-election bid.
On 36 occasions, Bullock used the the state Beechcraft King Air plane for politicking, piggybacking campaign events on official business trips. Part of the cost of those trips was billed to Bullock's campaign, but left off his campaign finance reports for several months, in some cases until weeks after he was re-elected. 
Commissioner of Political Practices Jeff Mangan identified five months of Bullock campaign reports in which expenses related to the state plane were missing.
"There are folks that want to know," Mangan said. "It's all about transparency, and folks want to know, just in general, what campaigns are spending their money on and how they're utilizing their campaign funds."
The governor's office issued a statement Tuesday, calling the campaign violations an error. The 2016 election cycle was Bullock's third as a statewide candidate. He campaigned for attorney general in 2008 and governor in 2012, winning both times.
"Gov. Bullock has fought for transparency in government and in elections both as attorney general and as governor. He was happy to correct this error," communications director Ronja Abel said in an email.
All told, Bullock's campaign used the government plane 41 times between April and November. Tax dollars paid for the trips, unless the pilot's workweek exceeded 40 hours, in which case Bullock's campaign paid for the overtime.
The governor's campaign also picked up any extra time incurred by co-pilots.
The state billed Bullock's campaign $4,561.66 for the 36 flights involved in Bullock's political violation.
In Montana, the public has a right to full disclosure of all of a candidate's debts and estimated debts. Those debts are supposed to be reported on schedule. Bullock failed to do so.
Criticism of Bullock's use of the state plane for campaigning started in February after the governor piggybacked a Billings campaign fundraiser onto an official trip to make peanut butter sandwiches for a Billings schools lunch program and meet with a union representative.
Campaign flights taken in April and June didn't show up on the books until August, Mangan reported. Flights in July and September weren't reported until 16 days before the general election ended. Bullock's October campaign trips went unreported until Nov. 28.
All of the flights should have been reported within a month of occurring, Mangan said.
By delaying reports about the flights, Bullock provided little ammunition to Republican campaign messaging about the trips.
The governor's other campaign expenses were reported as required under a 2015 campaign reform bill signed into law by Bullock. 
The use of the state plane for campaigning was new to the governor, Abel said. Bullock didn't have access to the plane in his two previous statewide campaigns. Paying for the flights and reporting the use as a campaign expense was a new issue. 
Mangan didn't take issue with the reimbursement policy Bullock, as governor, used to bill his campaign.
"The campaign fully reimbursed the state for the use of the plane and reported it," Abel said. "This was an honest misunderstanding about the proper time at which to file the reports."
Hamilton resident Jason Ellsworth filed the campaign complaint against Bullock with the Commissioner of Political Practices last October.
Abel said that before Ellsworth's complaint, Bullock was unaware the plane expenses weren't being filed according to law.
Bullock's plane reimbursement policy was revealed in March 2016 after campaign fundraising events in Billings, Bozeman and Missoula were paired with "official business" critics called superfluous.
Responding, the governor identified 21 flights on which non-government functions were paired with official trips. Bullock paid $2,671.84 for those flights, which dated back to 2014. None of those flights were part of the complaint filed by Ellsworth.