Billings' record to-date snowfall once again activated residential snowplowing Thursday morning, and the growing tab to pay private operators may soon drift into the red.
Public Works Director Dave Mumford said CMG Construction crews were activated mid-morning Thursday and were plowing Area 1 — north of Poly Drive and south of Highway 3 — by about 11:30 a.m.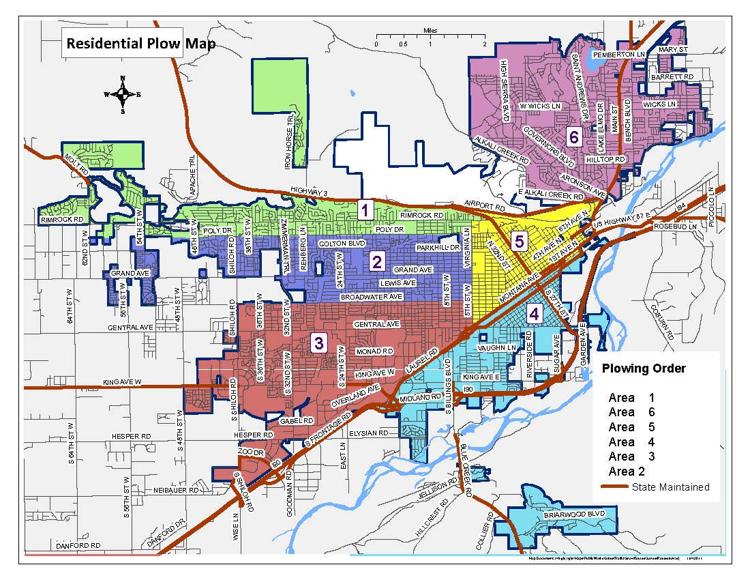 When they've completed Area 1 streets, they'll shift to the Heights before moving across the rest of Billings in a clockwise direction.
In addition, city crews — about 16 of them and two supervisors per shift — resumed their 12-hour days Thursday after putting in more traditional eight-hour shifts Tuesday and Wednesday.
Essentially, street maintenance crews have compiled 84-hour work weeks the past seven weeks, Mumford said.
"They are tired, but they know we need them to do it for the safety of the city," he said.
Equipment fatigue is also becoming a factor. On Thursday, one of the city's three snow blowers "was giving us some trouble," Mumford said.
Of the $420,000 allocated for residential snowplowing during the 2017-18 fiscal year, about $75,000 remains, Mumford said. The current storm should take care of that, and it will take up to $20,000 in addition to finish clearing residential streets from the current storm, he said.
The money to pay for additional residential plowing will be taken from the Public Works Department's reserve fund, Mumford said.
The New Year arrived with Billings blanketed by more than a foot of new snow — a snowfall that triggered the first test of the city's new resi…
Thursday's storm marked the fourth time this winter that residential snowplowing has been activated. A fifth occurrence will require funding approval from the Billings City Council, since budget amendments are required for anything over 10 percent — $42,000 — of the original budgeted amount.
"We thought that would cover four or five storms, but that first one (in late December) was so big," Mumford said. "The council voted Monday night not to have it snow anymore, and I appreciate the gesture, but it didn't quite work."
The National Weather Service's Billings office said six inches or more could fall in Billings beginning late Friday. Mumford said additional snowfall could extend the time it takes the private crews to clear the city's residential streets. That decision will be made over the weekend, he said.
Residential plowing efforts are updated on the city's Engineering Division's Facebook page. Elderly or disabled residents unable to shovel their sidewalks may call the Snow Buddies program at 406-237-6146.
Mumford called the council's decision last year to include residential plowing in the budget "a little gutsy."
"If you're going to take on a new challenge, it might as well be during a record snow year," he said.