Greg Gianforte had lost a brutal race for governor just days before David Vap bumped into him at a Bozeman dinner party. It was like the Republican had emerged from a car wreck without a scratch.
"I asked him how he was doing, and he was like 'I'm fine,' and I couldn't believe it," Vap said. "I don't consider myself a wimpy guy, but I couldn't do it. But it was that way at work, too. Everything would just fall off of him in pursuit of what he was trying to accomplish. There was no legacy molasses, and I don't know how he does it."
Vap, as software engineer for the Gianforte-created RightNow Technologies, worked as closely with the entrepreneur as anyone. The two now serve on several boards of directors for companies spawned by employee proceeds from RightNow's $1.8 billion sale to Oracle. He expected his friend to show some political bruising.
During the campaign, Gianforte had been attacked for his religious beliefs and his business. The attacks on RightNow hurt even Vap, who helped build the company and thought his own accomplishments were being tarnished. Gianforte was branded an outsider set on denying Montanans access to public land. In the end, he was even accused of wanting to impose a sales tax. The attacks worked.
The candidate took a financial hit. Gianforte, 55, spent more than $5.78 million of his own money trying to unseat Gov. Steve Bullock, but trailed the incumbent by 19,818 votes. The Republican lost Gallatin County, his home of 24 years and the place where he employed hundreds of people.
Campaigning under the banner "Sweep '16," Montana's GOP candidates took every statewide race but one: Gianforte's.
But there was Gianforte, chatting up folks at the party seeming concerned only about whether someone would pass the potatoes.
Monday, Republicans selected Gianforte as their candidate for the May 25 U.S. House election to replace Interior Secretary Ryan Zinke, who resigned Montana's lone congressional seat March 1 to lead the Department of the Interior. County precinct committee people from around the state gave Gianforte 74 percent of the vote on the first ballot. Seven other candidates unevenly split the difference. No legacy molasses to be found. 
"I was really humbled by that victory," Gianforte said. "There were 210 delegate seats; 203 were seated with very short notice, just a couple of days. I was very encouraged. I spent the last couple years traveling the state. I was staying in these people's homes. I got a chance to get to know them. They got a chance to know me, and that was evident the other night."
It's been 21 years since a Democrat won Montana's U.S. House seat. With the exception of 2000, when there was no incumbent and both parties had strong candidates, the race has produced blowouts with Republicans winning by double digit margins.
In 2016, Zinke defeated Democrat Denise Juneau by 79,439 votes.
However, Gianforte doesn't expect this House race to be easy. Nationally, Democrats were slack-jawed at President Donald Trump's victory over Hillary Clinton last November. There are five House seats to be filled by special election in 2017. If Democrats have any chance of stopping the Republican agenda, they will have to win at least some of those special election races, plus whatever they can pick up in the 2018 general election. The number of House wins Democrats need to take control for the first time since 2009 is 24. Montana's House seat is second up, after Kansas, which votes April 11 to replace Mike Pompeo, Trump's new CIA director.
"This race in a very real sense is going to be a referendum on the November election," Gianforte said. "I believe it's the first one in the country. There's going to be a lot of national attention here. Americans spoke very loudly that they're not happy with what's going on in Washington D.C. We selected a president who is going to shake it up, drain the swamp."
Supporting Trump
The early message Gianforte is putting out is that Montanans who gave Trump a 20-point victory margin in Montana — where Clinton trailed the president by 101,000 votes — need to send someone who supports Trump's agenda to the House. He's backing up that argument with some populist reforms that play well in the state.
"Special interests and bureaucrats have taken over Washington. We need to get term limits in place," Gianforte said. "We need to bar Congressional members from becoming lobbyists after they leave and give the power back to the people.
"We need to preserve the Montana way of life, and by that I mean the number one thing I've heard traveling around the state is that people have issues with all the federal overreach," Gianforte said. "They were concerned about Keystone pipeline, the Clean Power Plan, the EPA, the Endangered Species Act. All of those things. All the public lands issues. I'm in Montana because of the public lands."
In 2016, both Bullock and Gianforte said they were for public lands, while accusing the other side of lying to voters. Bullock's campaign accused Gianforte of suing the state to shut down stream access. The lawsuit centered on Gianforte arguing that the state had put a public easement in the wrong place. He wanted it moved. The state obliged.
This election, the public lands debate Gianforte wants to have is about more local control of federal lands. Montana is currently allowed to manage beetle-killed timber harvesting on 5 million acres of federal forest land. Gianforte said he would like to see more management like that.
Craig Wilson, Montana State University Billings political science professor emeritus, said Gianforte will have to campaign on the Trump agenda, no matter whether he wants to. Trump is the Republican president. Had Gianforte stood by Trump last year, his chances at the governor's office might have been better.
The challenge for Gianforte running to drain the swamp is Republicans now own it, Wilson said. The party controls the presidency, the House and the Senate.
"I don't think Gianforte turned to Trump often enough," Wilson said. "Trump won by 100,000 votes. He won big. Zinke turned to Trump. He won by 80,000 votes."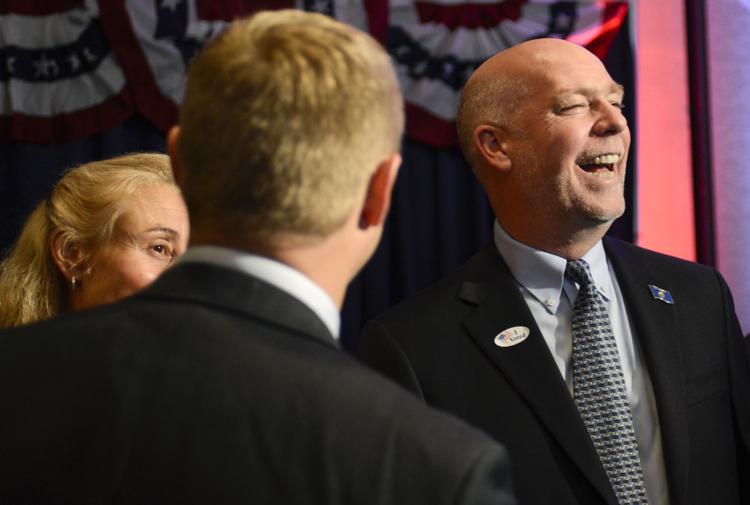 Another run
In Trump's 20-point Montana win over Clinton last November, the president drew 43,125 voters who didn't continue voting Republican when they got to the circle beside Gianforte's name. Leading up to the Montana GOP nominating convention, Gianforte detractors argued that after an aggressive 2016 campaign, which included 36,000 favorable Gianforte television commercials — the most of any gubernatorial candidate in the country — voters not only knew Gianforte, but had made up their minds about him.
A Lee Montana Newspapers poll last October indicated that more than 90 percent of voters knew who Gianforte is.
That's not how former RightNow employee Brady Wiseman believes his former boss would see the race. Wiseman, a Bozeman Democrat who served in the Montana Legislature, said Gianforte would look at the 19,818 votes by which the candidate trailed Bullock and like the odds.
"He's a glass is half full kind of guy, and his attitude is, 'If I got that this time, and if I could just get this much farther in six months, I'd win,'" Wiseman said. "And I'd add this: Greg is not known for being humble."
Looking back at 2016, Gianforte said he "took a lot of arrows" for other Republican candidates who did win. His race was the state's most expensive. History was not on his side.
"I knew going into that race that the last time a Republican beat a sitting Democrat governor in the state of Montana was 65 years ago," Gianforte said. "That was before I was born. When everyone else said taking on a popular incumbent was impossible, I stepped up. Nobody else did. I wasn't afraid of that challenge. And I think Montanans want a strong voice back in Washington to take on the challenges we're facing. That's all about looking forward, not looking back."