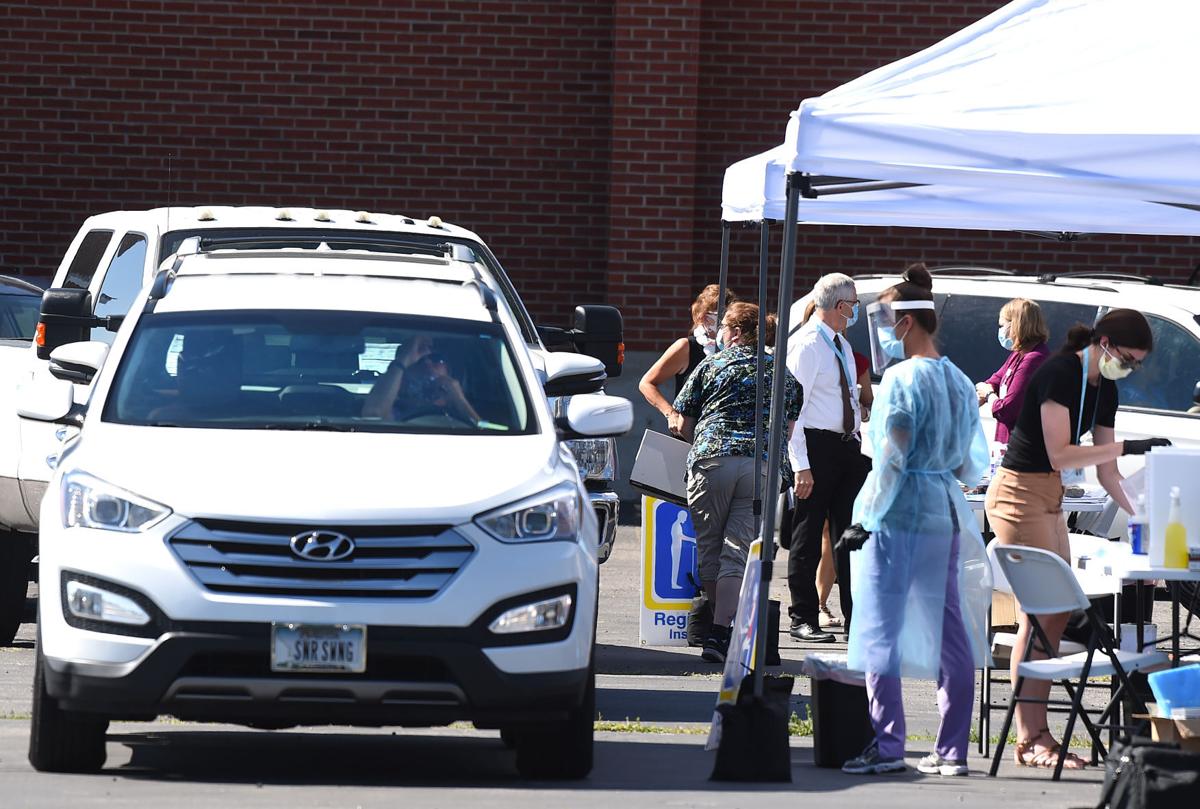 The state's COVID-19 case tracking website on Wednesday added two deaths in Yellowstone County, bringing the local death total to 25 people and the total statewide to 54.
RiverStone Health confirmed the "COVID-19 related deaths" of two Yellowstone County residents in a press statement Wednesday.
One of the deaths was a man in his 70s who died at home last Friday, July 24.
The other death was also a man in his 70s who died at home Tuesday.
The state added 201 new cases from 3,947 tests Wednesday morning. The state set a record for new cases added in a single day last Saturday, when testing confirmed 224 new cases. Before that, the largest increase was 145 new cases on July 15.
Yellowstone County and Big Horn County, which added 40 and 45 cases, account for 42% of the new cases. Yellowstone County now has 537, or 38% of the state's 1,410 active cases. Big Horn County has 159 active cases or 11% of active cases in the state.
The two neighboring counties now account for 49% of the active COVID-19 cases in Montana.
Gov. Steve Bullock in a press conference Wednesday afternoon named Yellowstone and Big Horn counties as two of nine counties he considers "hot spots." The other hot spot counties he listed were Flathead, Lake, Missoula, Lewis and Clark, Cascade, Madison and Gallatin. From June through Wednesday, Bullock said those counties make up about 80% of all COVID-19 cases in Montana. 
"We're carefully reviewing the patterns we're seeing in these nine hot spot counties," Bullock said.
In Yellowstone County, Bullock said the median age for those testing positive is 38, and that 19% of cases are connected to assisted living or long-term care. The proportion of people in the state tested in age groups have remained about the same, Bullock said, adding that while testing has increased "we're seeing more and more that younger age groups are contributing to our increase in cases."
"We'll be working with local public health officers in the upcoming days to determine if additional common sense measures can or should be taken," including deploying additional resources or taking other measures, Bullock said. "Certain communities may have to take some specific measures to tackle their unique situations."
Barbara Schneeman, a spokesperson for RiverStone Health, said earlier in the day the county has made progress in hiring "a number of part-time contact tracers." 
Last week RiverStone temporarily shut down its immunization clinic so that staff could help with a backlog of more than 130 COVID-19 case investigations.
"In addition, we've been able to work with the state to bring on 21 nursing students to help us on a part-time basis," Schneeman said. "We still have a need for more assistance."
State Medical Officer Dr. Gregory Holtzman said along with contact tracing, the state has been working with the hospitals using the medication remdesevir. Officials with the Billings Clinic and St. Vincent Healthcare told The Gazette in late May they had begun administering the antiviral drug to certain patients and that the state was in charge of a limited supply.
Dr. Michael Bush, chief medical officer for St. Vincent Healthcare, said at the time that a person would need to be both COVID-19 confirmed and hospitalized to get remdesivir.
Dr. Robert Merchant, chief medical officer for the Billings Clinic said in May that remdesevir wasn't a "miracle drug," nor entirely understood, but that it had been shown in studies to reduce the length of hospital stays by days.
"That counts for a lot," he said. The drug did not show an effect on mortality and Merchant added that there remained a need to find better drugs.
The governor said that in Yellowstone County more than 50% of cases are in people 39 and younger. Generally, he attributed statewide case increases to large gatherings, including weddings that led to clusters in June, Fourth of July gatherings and gatherings at bars. Transmission in those settings can be reduced with the right practices, according to Bullock.
Specifically, he highlighted the practices at the Billings Depot, which he said he visited last week.
"That's right, a wedding venue, that has zero positive cases and strives to keep it that way because they're doing everything right," Bullock said. He described a touch-less temperature check system in place for everyone who visits the depot, masks required for all guests and all workers, communication with vendors, caterers and DJs beforehand to maintain unity on enforcement of sanitation practices and social distancing. 
"Couples do use the venue because they know it's safe and they want to keep their loved ones safe as well," Bullock said. "No one wants their wedding to turn into the next cluster. And the same goes for other establishments like bars and restaurants or other areas where gatherings occur. That's preventable. Cases are less likely to occur if the right preventative measures are taken at these establishments. Employees need to wear masks and make sure that their guests are wearing them as well. Continue to sanitize and enforce social distancing between tables. Implement temperature checks and symptom screening for all staff and don't allow anyone to come to work if they have symptoms."
Yellowstone County has reported 21 deaths since July 6. Of those deaths, 16 have been residents of local senior care facilities, including 15 residents of Canyon Creek Memory Care. The deaths have coincided with case growth in July that has outpaced previous months.
The county had its first person in their 40s die of COVID-19 on Sunday. The man died at home. His death was announced publicly Tuesday morning and was one of five COVID-19 related deaths reported across the state Tuesday.
Deaths reported Tuesday included the first deaths in Custer County: two people older than 65 who died Sunday and Monday.
In Lincoln County a man in his 80s died Sunday and his death was reported on the state website Tuesday.
In Gallatin County the health department announced that the state medical examiner determined a man in his 50s found unresponsive in his home July 7 died from a combination of COVID-19 and "a number of significant underlying health conditions."
That man's death was added to the state case tracking map Wednesday.
Tuesday morning, Yellowstone County had 41 people hospitalized, of 61 active hospitalizations in the state. Statewide, active hospitalizations dropped to 59 Wednesday morning.
RiverStone Health has said that just because someone is hospitalized in Yellowstone County that does not mean they are from the county.
Yellowstone County has had 950 cases overall out of the 3,676 that have been confirmed in Montana since March. Of those cases 2,212 people have recovered, according to data from the Montana Department of Public Health and Human Services. Recovered means that the person has tested negative since being ill and is no longer able to spread the virus to others.
Other counties that added new cases Wednesday morning include Missoula with 18 (79 active), Lake with 14 (52 active), Flathead with 12 (90 active), Gallatin with 11 (135 active), Lewis and Clark with nine (48 active), Cascade with seven (71 active), Madison with six (16 active), Beaverhead with five (18 active), Custer with five (12 active), Deer Lodge with four (14 active), Lincoln with four (20 active), Dawson with three (and, according to the state website, two active), Hill with three (27 active), Roosevelt with three (six active), Silver Bow with three (29 active), Park with two (10 active), Carbon with one (six active), Daniels with one (two active), Jefferson with one (nine active), Jefferson with one (nine active), Musselshell with one (one active), Powell with one (one active) and Richland with one (nine active). 
The Powell County case is the county's first confirmed COVID-19 case.
Twenty-five counties reported four or more active cases Wednesday, putting them under the mask mandate issued by Gov. Steve Bullock earlier this month.
New cases in Yellowstone County include a male younger than 9, a female younger than 9, a male between the ages of 10 and 19, 10 men in their 20s, six women in their 20s, six women in their 30s, three men in their 30s, two women in their 40s, two men in their 40s, three women in their 50s, four men in their 70s and a woman in her 70s.
The Yellowstone County Unified Health Command operates an online COVID-19 dashboard showing the status of various public health categories and functions related to COVID-19. The dashboard uses three different colors to indicate status. Green means operating at expected/normal capacity. Yellow means "Needs beginning to outpace capacity" and red means "stressed operations/critical concerns."
One category on the dashboard showed improvement from Sunday to Tuesday, the last two days it was updated. Case investigation went from red on Sunday to yellow on Tuesday.
The dashboard statuses, last updated Tuesday, are as follows:
Health Department Capacity, defined as having sufficient staff for COVID-19 monitoring and follow-up, was in yellow status.
Case Investigation, defined as the ability to manage investigations and contact tracing for all COVID-19 positive results, was in yellow status.
Testing Capacity, defined as staff and supplies to screen and test all individuals recommended for COVID-19 testing, was in yellow status.
Health care System Capacity, defined as sufficient hospital staff, beds, and equipment to treat patients with COVID-19 and all other patients safely, was in yellow status. 
Disease Surveillance, defined as monitoring emergency department visits for respiratory symptoms, was in green status.
Regional impact, defined as active COVID-19 cases in UHC's regional service area including surrounding counties, Wyoming, North and South Dakota, was in green status.
Get local news delivered to your inbox!
Subscribe to our Daily Headlines newsletter.