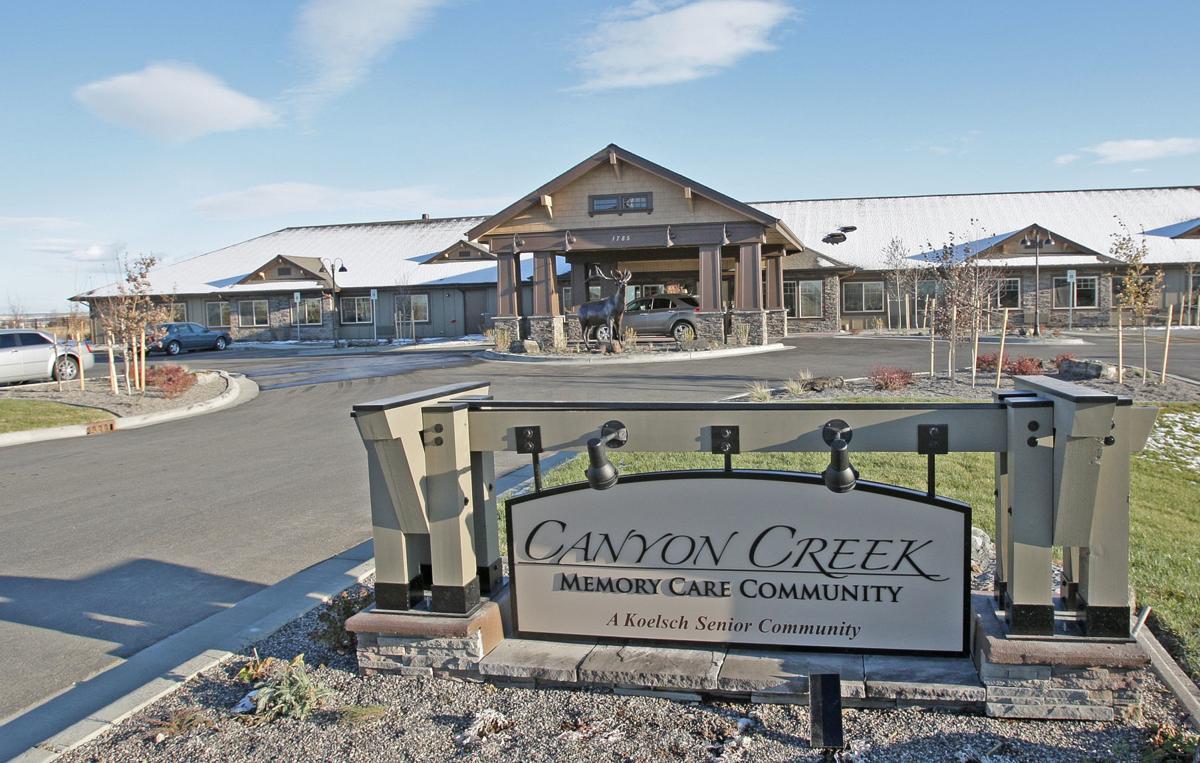 At least eight more people associated with the Canyon Creek Memory Care center in Billings have tested positive for COVID-19.
The eight include six members of staff and two residents, said RiverStone Health, Yellowstone County's public health agency Wednesday afternoon.
The new positive cases bring the total number of people known to be infected at Canyon Creek to 66, including 21 employees and 45 residents.
The announcement comes a day after RiverStone announced that 43 of the 55 residents at Canyon Creek, along with 15 staff members, had tested positive for COVID-19. Two had been hospitalized.
On Friday, 55 residents and 56 staff members underwent testing. Seven residents and 26 staff members of the assisted living facility had tested negative as of Tuesday.  
Canyon Creek specializes in serving adults with Alzheimer's, dementia and other forms of memory loss. The business offers adult day care and residential living, along with memory care and respite care.
The county health department suspects the outbreak began with either a staff member or a visitor, Yellowstone County Health Officer John Felton said in a press release.
The outbreak at Canyon Creek is the latest contribution to case growth that has left Yellowstone County with more than double the active cases of any other county in Montana. The news of the outbreak's scope came almost two weeks after Gov. Steve Bullock said that visits to nursing homes and assisted living facilities could resume — with safety measures to account for potential COVID-19 spread.
Felton announced Friday that visitation to long-term care facilities in the county would once again be restricted to compassionate end-of-life visits with mandatory mask wearing.
During that press conference, Felton said that Billings had identified about a dozen COVID-19 cases in seven care facilities during the previous week.
Excluding Canyon Creek, six other senior care facilities in Billings have had a total of six residents and four staff members test positive, RiverStone spokesperson Barbara Schneeman told The Gazette by email Tuesday afternoon.
Avantara Billings, St. John's United and Eagle Cliff Manor have all been identified in previous media reports. Schneeman said that Morning Star Senior Living had granted the county health department permission to disclose positive cases at its facility. The remaining two facilities have not given permission for case disclosure.
The Centers for Medicare and Medicaid Services require senior living facilities to notify all staff, residents and residents' family members of a positive COVID-19 case "within a short time period of learning about a positive test result," Schneeman said by email. 
"They are to do this with each positive test result," she added.
Residents and their families have been notified, according to the press release from Koelsch Communities and Canyon Creek Memory Care Community.
The facility is under quarantine, the Canyon Creek press release says. 
The state is attempting to test all residents and employees at every nursing home and assisted living facility in Montana under a proposal to monitor vulnerable populations such as those older than 65 or with underlying health conditions. Bullock said in a press call Tuesday that Canyon Creek had declined to participate in that surveillance testing, and he enacted a rule that requires facilities that allow visitors to participate in testing of residents and employees.
All but five of the 72 long-term care facilities in Montana have gone through surveillance testing and are coordinating weekly testing of employees; 117 of the 217 assisted living facilities in the state are also participating.
Bullock called facilities not participating in surveillance testing "unacceptable."
The Montana Department of Public Health and Human Services requires licensed facilities to isolate residents who have tested positive and to quarantine residents at assisted living facilities who have been exposed to COVID-19, even if they have tested negative, according to the Yellowstone County health department.
Montana has already seen multiple deaths result from an outbreak tied to an assisted living facility.
A March outbreak connected to the Marias Heritage Center retirement and assisted living facility in Toole County resulted in multiple deaths. Toole County to date has seen six deaths from COVID-19 and recorded 31 positive tests. The outbreak had begun to wind down by May and now Toole County has no active cases.
Koelsch Communities stated in its press release that protocols were put in place in mid-February to prevent exposure of COVID-19 at Canyon Creek. "These preventative procedures included; limiting visitation to only essential persons or end of life situations, the screenings of every individual upon entry to the community (including staff) for temperature, travel history, or known exposure and an increase in both food and PPE supply stock."