At Late Night, students return to Riverside Middle School on a Friday night, after the school week has finally ended. The ping-pong, pizza and pop at the reward event are certainly more attractive than papers and pencils.
It's a fitting celebration for a school that made major improvements in getting students to school more often. 
Late Night is one of several initiatives that the school and others across the district have rolled out to improve student attendance.
Last fall, more than 10 percent of the students at Riverside Middle School missed school for 25 days. It was more than the 16 days the previous fall. 
This year, there were only three absence-heavy days. The school had more than 2 percent improvement in overall attendance — the largest increase in the district. 
Principal Kevin Kirkman credited his staff's consistency.  
"We push and push and push," he said. "I don't think we're doing anything that's like, 'Oh my gosh, we've got this awesome program that no one else does.'"
School District 2 enrollment is expected to barely grow in the next decade, but elementary schools will see a slight decrease, according to up…
Riverside has a larger proportion of students from poor families than any other Billings middle school. Statistically, those students are more likely to miss more school — and eventually end up dropping out.
Getting students to attend school consistently, especially at a young age, is a major part of breaking that cycle. 
"The more seat time that they lose, the farther and farther they've fallen behind," Kirkman said. 
For Riverside, improvements came even as the implementation of new school boundaries means that the school has an even larger proportion of students from poor families than in the past. 
Kirkman also credited the elementary schools that feed into Riverside and a new mentoring program through United Way that focuses on chronically absent students.
"It's not just us trying to battle attendance on our own," he said. 
Late Night is an old program from Riverside's past that had fallen to the wayside this decade. Riverside had awarded classroom and school-wide prizes for attendance for the past three years, and brought back Late Night this year. 
Students have to attend every class every day for two weeks, complete all of their assignments and have no behavioral write-ups. 
About 300 students usually qualify, and about 80 show up, Kirkman said. 
Those who arrived Friday oscillated between playing basketball, volleyball, foosball and ping pong, and talking with friends between bites of pizza and sips of soda. A handful wore shirts repping Riverside, a common attendance prize. 
"We're just trying to make it fun," Kirkman said. 
District effort
Good attendance is strongly linked to successful academic outcomes, and attendance habits often become entrenched at a young age. 
Billings schools saw a notable attendance boost in the first semester of the 2015-2016 school year compared to the first semester the year before after pushing Attendance Matters, a local branch of a statewide initiative also supported by groups like United Way. 
District wide, overall attendance has roughly held steady since then, though it fluctuates in individual schools. Elementary attendance has barely budged; middle school attendance improved .8 percent this fall; high school attendance barely dipped. 
National trends indicating the students from poor families struggle more to get to school hold true in Billings.
When attendance is averaged over a two-year period, poorer students miss more school than richer students in Billings elementary schools.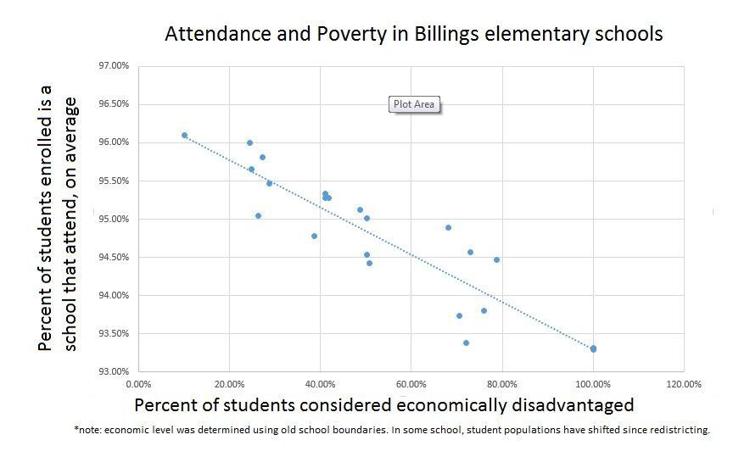 When comparing attendance from year to year, it's important to note that new boundaries, which went into effect across the school district this year, shifted student populations; schools don't necessarily have kids from the exact same neighborhoods this year as they did last year. Overall enrollment also changed at many schools. 
Of the 22 elementary schools, 13 saw decreases in average attendance. But two of Billings' elementary schools that serve poor neighborhoods, McKinley and Washington, were the brightest spots. Both schools increased average attendance more than 1.2 percent. 
Middle school is often a transition period where students are expected to take more responsibility in getting themselves to school. 
"Some of our kids have been doing that already," Kirkman said. 
Kids miss school for reasons that have nothing to do with playing hooky. Some are expected to care for siblings. Some students' parents aren't consistently helping them prepare for school. 
"What's the root of the problem?" is a question that Riverside tries to get at, Kirkman said.
Beyond that, he emphasized building pride in a school among the student body. 
"It's a place they want to come," he said.