Early in the afternoon of Nov. 3, 1918, while his wife Lucile tried to sleep off the effects of Spanish Flu, Andrew Sullivan — his body wracked with fever — rose from his own sickbed and stumbled outside into the relief of a chilly Billings day.
Dressed only in his nightclothes, the 28-year-old wandered for hours obsessed with the delusion that he needed to search for missing horses. Just before midnight, employees at a local dairy found him a mile away from his home at 721 S. 27th St.
City police loaded him into a patrol wagon and drove him to the emergency hospital the Red Cross had set up in the high school, which stood where the Lincoln Center is now. He died there, leaving behind a wife and two small children.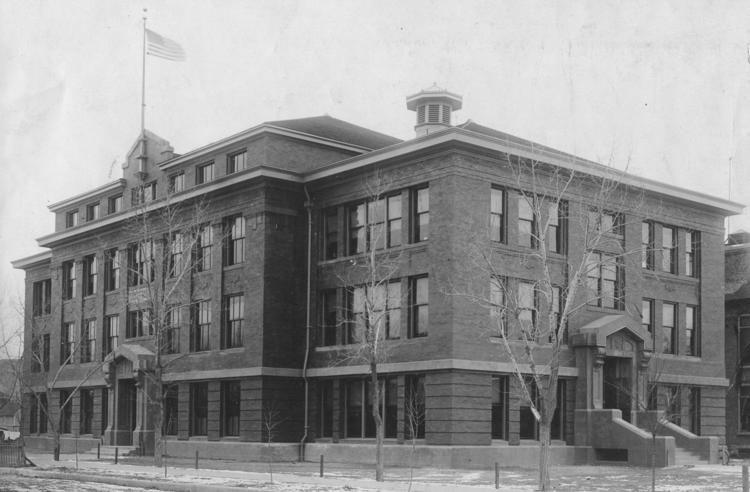 On the same day, 34-year-old William Beebee, delirious with fever, dragged himself to a second-story window of the makeshift hospital and jumped. Beebee survived the fall and was running away in his hospital gown before he was captured and returned to bed. He succumbed to pneumonia shortly thereafter. Six people died in Billings that day.
The Spanish Influenza epidemic of 1918 was a worldwide horror story with casualties that dwarfed even the bloodbath of World War I, which was then simmering to its Nov. 11 conclusion. An estimated 500 million people were infested with the virus and as many as 50 million died of pneumonia and other complications. (An estimated 40 million soldiers and civilians died in the war. Many in that number were probably flu victims.)
In that miserable year, 2,654 Montanans were killed by the flu. Compare that to 934 Montana residents who died while in the armed services in all of World War I. Many of those soldiers contracted a fatal case of the flu in training camps scattered across the country.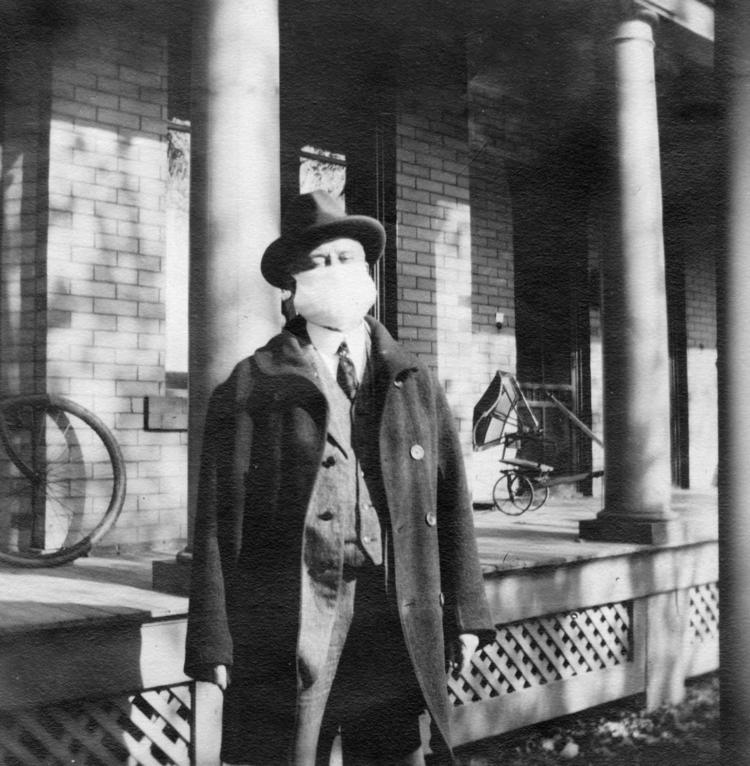 The worst of it hit Yellowstone County in October and November, though flu-related deaths were noted in The Billings Gazette into 1919. By mid-December 1918, more than 170 people had died in Billings and the immediate area. Twelve thousand more were sickened. The county had a population of about 30,000 to 35,000.
Flu slipped quietly into Yellowstone County, muted by screaming headlines from European battlefronts. But hints of the devastation began appearing by the first week in October, largely from Army training camps hundreds of miles away.
On an inside page of the Oct. 9, 1918, Billings Gazette, a story told of one of the largest crowds ever in attendance at a funeral at the Methodist Church. Lt. Paul E. DeMoss, 22, who had been acting as a liaison for the U.S. Army and its counterpart in England, had died of complications of Spanish flu at a camp in Hoboken, New Jersey.
A week later, Bruce M. Thompson died at Camp Zachary Taylor in Kentucky. About the same time, Harry Quinn, 36, breathed his last in Kansas City while training as an auto mechanic destined eventually for the Army.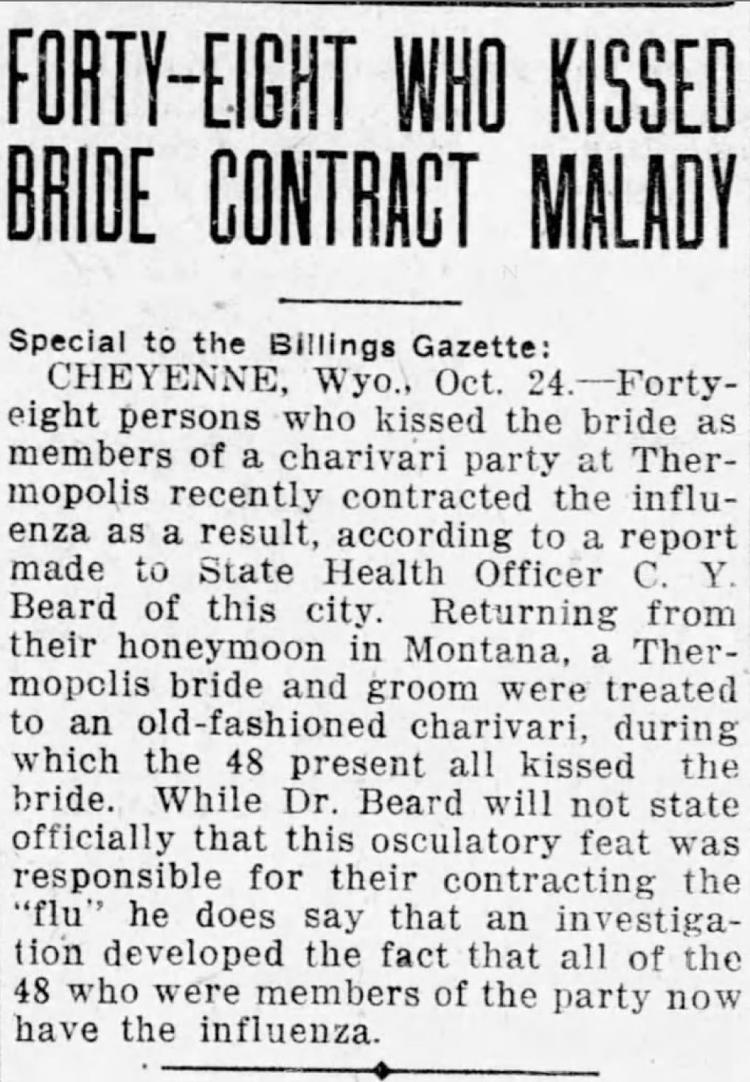 The virus spread with terrible speed. On Oct. 16, The Gazette reported the death of Buffalo Bill Cody's daughter, Irma Garlow. She died three days after her husband, manager of Buffalo Bill's famed Irma hotel in Cody, who also lost his life to the flu. They left behind three children.
In late October, 48 people who had kissed the bride at a wedding party in Thermopolis, Wyoming, contracted the flu. On Oct. 25, 33 people died in Butte and 20 in Great Falls. Two died in Billings the same day.
Early in October, the Montana Board of Health issued regulations aimed at controlling the virus spread, ordering the closure of schools, theaters, churches and other public places where crowds gathered. It also applied to political rallies — an onerous restraint for politicians as November elections loomed. On the day the closure was announced, Oct. 7, Yellowstone County health officer Dr. L.W. Allard estimated between 15 and 20 cases had been reported in Yellowstone County and that none of them were very serious. Local health authorities were reluctant to impose the will of the state, and two days later, Allard told the newspaper that local schools, theaters and other public places would not be closed unless the situation deteriorated.
"There is no reason to become alarmed, as the disease is not serious if the victim will take care of himself as soon as symptoms appear,'' the doctor said.
A day later, the state ordered Yellowstone County to close theaters, moving picture houses and churches. But at a meeting of local doctors, it was decided again that schools could remain open, because children would be safer from the disease in school and under the supervision of a school nurse than they would be in the streets.
The doctors had also noticed a peculiarity of the infection — it did not seem to attack children. Most of the victims were working-age adults.
The number of flu cases had climbed to 40 — all of them mild. Soon those numbers would spiral out of control, and the first local death notices began to appear. As of Oct. 19, doctors reported 527 cases of flu, but speculated there were many more.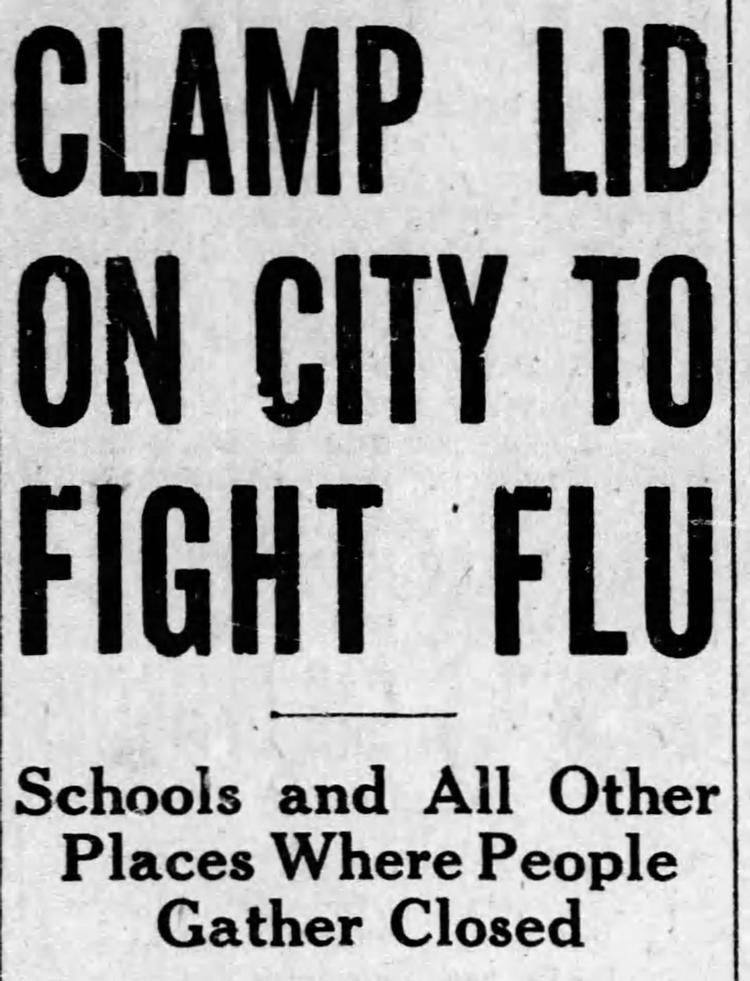 "Doctors have been kept so busy making calls on victims that they have had no time to report new cases to the health department," The Gazette noted.
Not enough nurses
The Red Cross, already inundated with war work, stepped into the breach, calling on nurses to register with the organization to aid in caring for the sick. Allard, laid low by the flu and overwork, was fighting for his life. He survived and continued to care for the epidemic's continual flow of victims.
On Oct. 24, schools throughout the county were finally ordered closed, as were all saloons, pool halls and other gathering places that had escaped the initial closure orders. The Congregational Church set up its assembly room as a 12-bed hospital and expanded its capacity to 36 within days. As the number of victims increased, another hospital was established in the Methodist Church.
Flu-stricken passengers were plucked from trains at the depot, including recruits on their way to Army training camps. Whole families were moved to the hospital when there was no one in the household well enough to care for the sick.
Medical authorities noted in the newspaper that a large percentage of those admitted to the hospital were residents of homes on the South Side.
"These poorly constructed houses are inadequate against sudden changes in temperature and illness resulted," The Billings Gazette reported.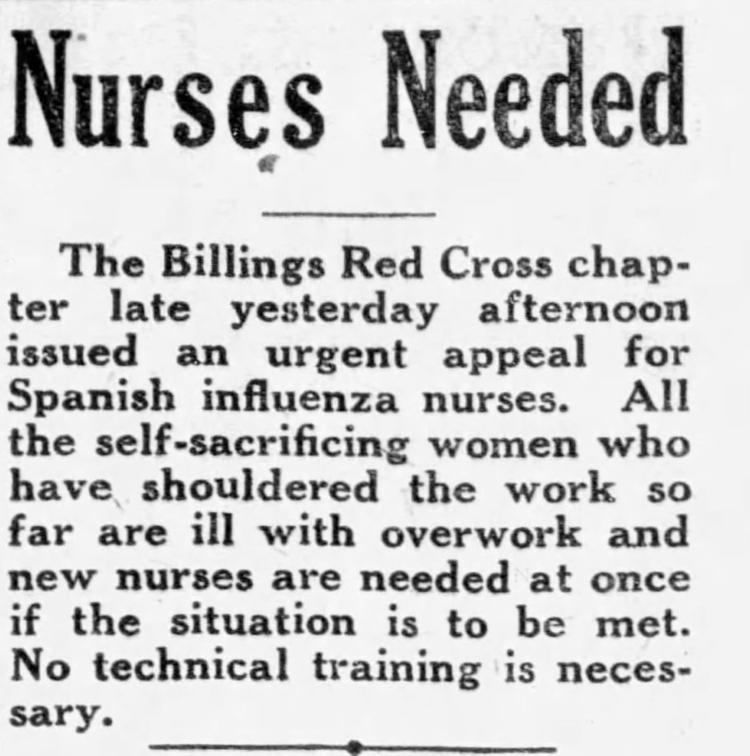 The nursing shortage was critical, and the Red Cross call for volunteers was answered by the women of the city who signed up as nurses, cooks and child care providers. W.W. Gail reported in his 1919 book, "Yellowstone County Montana in the World War," that during the flu epidemic the Red Cross supplied 18 professional nurses, 124 volunteers and 58 teachers to care for the stricken. In addition to work at the hospitals, volunteers cooked 1,255 meals for more than 100 families.
On Oct. 29, the decision was made to open the high school as an emergency hospital. An estimated 220 critical patients were treated at Red Cross emergency hospitals during the weeks the flu reigned. Nurses made another 256 home visits, Gail wrote.
Risking their own health, volunteers of all stripes stepped forward in Billings. Drivers volunteered to take nurses and food to those who were ill and to pack the most serious cases off to the hospital. Dentists worked night shifts as nursing assistants. The Chamber of Commerce, the Rotary Club and other civic organizations mobilized to do whatever was necessary. Merchants contributed food, clothing and blankets.
Mayor W.M. Johnston ordered the street commissioner to operate street sprinklers day and night to keep dust down as a precaution. An extra crew was added to make sure garbage didn't accumulate in the streets.
While churches remained closed, The Gazette printed sermons from a rotating roster of local pastors, who often supplied suggested Bible readings and prayers.
The crisis stained every aspect of commerce as well, with workers too sick to perform their duties. Montana's coal mines were hotbeds of the disease. A federal official reported on Nov. 22 that 50 miners had already died in the Sand Coulee district and that the situation was about the same at the Bearcreek mine. Production there had been reduced from 30 train carloads daily to 11.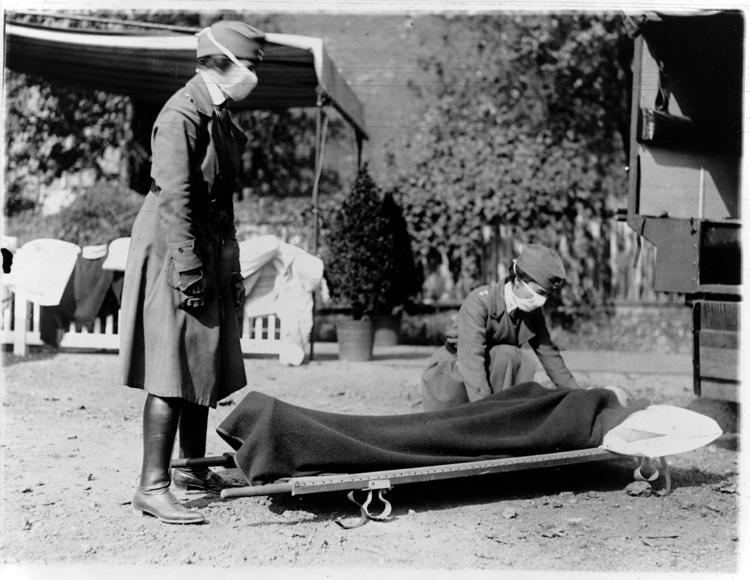 So many people were sick in Washington, D.C., that soldiers' families in Billings were warned that checks and allotments would be late arriving. A local office of the Home Service Department was set up to help military dependents in the interim.
Periodically doctors would announce that the situation appeared to have abated, only to report dozens of cases the next day. November called for desperate measures. Dentist W.A. Allen recommended the use of a solution of zinc and sulphate sprayed into the nose and throat as a preventative. Some suggested that eating red meat enhanced chances of getting the disease. A few optimistically predicted that a coming cold spell would slow disease spread. Others said wintry weather would make it worse.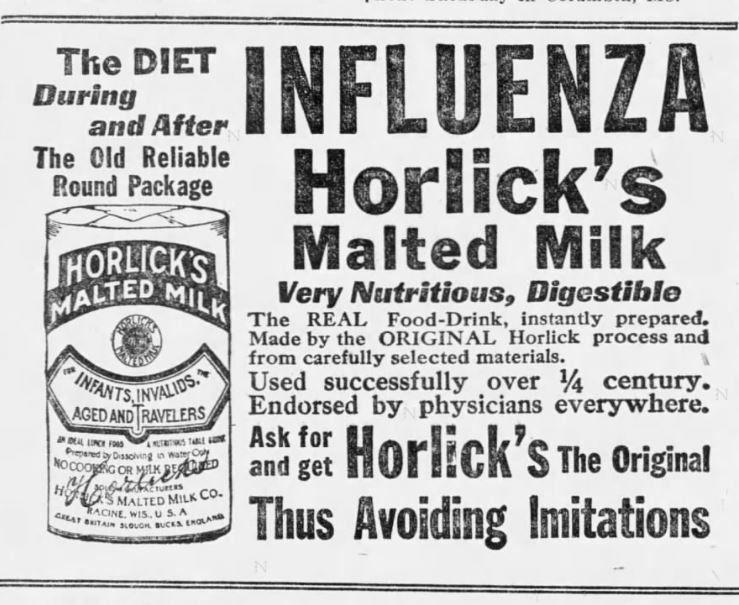 An escalating crisis
Allard said physicians had recorded 2,213 cases of flu in the Billings area as of Nov. 8, though he suspected the number was only about half of those who had been sickened. As of that date, 94 people had died.
The flu struck without regard to wealth or rank. Laborers, bankers, housewives, merchants, teachers and sheepherders all fell ill. Of the 12 officers employed by the Billings Police Department, 11 had the flu during October or November.
Because Spanish flu proved most fatal in adults, the number of orphans and single-parent families climbed. The Montana Children's Home Society said that the home in Helena had received 200 children in 1918, a big increase attributed to the flu and to the war. In total, the society counted 1,200 orphans — most of whom had been adopted to good homes.
And the death toll continued to rise, often with heart-rending pathos. Two weeks after her husband was killed fighting in France, Mrs. Oro L. Collins, 26, died at the Red Cross emergency hospital after a three-week struggle with pneumonia. She had been too sick to hear the news of her husband's death. Collins had been among the first to volunteer for the war.
One of the first local volunteers on the Billings home front, Lillian Callahan, 21, died Dec. 11 at St. Vincent Hospital. She was among a cadre of women recruited to "do a man's job" as the World War I draft depleted the local male population. She had signed on as an express wagon driver. "Garbed in unionalls, mackinaw, hobnailed boots and cap, she became a familiar figure driving her single-horse equipage about the city delivering all manner of parcels and harnessing and unharnessing her steed without assistance," The Gazette eulogized.
By the second week in November, the number of deaths started to decline. Health officials began discussing lifting closures and opening schools. On Nov. 15, only 64 patients remained at the high school and there was hope that soon there would be few enough left that St. Vincent Hospital could handle the rest of the epidemic.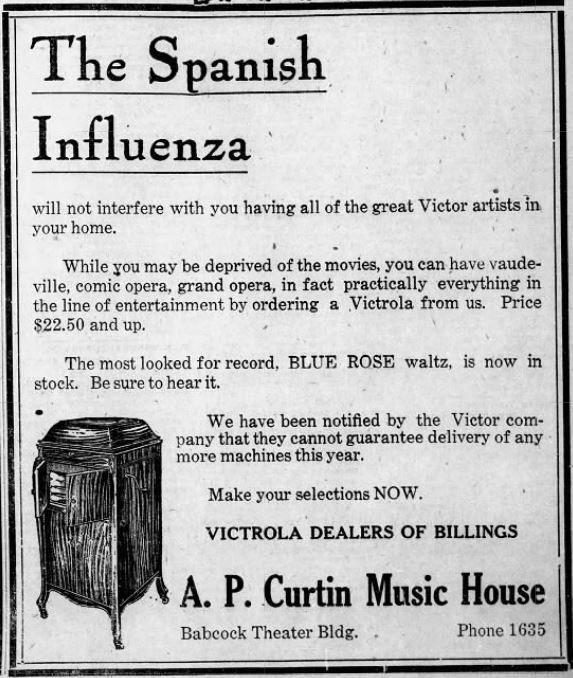 Health officials decided that the ban on public gatherings and all related closures would be lifted on Nov. 24, six weeks after restrictions were imposed. Theaters and churches opened to capacity audiences. Stores banned from "bargain sales" for the duration began gearing up for holiday crowds.
Schools, pending a thorough fumigation, would be opened Dec. 2. Christmas vacation would be reduced to just Christmas and New Year's Day to help make up for lost time. Thirty minutes were added to the school day so the district could squeeze 36 weeks of education into the year. Another two weeks of classes would have to be written off.
On Dec. 14, The Gazette reported that health officials found no evidence that lifting closures had slowed the decline of flu in Billings. Still, by mid-December another 42 flu-related deaths were reported. Allard noted that many of them had fallen ill before the restrictions were rescinded.
But tragedy continued to take its toll as the Christmas season approached.
On Dec. 11, two brothers, Harry and Henry Wichman, aged 7 and 5, died of flu complications in their home four miles west of Billings. Their mother, Anna Wichman, 30, had died a week earlier. The same day, Dr. Avril R. Wausom, 25, who had moved to Billings 10 days before to start a dental practice, succumbed.
In Ismay, J.B. Baer went to check on a neighboring family. He found the farmer, his wife and two children dead in their beds. Another child, dying on the floor, was taken to a nearby ranch for care. A Gazette story dated Dec. 14, said it appeared that the entire family was so sick, no one was left to provide basic necessities. Part of the reason they died was starvation, the story said. Horses in the stable were also dying. No one had been able to provide food or water for days.