"You've got lamp posts here. What are you going to do with them?" asked the man with one arm to an over-capacity crowd gathered at the Billings Chamber of Commerce. 
Sgt. Doc Wells, "The Hero of Vimy," had come to Billings to warn of the German threat in America. The Canadian soldier had returned from the front of The Great War — World War I — and was speaking about the atrocities he saw there and the greater danger he knew was hiding in America.
He suggested that the lamp posts were the perfect spot to hang German spies who had infiltrated every corner of the country — Billings included. 
America had entered the war in April 1917, and by the time Wells had arrived in August, he was selling the idea that as many as a half-million people in America were actually German spies, ready to activate and attack their neighbors — a nearly century-old notion of a sleeper cell.
This overheated rhetoric excited business leaders who had only to look to the sugar beet fields or the burgeoning railyards to fret about the Germans.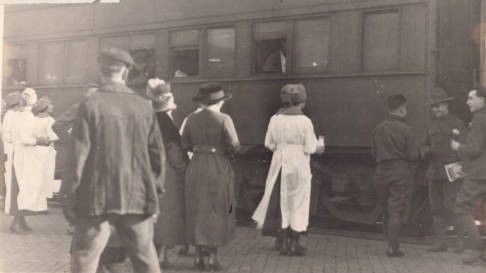 "You have many parasites in this state. In Idaho when the businessmen find such disloyal traitors they drive 'em out of town with shotguns. You should do something similar here," Wells suggested.
Already residents had been excited by news of union organizer Frank Little's lynching in Butte. Several picket lines had formed in Billings, and city law enforcement had been preparing for the wave of Industrial Workers of the World, or Wobblies, who they were certain would flee from Butte only to make trouble in Billings.
Between the Wobblies and the Germans, Billings was getting its lamp posts ready for something more than night light. 
Wobblies in Billings
The day after Wells spoke, The Billings Evening Journal recounted all the problems residents were having with the Wobblies. 
In one case, a man's car had been destroyed as he left it running on Montana Avenue. The radiator had been punctured, the fan had been stopped and "IWW" was scrawled in the dust next to the car.
Just a block away from that, a man had been assaulted and robbed of $27 when he told three men that he was not carrying a "red book" — a sign of IWW membership.
Finally, police reported that they had arrested a number of men for "vagrancy" and found IWW membership cards on many.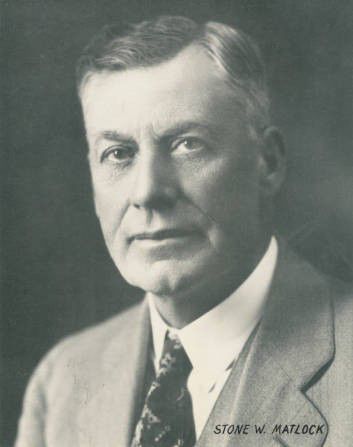 Sheriff Stone Matlock was so concerned that he swore in a batch of fresh deputies and assured residents that they were ready.
What may seem like two distinct groups now — the Wobblies and the Germans — were linked in the minds of local residents 100 years ago. Business leaders throughout the state and the largest company, The Anaconda Mining Company, feared zealous unionizing like the Wobblies, who also advocated not fighting in the war. Leaders also feared Germans and Austrians, many of whom worked in the mines or as laborers and might be susceptible to union causes. Worse yet, latent loyalty to their homeland and their foreign tongue might secretly sabotage war efforts at home, leaders feared. 
Kaiserism was no less dangerous than communism or unionism.
The Billings Evening Journal argued that those who objected to the war should be compelled — by force, if necessary — to serve. It also said that if any refused, they should be tried for treason and imprisoned. The paper called such people — even those who simply questioned the war — "soft-muscled, half-baked nincompoops" and called their concerns "puny arguments of the pacifist."
The newspaper continued its fiery rhetoric, and called for action.
"When American boys begin to die at the front, there will arise from all parts of the United States a popular demand for the execution of traitors within the land," the Evening Journal said.
No 'Prussianism' and nothing 'kaiseresque'
It seemed like everywhere journalists looked, threats were menacing — from Wobblies, slackers and spies. Newspapers went on holy patriotic war against all things German. 
The Billings Evening Journal took aim at a weekly magazine in New York that it claimed promoted a pro-German point of view. "Viereck's Weekly" had changed its name from "Fatherland" and the Evening Journal accused it of "Prussianism."
After Little's murder, towns across Montana reported an influx of Wobblies. 
They had made it to Red Lodge and Bearcreek after mines in Butte shut down. The Billings Evening Journal reported that more than 200 had arrived in the two places, and both cities had been plastered with IWW stickers. One report had even said that stickers had been placed on "rocks," "trails" and "roads" in Red Lodge.  
Carbon County Sheriff George Headington warned that the Wobblies had better cease "unless they wished to risk lynching."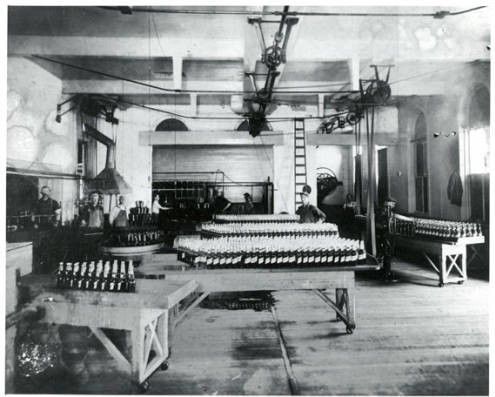 Dry Montana
To make matters worse, the entire area was getting ready to go dry as Montana began preparing for the inevitable prohibition wave sweeping the country, coupled with rationing on food that essentially halted the production of booze.
The American government clamped down on distilleries for the war, ordering that grain was essential for the war effort.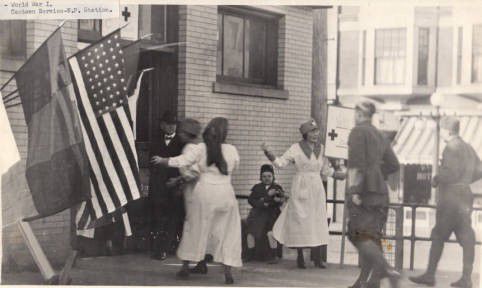 "Lovers of the fragrant highball" didn't have much to worry about, the Billings Evening Journal reported — there was still about a year-and-a-half's worth of whiskey. But if you loved gin, hard times were coming because state warehouses had less than a 30-day supply. 
The spy priest
Except for an off-key chorus of a few union songs in the Yellowstone County Jail, and some graffiti, fear of German spies and sympathizers and union agitators outstripped any tangible concerns — until January.
That's when a bombshell story broke about a renegade priest, a secret handbook of spies and close ties to Archduke Ferdinand, the man whose assassination sparked the worldwide war. 
On Jan 2, 1918, Billings authorities arrested an ordained Catholic priest, Rev. F.X. Holnberg of Belfield, North Dakota, on suspicion of being a German spy. Maybe just as bad, The Billings Evening Journal reported the ex-priest was engaged to be married to "a local domestic."
Apparently Holnberg had been living in Billings for at least a month. He told authorities he'd left North Dakota and the priesthood because "there was not enough money in it."
When authorities searched his room, they found a suspicious notebook. It was given to the county attorney and a stenographer who tried to decipher it but could not.
"It is suspected by authorities, they say, that the writing is in code." The paper ominously added, "A revolver was also found."
Holnberg had made several trips to other small towns around Billings. He told authorities that he was interested in purchasing land. Neither the police nor the newspaper bought Holnberg's story. 
"He is said to have held conversations of a confidential nature with persons suspected of pro-Germanism in several of the towns he visited, and additional arrests are suspected," the paper said.
Local residents said he posed as a lawyer from Chicago.   
The headlines stoked fears that there was a secret German society in Billings. The next day, the paper revealed that Holnberg was formerly the private librarian of Archduke Ferdinand of Austria. Authorities charged that Holnberg was an "organizer of a secret German military organization."
Oddly, the connection between the priest and Ferdinand was made through a letter that appeared in The Billings Gazette which defended teaching German in schools and also defended the actions of Germany. It was signed, "F.X. Hollnberger, Ph.D., former private librarian of Archduke Ferdinand of Austria."
In other words, Holnberg had tipped authorities off himself.
They immediately became fearful because of a list Holnberg kept that had the names and addresses of residents of German lineage living in America, some of them listed by military title. That was enough for some residents to believe there truly was a network of German spies.
Later, Billings investigators learned that Holnberg had been excommunicated more than a year prior and had been forced to leave Dickinson.
Holnberg's arrest may have been the only legitimate case of a pro-German spy in Yellowstone County. But, he was not the first person to have been rounded up, charged and accused. He was just one of more than a dozen people to stand accused in the frightened, overheated years of 1917 and 1918.