Sharain Jones had great seats to see Felix Cavaliere and Gene Cornish revive their Rascals hits Sept. 7 at the Alberta Bair Theater.
Her husband, Allen, who played in a rock band when he was younger, had recently sold his Hammond B-3 Organ to the sound company running the show, and it was being used during the concert. 
"My husband was ecstatic," Jones said. She wasn't as big of a fan of the 1960s blue-eyed soul group as her husband, but listened to them when she was younger.
During the band's opening song, Jones noticed something wasn't right with the guitar player, Cornish.
"I noticed he was a bit wobbly, and thought that's maybe just the way he performs," Jones said. As the first song ended, Cornish began backing up. "Something wasn't right," Jones said. Just as Cavaliere launched into "It's A Beautiful Morning," Cornish went down.
"I just jumped out of my seat, said 'Excuse me' to my husband, put my foot on one of the handles of the chairs and jumped up on stage," said Jones, who was seated close to the stage. Cornish was unconscious, lying facedown. With the help of stagehands, Jones rolled him on his back.
"He was pale," she said. "I put my hand on his carotid artery, and he had no pulse."
Jones has been a nurse for 30 years and didn't hesitate to begin CPR.
"I thought, I'm going to need help. After two minutes, I'm going to be in trouble."
Jones called out to the audience, asking for anyone who knows CPR to join her. Another nurse came on stage, who held Cornish's hand as Jones continued CPR. Jones said she handed her phone to a stagehand and asked him to call 911.
First responders were on the scene within minutes, and according to Jones, Cornish had not woken up. He was taken to Billings Clinic where doctors discovered he had suffered from a heart arrhythmia. A pacemaker was implanted to correct the condition.
"I was blessed by God to be able to know what to do," Jones said. "I'm just really glad that he is recovering and doing well and is back on his feet."
On Thursday, one day after leaving Billings Clinic, Cornish released a statement expressing his gratitude to those at the concert who jumped up from their seats to save him.
"I feel so grateful to the two nurses that were in attendance at our show," Cornish said. "I'm so thankful for the staff at the Alberta Bair Theater and the many people that helped me. Everything happened so quickly and their training came right into play. They knew what to do, and no one hesitated."
Jones is working on travel assignment in Billings at St. Vincent Healthcare in the infusion center. She's been in Billings about a month. "I love my patients, no matter what I'm doing," she said.
Cornish was on tour with Cavaliere in a reunion show that brought the two together for the first time in five years. Guest drummer Carmine Appice was also touring with the group, and Cavaliere and Appice continued on to a performance Sunday in Northfield, Ohio.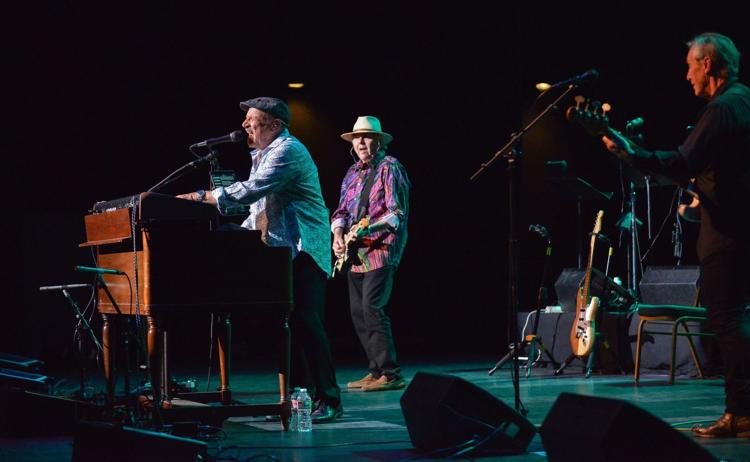 Cornish, on social media, apologized to fans but insisted that the show go on.
"The music is timeless and I told the guys in the band that this shouldn't interfere with the concerts previously planned and scheduled," he said.
Cavaliere and Cornish were two of four founding members of the band, originally named The Young Rascals, and signed to Atlantic Records in 1965. Their first single, "I Ain't Gonna Eat Your Heart Out Anymore" enjoyed modest success. After dropping "Young" from their name, The Rascals would go on to release songs that soundtracked the 1960s, including "Good Lovin," "Groovin," "How Can I Be Sure," "A Girl Like You," "A Beautiful Morning" and "People Got to Be Free."
Their Billings performance will not be rescheduled, according to the Alberta Bair Theater. The theater is offering refunds on ticket purchases. If a ticket holder would rather have a gift certificate or make a donation to the theater with the value of the ticket, the ABT box office has those options.
For refunds, ticketholders are asked to email Travis Nilles at tnilles@albertabairtheater.org or call the box office at 406-256-6052. Box office hours are Mondays through Fridays, 10 a.m. to 5 p.m. and Saturdays 10 a.m. to 3 p.m.