Yellowstone County officials believe a blockage in a tunnel connected to the Billings Bench Water Association ditch caused water to overflow Sunday, partially flooding residential areas south of the ditch including near Burnstead Drive.
The blockage was removed using an excavator within two hours of the first 911 call about the elevated water levels in the ditch, according to a timeline offered by city and county officials during a Sunday afternoon press conference.
After the flooding and subsequent blockage removal, the BBWA was waiting for the ditch to drain so that further work could be done assessing damage, the need for repairs and trying to determine what caused the blockage.
"We've got to get the water out of the ditch to assess things. And then to tell you the truth I'm not really sure we're gonna know then," BBWA Board President Jim Stott said. "We had this John Deere 320 excavator, this huge excavator up there...when he went in there he was just moving everything he could move, I mean pulling stuff, moving it, trying to get that blockage out of there. Luckily, he had a long enough reach."
The excavator that removed the blockage was later working about a half-mile away repairing damage to the ditch caused by the overflow when the ground beneath it collapsed. The operator was able to get out safely after the collapse at about 8:43 a.m., Billings Police Department Lt. Brandon Wooley said.
The flooding led to evacuation recommendations Sunday morning that residents in the neighborhood were advised could extend up to 24 hours.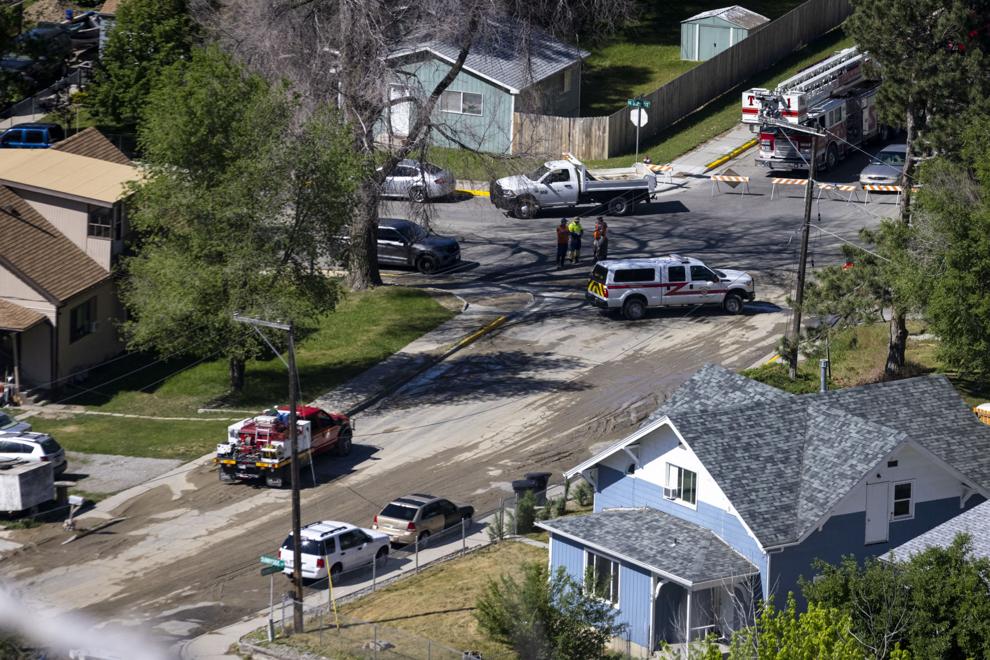 By about 6:20 p.m. Wooley announced on social media that people had been cleared to return to their residences in the Burnstead area. Officials, however, cautioned residents who had been flooded to not stay in water-damaged homes.
A BBWA ditch rider making his regularly scheduled rounds Sunday morning noticed elevated levels in the ditch and contacted his superiors, ultimately leading to the discovery of the blockage.
The high water flow was noticed at about 6 a.m. and by 6:30 a.m. the order was given to shut down flow of water into the canal and diversion gates at Canyon Creek were opened to reduce water flow, Wooley said Sunday morning.
The first call to 911 from Stott with the BBWA was at 7:06 a.m. By 7:15 a.m. residents along the 1900 and 2000 block of Burnstead and the roadway were being flooded by water from the canal.
By 7:23 a.m., BBWA was reporting the tunnel blockage near a North 15th Street entrance to the Rimrocks and by 8:30 a.m. the blockage had been removed, causing overflowing water to subside, according to Wooley.
"Gary Davis was down by where the excavator went in. He called me at a quarter after eight and basically said 'Jim, we've got to get that tunnel unblocked or we're going to lose that ditch. So 15 minutes, 30 minutes?" Stott said of how close the situation was to getting worse.
He also pointed to their good fortune that work had started last week to stabilize a hillside near the ditch, meaning the heavy equipment needed to remove the blockage was already on hand.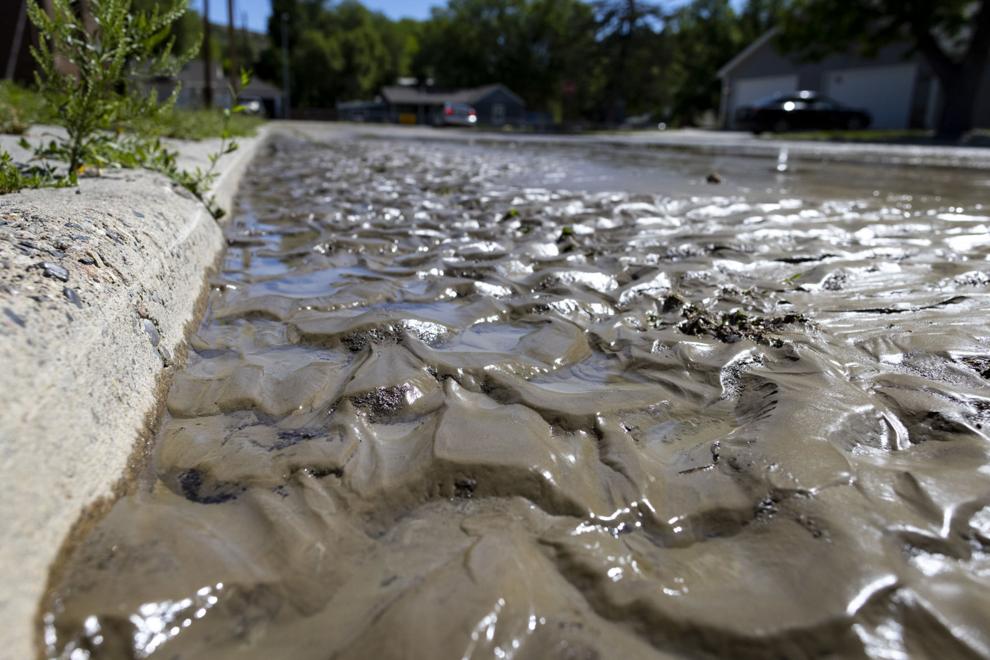 Davis, who also sits on the BBWA board, estimated the ditch runs at between 350 and 400 cubic feet per second near the overflow site.
"In my estimation we lost between 10% and 15% of that (cfs) through the bank and through the hole where you see the excavator is in that hole. What we consider to be 'lose the ditch' would be if all 350 cfs went down through the city of Billings. So if the water you saw, the damage that you saw, was created by 10% of it, it would have been 10 times as great or more. It would have been not good," Davis said.
The overflowing water went over the north side of the canal in an area where a concrete liner had been installed after a 1937 breach, causing the water to then travel underneath the canal. Mud, rocks and other debris could be seen along sidewalks, streets and in some cases in garages and yards stretching as far as five blocks south of Burnstead to the border of North Park. In some cases, mud pooled along sidewalk access ramps, forcing at least one man to take his wheelchair into the street.
BFD Battalion Chief Jason Lyon described arriving on scene and seeing water pooling and moving uphill from a completely filled storm drain.
"Water was hitting that storm drain, there was so much of it it was bending around back uphill. There was so much water pressure the water was flowing uphill. It was crazy," he said.
Officials generally identified the flooded areas as being located north of Eighth Avenue North and between North 19th Street and North 22nd Street. The most extensive flooding was along the 2000 block of Burnstead Drive.
Evacuations were recommended Sunday morning beginning at 8:51 a.m., and responders made contact with 96 different locations. Some people opted to leave while others decided to stay.
By about 2 p.m., water levels on the canal had fallen to about half of where they had been Sunday morning, and Stott estimated water levels were continuing to drop about six inches an hour. He guessed the ditch would eventually be completely empty Sunday night.
For residents who are displaced by the flooding, Yellowstone County Disaster and Emergency Service Coordinator K.C. Williams advised them to call the American Red Cross at 1-800-272-6668 should they need assistance. He also pointed to the shelter and information site set up at Cedar Hall at MetraPark as another place displaced people could receive help.
Billings Mayor Bill Cole said he had visited Cedar Hall and that only a couple people were there. "I just want to offer sympathy and condolences for the neighbors that have been displaced there. There is no doubt that even though there was no physical injury as far as we know there was property damage and people have been displaced."
The mayor also dedicated some of his time at the podium during the Sunday afternoon press conference to talk about how he feels the day's events relate to the future.
"This is a good reminder of the need to improve and make sure those plans are in place in the event there is an even greater release. And lastly it does remind us of the need to find long-term solutions to make sure that the water can flow through the city safely. Not just with the BBWA but also all of the ditches then because these things are critical to our economy but they also do pose a risk to life and safety," he said.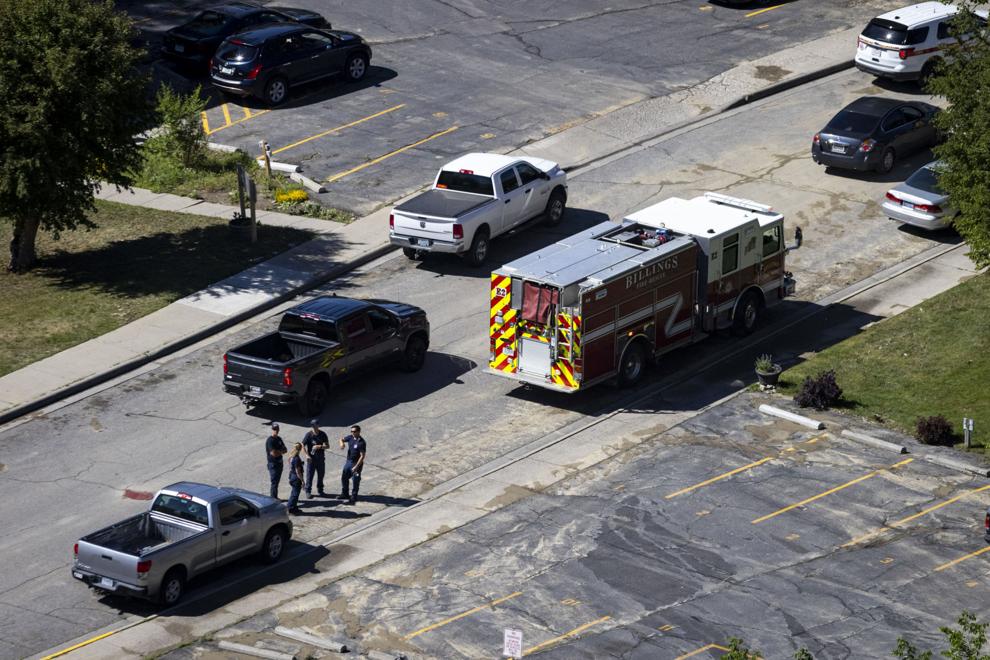 Williams urged people to begin contacting their insurance companies and for people who are renting to contact landlords.
As for when water might be flowing through the ditch again, Stott did not have a timeline. The ditch is relied upon by producers in Yellowstone County where conditions in some parts of the county were rated last week by the U.S. Drought Monitor as either abnormally dry or in moderate drought.
Asked what he would say to people reliant on the water who can't access it right now, Stott started off by saying "We're sorry."
"We're gonna try and remedy the situation as quickly as possible because we do have 17,000 acres-plus of agricultural farm land out there and everybody's screaming for water. On top of it, we're in a very dry year. On top of that we have four golf courses on our water, city parks, we have 115 residential users of water from our system," Stott said.
Two landlords, Leonard and Lisa Romero, were out Sunday afternoon along 11th Avenue North east of North 22nd Street assessing what the water had done. The Romeros had lived in the area until recently and have had tenants in North Park for decades.
Leonard Romero recalled a rainstorm in the late '90s that caused some flooding, but otherwise had no comparison for what happened with the overflow from the ditch Sunday.
A tenant of theirs sent them a video of water flowing through the area, including over her lawn. "At first she thought it was the valves up in our area but then there was so much water she thought it was the ditch" Lisa Romero said. "Which, we kind of went 'What, the ditch broke? That's not good.'"
Across the street from the Romero's rental, a neighbor was shoveling rocks and debris that had been pushed into his garage by the flowing water. Near the entrance to 11th Avenue North, rocks washed from an alleyway were piled in the street.
About a block south, Susan Konzen was trying to hose off the mud and dirt from the sidewalk in front of her residence. Patches of dried dirt continued up North 22nd Street, some of them drying and growing dusty under the afternoon sun. She first learned of the issues at the ditch in the afternoon. At first she didn't understand why there was so much mud, some of it an inch thick, on the sidewalk.
Her mind went to the way her pitbull had turned into the lapdog and awakened her during an overnight thunderstorm, she said.
"The only thing I thought was because I heard it raining (last night) and I thought wow maybe it was from a mudslide or something."