A Billings architect and a family also interested in reusing historic buildings are polishing the tusks on one of downtown Billings' most prominent white elephants.
Constructed in 1910, the old Billings Hardware building at 2802 Montana Ave., has been boarded up for the past few years.
Now architect Randy Hafer, president and co-owner of High Plains Architects, and building owner Dianne LaFever, together with her daughters Cori and Alison, are set to embark on a $4 million or more renovation that will produce a main floor for retail, a basement for additional retail, and two stories that will hold 28 studio, one- and two-bedroom apartments that Hafer hopes to rent for $700-$1,000 per month.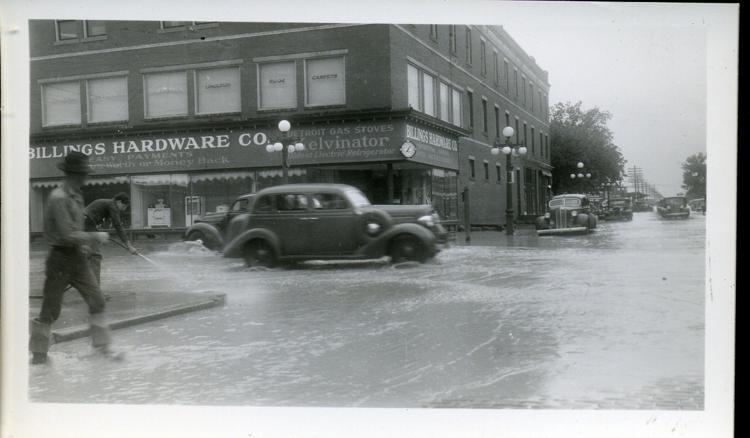 Hafer, who's developing the project, said he plans to secure about 25 percent of the redevelopment's funding through state and federal historic preservation grants. He and Cori LaFever said Thursday they expect renovation to be complete by fall 2019.
"Our firm's mantra is, 'We listen to the building,'" said Hafer, whose company has also designed and renovated the Tracy and Swift Building lofts as well as the former Good Earth Market. "It's an amazing building with a lot of thick columns and tin ceilings. We want to be able to add to it while retaining its features and doing as little demolition as possible."
The project idea came about after Alison LaFever finished working at High Plains Architects, moving to New York City a few years ago to complete her graduate work at Columbia University.
"She had become our office historian," Hafer said, adding with a smile, "She and I would constantly scheme."
In 2012, Cori and Alison's father, Neal, purchased the building that had once held the Westwood Appliance as well as Colburn School Supply. Two years later A&E Architects completed a feasibility study to learn what it would take to revive the 45,000-square-foot building.
Neal LaFever died in 2015, and it was up to his daughters to make something of a building that was beginning to draw the attention of the city's code enforcement department.
"We had received complaints from concerned citizens, council members and neighbors about the deterioration of the building," said Nicole Cromwell, who leads the city's code enforcement department and is also its zoning coordinator. "We were recently in municipal court to get the boarded-up windows un-boarded."
Now that renovation plans are moving forward, Cromwell called the century-old building "perfectly poised to be a great anchor."
"This is a fantastic asset to the community," she said. "It's right across from the Northern Hotel and close to the Empire Garage. Hopefully by this time next year we'll be talking about how construction is coming along."
Hafer said he's kept a steady gaze on the building for years.
"This building has been on my bucket list for a long time," he said. "We're excited to bring it back to life."
The work will include adding two stairways, sprinklers for fire suppression and a new elevator. In one spot, bricks are coming off the building, so the project will also require some masonry work.
Signs will be placed outside the building in the coming days to keep the public informed about the work that's planned.
"People are going to start to see activity this summer," Hafer said. "Cori and I will be very involved."
While the LaFever family owns several other downtown properties, including the Monte Bar & Casino on First Avenue North, "this is the biggest of our projects," Cori LaFever said. "I prefer a downtown with historic buildings because of the feeling and the vibe they bring. It's all part of a vibrant downtown."
Hafer calls the process he and his firm use to renovate historic buildings "adaptive reuse. It's a new use in an old building. You retain the historic character of the building, but you give it new life."
It's not historic preservation in the traditional sense, he said.
"Billings isn't Colonial Williamsburg," he said. "Businesses need to make use of these historic buildings."
Katy Easton, executive director of the Downtown Billings Alliance, said the promise of 28 downtown apartments is good news on the heels of a DBA strategic plan that says downtown housing is at a premium.
"If (Hafer) gets all the residential units done, he won't have any trouble renting them out quickly," she said, adding that downtown redevelopment "often comes with a domino effect. You bring people along to seeing your vision. We will probably see more of this happen."
"I think this will show there is interest in the downtown," she said. "They are revitalizing and reactivating a key block that has been a challenge. Our hope is this will spur excitement for the potential of what is to come."
---
Photos then and now: The Old Billings Hardware building