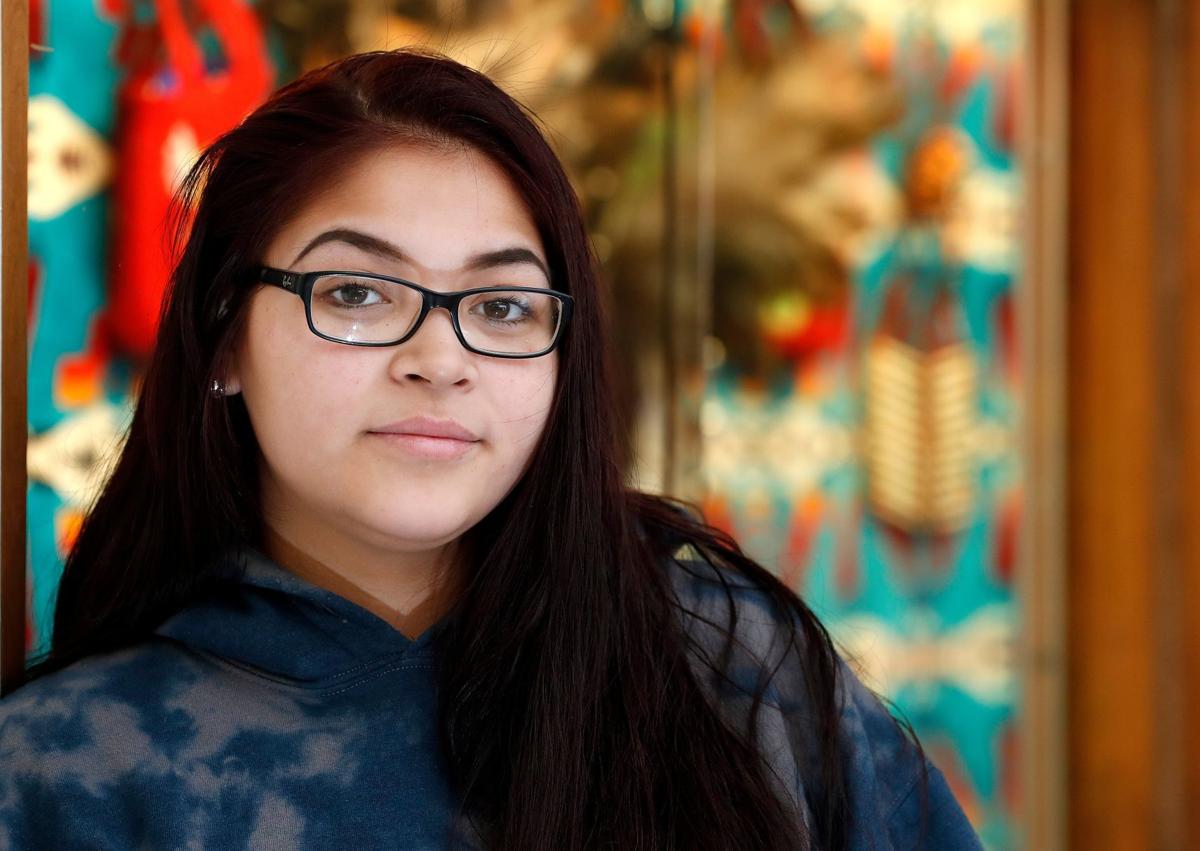 Precious Bear Crane remembers her grandmother's advice.
"She told me to always stay in school," the Senior High senior said.
That hasn't been always been easy. Amid family challenges, Bear Crane struggled earlier in high school.
"It was like a cycle that I'd been going through for the last two years, and I was just done with it," she said. "I just felt stuck, like nothing was going to change."
But Bear Crane persevered, and got on track academically and behaviorally at school. She's on schedule to graduate this spring and hoping to attend college.
Brandon Covers Up saw that potential in her from the beginning. The Senior High teacher met her before Bear Crane began her freshman year at a high school transition program for American Indian students.
"She just had these characteristics of a strong, confident person," Covers Up said.
But school didn't go well for Bear Crane during her freshman year, and she struggled with some family relationships outside of school. She often lived with an aunt or grandma. 
But she hit a turning point during her junior year.
"Junior year was where I decided to do it for me," Bear Crane said.
"It's a tough thing to do, to make a comeback, when you're struggling," Covers Up said. He credited family relationships that were positive as an influence that "just kept her going."
Bear Crane lost one of those relationships as her senior year approached; her grandma died.
"I didn't even want to come back to school," she said. "I just had all this hurt and I felt like I didn't have anyone."
But she leaned on her grandmother's advice.
"I've got to get it done, even if I am hurting. It just makes you hurt more, I feel like," Bear Crane said, if you don't try to move on.
Senior
Bear Crane, a Crow tribal member, has also found community at Senior, where she's been involved with the school's Native American Club.
"I think it was just something to learn more about culture," she said. "My mom's side wasn't really traditional like that. … I think it's just something that I needed to know."
But she has been involved in tribal-related advocacy for years.
Bear Crane's father, Steven Bearcrane, was shot dead when she was two years old. His parents, Cletus and Earline Cole, filed a discrimination lawsuit against the FBI more than 10 years ago, arguing that investigators failed to do a thorough job and that the investigation was racially biased. Some claims were thrown out in 2010, but the family recently won a victory when a judge ordered that the case go to trial.
Precious recently attended a court hearing on the issue. It still bothers her, she said, that investigators appeared to treat the case "like it didn't matter."
"He needs justice," she said.
She plans to continue to stay involved with the case, even as she makes post-high school plans.
Bear Crane hopes to attend college. She's not sure what she wants to study, but she believes that the lessons she's learned about the value of education will help her along.
"I want to make sure that I'm happy where I'm at," she said, "and that I enjoy what I do."
These Billings-area students are an inspiration
The Above and Beyond series highlights Billings-area students whose stories might miss the limelight, but are nonetheless examples of grit, determination and inspiration.