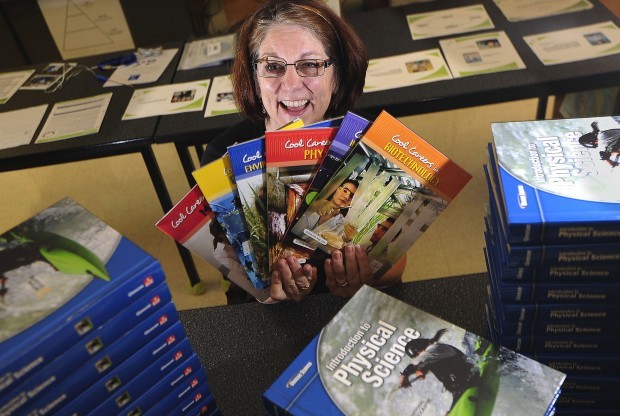 Math doesn't have to be dry, and science doesn't have to be dull.
After attending ExxonMobil's Sally Ride Science Academy this summer, a handful of Billings-area teachers are bringing copious amounts of enthusiasm for science and math back to the classroom this fall.
The idea, said Riverside Middle School science teacher Katy Leffler, is to "ignite them."
Held each July in San Diego, the academy shows teachers how to engage students in science, technology, engineering and math by showing them the different jobs they could pursue with that type of training.
"We'll be able to help students understand there's a whole plethora of careers out there," said Ryan Truscott, and fifth- and sixth-grade teacher at Washington Elementary.
It could be anything from an illustrator for anatomy and physiology publications to an astronaut to a wildlife biologist to a waste water treatment plant chemist.
"It's giving them ideas of what there is to do," said Bill Baumann, a science teacher at Castle Rock Middle School.
They're also emphasizing that years and years of post-secondary education aren't always necessary or appropriate for chasing some of these careers.
"Sometimes that can be a turnoff," Truscott said.
Students who have interests in jet engine mechanics or building design may need technical training at a vocational school rather than an eight-year doctoral program. Eight years of college can sound daunting to a seventh-grader fighting just to keep interest in math class, the teachers said.
"You don't have to be a research scientist or a doctor to do what you like," Baumann said.
However, nearly any kind of career will require some type of post-high school training. Students need to be prepared — and excited – for that, they said.
Outside of career opportunities, students need to be literate in science, technology, engineering and math simply to keep up with the world outside the schoolhouse doors and to intelligently engage big cultural issues like stem cell research and climate change, Baumann said.
"You've got to be able to understand what the issues are," he said.
In all, 13 Billings teachers in all were selected to participate in the academy, many from schools with high rates of student poverty. Besides Truscott, Baumann and Lefler, the others included Brian DeMartin, from Orchard Elementary; Mark Berg, from Big Sky Elementary; Robert Barthule, from Boulder Elementary; Terri Porisch, from Poly Drive Elementary; Gail Suriwell, curriculum director for SD2; Sarah Lord, from Senior High; Tawnya Catron, from Castle Rock Middle School; Trish Loken, from Lews and Clark Middle School; and Julie Garton, from Will James Middle School.
The hope is that by getting students interested in careers within science, technology, engineering and math fields, they can break the poverty cycle, Lefler said.
And to do that, those students need to see professionals in those fields who look like they do, she said.
"If they don't see a reflection of themselves, they won't know they can become those people," she said.
Much of the literature the academy provided to the teachers includes first-person accounts from a diversity of people working in some kind of science-related career. Lefler calls it getting away from the "dead white guys of Europe" and putting students in contact with people like them.
Throughout the school year, the teachers who attended the academy will be giving free training to other science and math teachers throughout the Billings and southeastern Montana to help other schools implement the program and "ignite" their students.
"It was great training for us," Truscott said. "It'll be a great experience for our students."