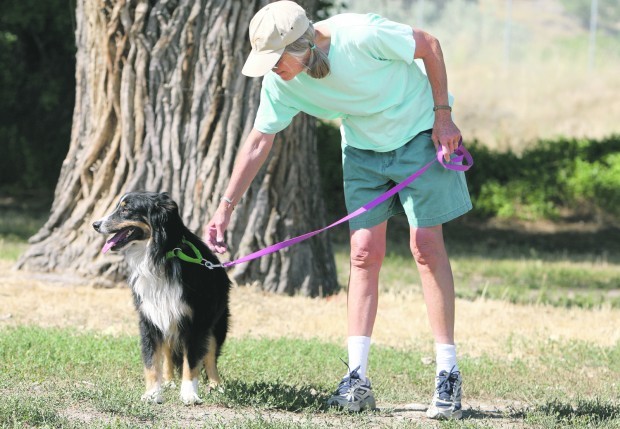 About 86 of the dogs removed from Linda Kapsa's property have been matched up with new homes in Yellowstone County, leaving more than 100 waiting for new homes.
"What we're asking the public to do is to let us match a dog up to their lifestyle, rather than what most people are used to which is just to walk through the kennel and say 'I like this one,'" said Kyt Eubanks, a volunteer with the National English Shepherd Rescue, which is managing the adoption process.
The dogs are a variety of ages, including elderly dogs and puppies that were born after the seizure from the Ballantine breeder's home in December.
"It's going to take some training because these dogs have never been in a home," said Kathi Tesarz, president of the rescue group.
Tesarz said that about 60 of the dogs were placed with the volunteers who have been caring for the ani-mals over the last seven months. Every volunteer was offered at least one of the dogs, she said.
Sheila Ruble, a volunteer handler, has already taken home an 8-month-old named Diesel and is hoping to bring home another full-grown dog.
"The dogs are smart and athletic. They're special needs, but they're worth the effort," Ruble said.
Diane Guy, another volunteer, has adopted Abby, a 5-year-old shepherd, and Tom, who is almost 2.
"I think the animals are very, very intelligent and they see that they now have the opportunity to have homes," Guy said.
People who are thinking about adopting one of the dogs need to be open to suggestions about how to manage them and willing to give them time to adjust, Eubanks said.
To offer continued support after the adoption, the rescue group also has started a Yahoo List for communication between the dogs' new owners and professional trainers.
"People will be able to get on there and ask questions, share concerns and get advice," Eubanks said.
To find out how to apply to adopt one of the dogs go to www.nesr.info, or e-mail rescue@nesr.info. For Yellowstone County residents, the adoption application fee is $100. For those living elsewhere, the fee is $200.