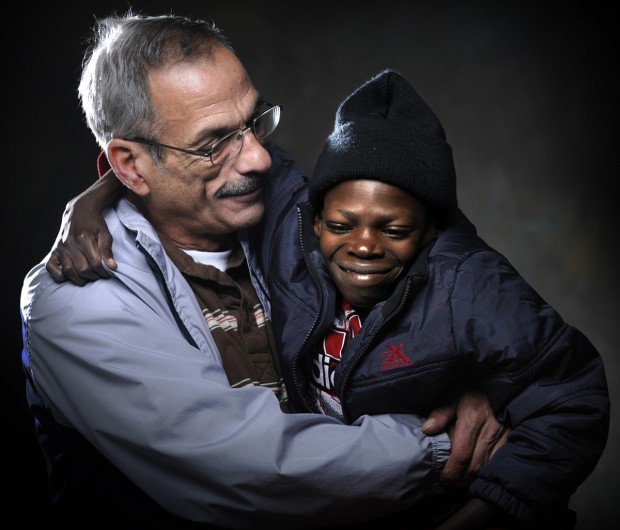 Roger has been in Billings two weeks and his rescuers are still incredulous that he's finally here.
Roger, whose birth name is Roggers Ssambatya, was covered in a sheet, his only clothing, when St. Vincent Healthcare physician's assistant Nadine Hart met him in 2006 in Uganda. His crippled legs were bent under his malnourished body, and sores covered his legs.
"His eyes were so pained and desperate, it broke my heart," Hart said.
At 14, Roger now weighs about 40 pounds, and his legs are still bent and immobile. But his smile is constant, even when he shyly ducks his head under a table, and he's here in the U.S. for two years to receive free medical aid from a team of Billings doctors. His first wheelchair should be ready for him today, and on Monday, Roger starts school at Riverside Middle School.
There is plenty to celebrate for Roger and more to look forward to in the next two years. When he arrived in Billings on Feb. 24, carried off the plane by his Billings care-giver, Terry Fettig, his smile lit up the room, Sister Mary V. Maronick said. Maronick, an AIDSpirit board member, has worked to help Fettig and others bring Roger to Billings.
"It just seems like a miracle that he's finally here after all the struggles," Maronick said.
Fettig, a Billings contractor who works as the volunteer chairman of the local chapter of AIDSpirit, visited Kenya and Uganda in 2007 to check on students and mission projects he has helped sponsor for many years. Then he met Roger.
"Roger just stole my heart," Fettig said.
For two years Fettig carried around a folder with Roger's story and photo inside, trying to get the word out about the teenager's courage and strong will to survive despite the odds.
"I've never seen a child with such determination," Fettig said.
Fettig and the Billings chapter of AIDSpirit went to work to raise the $5,000 in travel expenses to bring Roger to Billings. When Roger arrived in Billings, doctors discovered an infection on his foot that is being treated before they can consider surgery to repair his crippled legs. He is also seriously malnourished, and Fettig said he will work with a nutritionist to help set up a diet for Roger to follow to build up his strength.
In the meantime, Roger is trying every kind of food Fettig offers him. In Uganda, Roger's diet consisted primarily of maize, sweet potato and kasaba. One of his favorite foods in Uganda was jack fruit.
"His favorite food here so far is chicken and chips, which are French fries," Fettig said. "The other night, he ate some Chinese food at the hospital cafeteria and he liked that, too."
Fettig said everywhere he takes Roger, people notice them, and many want to help. Until today, Fettig has had to carry Roger everywhere because he has never had a wheelchair.
"We ate at JB's on Grand the other day and when I went to pay my bill, the waitress said, 'You don't owe a thing. A group of women paid it for you.' "
Roger was healthy until the age of 5, when he contracted tuberculosis. Untreated, he became crippled. Physicians at St. Vincent Healthcare, including Dr. Gregory McDowell, Dr. Frank Michaels and Dr. Frederick Kahn, have agreed to treat Roger for free. Fettig raised the necessary $5,000 for travel expenses to bring Roger to Billings.
Fettig, who has taken off from his job for several months to bring Roger here and get him settled, said he could use help caring for Roger and shuttling him back and forth to school. Those who would like to help should contact AIDSpirit at 696-1164.