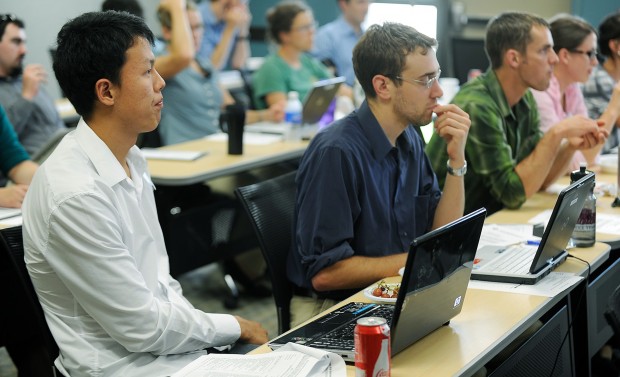 A 19-year-old medical student from Mongolia had never met anyone with Alzheimer's disease -- until he got to the United States.
"It's kind of weird," said Tuvshin Bayasgalan, a student from Health Sciences University of Mongolia (HSUM). "It's something new for me. In Mongolia, people die at 66 years old. Here, they live until they are 100 or more, but without a memory."
His first encounter with an Alzheimer's patient came through his participation in "BioRegions," a program started by Cliff Montagne at Montana State University.
For 13 years, Montagne, Director of MSU BioRegions, has worked in the Darhad Valley with rural Mongolian communities, seeking to understand their needs and working to preserve culture, environment, education and health.
Since 2008, MSU WWAMI and MSU BioRegions have cooperated to provide rural field experience for integrated teams of HSUM and WWAMI medical students, along with a resident physician from RiverStone Health Clinic. The field experience includes conducting health screenings and trainings for rural health practitioners in Mongolia's remote villages. This program also includes time to visit with physicians and hospitals in Ulaanbaatar and hosting the HSUM medical student for a summer visit to Montana where the student observes Montana physicians and hospitals in Bozeman and Billings.
The program was created to better the lives of the Mongolian people, many of whom are traditionally nomadic.
In June, MSU BioRegions teamed with the Montana State University WWAMI Medical Education Program and the Montana Family Medicine Residency Program and participated in a community health project designed by local physicians in the remote Darhad Valley of northern Mongolia.
Members of the work team were Peder Anderson, resident physician at the RiverStone Health Clinic in Billings; Robert Wheeler, Montana WWAMI medical student from Butte; Amy Bracksmaa, nurse from Bozeman; Lena Petersen, MSU nutrition student; Bayasgalan; Elliot Welder, pre-medical student from Kalispell; and Susan Gibson, WWAMI program faculty member.
It was now Bayasgalan's turn to travel from Mongolia, the landlocked country between Russia and China, to America where he's had one surprise after another.
"The whole health care system is really different," Bayasgalan said. "In Mongolia, the first 10 days of inpatient care are free and people pay $5 to $6 a year for insurance. X-rays are free in public hospitals. In America, everything is based on money. Your health system is new to me."
The no-cost or low-cost price of health care in Mongolia, population 2.75 million, fosters an attitude of "indifference" toward their health, Bayasgalan said.
"When people get sick, they go to the hospital for things that could have been prevented," he said.
Though the health care systems are vastly different, Bayasgalan said Montana is nearly a mirror image of the Darhad Valley. Both are rural in nature.
Mary Helgeson, student placement coordinator for the Eastern Montana Area Health Education Center at Riverstone Health, said the exchange program is valuable in that it exposes medical residents to different cultures and backgrounds.
Most important, she said, "This program gives them the added experience of practicing medicine in rural and underserved areas."