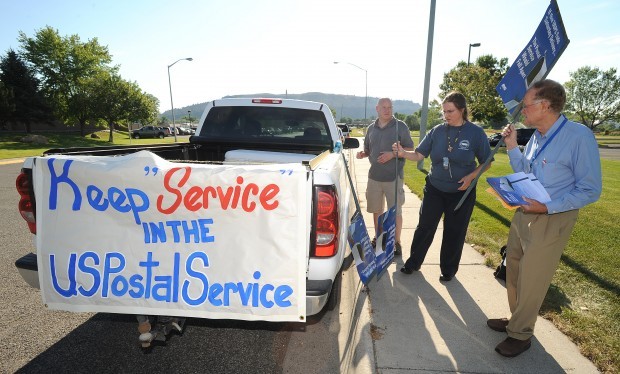 Their contracts prevent them from going on strike, but that didn't stop postal workers from picketing Tuesday in Billings.
Members of three postal unions organized an informational picket at the Main Post Office and said they'll be back with their signs this afternoon at the Pioneer Post Office off Broadwater Avenue. Their goal: to convince the public that there are better ways of balancing the U.S. Postal Service's budget than eliminating Saturday mail delivery.
"You can't grow a business by cutting service," said Shawn Smith, vice president of the American Postal Workers Union, which represents roughly 200 workers in the Billings area. "We don't want people to start using other shippers. There are other alternatives to five-day delivery."
The USPS, which ended last year with a $3.8 billion shortfall and projects a $7 billion loss in 2010, proposed doing away with Saturday service as a means of saving $3 billion to $5 billion a year. The change, if authorized by Congress, is not expected to take place until a year from now.
Smith attributes the drop in revenue to many factors, not just e-mail and electronic bill-paying. When the credit market dried up, so, too, did millions of pieces of mail in the form of credit card offers, bank loan offers and mortgage offers, he said.
"The Postal Service wants to blame e-mail," Smith said. "But we had e-mail in 2006 when mail volume hit its all-time high."
The union also claims the USPS's projections, which forecast a $238 billion deficit by 2020, are "wildly overstated." To hit that target, their information says, the USPS would have to lose $23.8 billion a year for the next decade  — more than twice what the agency has lost during its worst year.
In proposing the end to Saturday mail delivery, the USPS cites a survey showing that 66 percent of respondents favored balancing the budget by eliminating Saturday service. Smith and others counter that the survey failed to offer information on other options.
"People think cutting Saturday service will save the Postal Service," he said. "But the figures show it's only going to save the Postal Service 4 percent of their budget."
Representatives of the three postal unions picketing Tuesday say they'd rather see a change in a 2006 law that requires the agency to pre-fund its retiree health care benefits — a requirement shared by no other federal entities, they say. The postal regulatory commission reports that since 2007, the postal service has prepaid more than $5 billion annually into the fund — nearly 10 percent of the USPS' annual budget.
"The best way we see (of solving the problem) is to eliminate that pre-funding," Smith said.
According to the National Association of Letter Carriers, if the USPS had not been mandated to pay into that fund, it would have had $6 billion to spare from 2007 to 2008 and would have lost money only in 2009, when the recession peaked.
Postal workers also cite problems with the method used for computing the agency's obligation to the Civil Service Requirement. They say the calculations were flawed, resulting in the Postal Service overpaying the fund by $55 billion, Smith said.
"If we had that money, we would not be sitting where we are," he said.
A report released in March by the Postal Regulatory Commission identified another leak contributing to the agency's bleak financial picture: below-cost discounts to corporate business mailers.
Mark Addington, president of the local National Postal Handlers Union admits that the Postal Service is hurting but believes the volume of mail will rebound — though probably not to 2006 levels — as the recession eases.
"The concern is, if you give away the work, I don't think you can predict what you will lose and what you could pick back up," he said.
Addington and the unions also cite factors that put the Postal Service at a disadvantage, factors that if changed, may allow the agency to cover its costs of doing business. The USPS is hampered by regulations that prevent it from making decisions like private corporations, he argues. When fuel costs escalate, the USPS can't just raise postage. Even cutting Saturday service will require congressional approval.
"We're bound by these laws," he said.
Deb Senn, president of the local chapter of the National Association of Letter Carriers, said carriers have already made concessions and solicited businesses to fuel USPS revenues.
"Overall, we've brought in millions of dollars just by talking to customers," she said. "And we've come up with new route adjustments to save millions of dollars."
While it might seem logical that the unions' opposition to five-day-delivery is motivated by job preservation, Smith said most contracts include language preventing employee layoffs. Union members were given that assurance in exchange for their not being allowed to strike, he said.
"At this point we just want people to use the Postal Service," Smith said. "That's what ultimately will save the post office."
Members of postal unions will continue their informational picketing today, from noon to 2:30 p.m. and 4:30 p.m. to 6:30 p.m., at the Pioneer Post Office, 724 15th St. W. For more information, go to www.apwu.org.