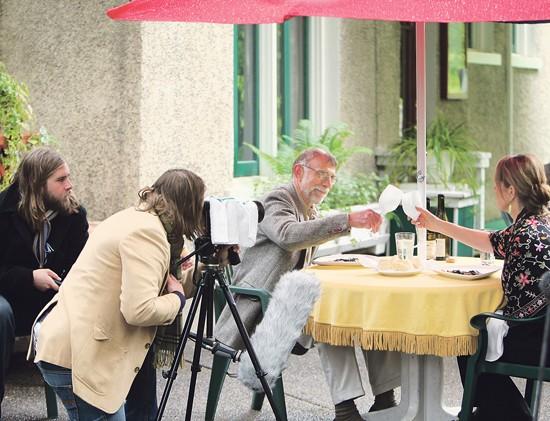 It started with a simple chance encounter at a party in Bridger last December. Local author Fred DeFauw bumped into representatives from Texas-based film company Houston Hill Pictures and mentioned he had a short story they might be interested in.
So Houston Hill, Marianna Gose and Tibaut Bowman, all from the film company, gave it a look. They liked it enough to want to adapt it to a short picture and Sunday, the trio filmed it at Juliano's Restaurant, 2912 Seventh Ave. N.
The film, called "Over Sancerre," is based on the short story "From Bronzed Lips" from DeFauw's book "My Soul to Keep: Nick Adam's Yellow House and Nine Other Traumas" and focuses on a dinner conversation between a middle aged couple and the difficulties in their relationship.
"It's a dramatic relationship," Gose said. "But anyone who's been in a relationship before has had this same conversation. It gets down to the nitty-gritty relationship stuff."
The three-person crew of Hill, Gose and Bowman arrived from Austin, Texas, on Saturdy and with the help of the Montana Film Commission and a few of DeFauw's connections, they rounded up about a dozen locals to be in the film, both as the stars and extras, and the filming location at Juliano's. It stars DeFauw and Christine Pierce as the couple and even features Juliano's owner Carl Kurakawa as himself.
The film is being made on a tight budget, with all three crew members taking on extra duties during its production, including sound work and set up. Gose wouldn't reveal how much it is costing, but did say that they are making every dollar count.
"You can make things happen in thrifty ways," she said.
Hill and Bowman are tag-teaming the directing duties, while Gose is producing the film. It is being shot on Super 8 mm film, giving it what Gose said is an "old-fashioned, grainy, beautiful look." They hope to have the film, which will run about 10 minutes, edited, polished and ready for presentation in about a month. Once it's done, they would like to get it going on the film festival circuit.
"You always hope for the big ones, like Sundance," Gose said. "But there's a great festival where we live, in Austin, and there are other ones all over the place. Any more it's almost like, 'Where would we like to go spend some time?' "