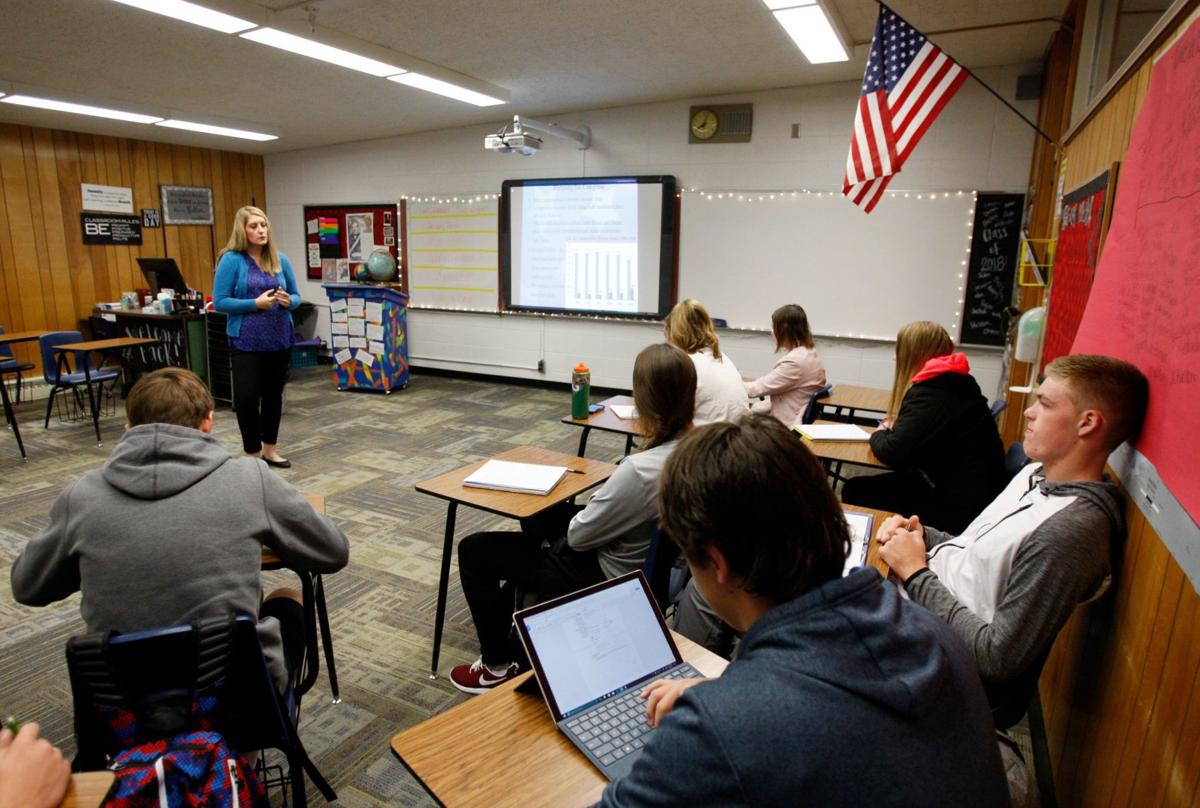 College credit options were few and far between for many high school students six years ago. Only 22 class B or C schools offered classes in their schools, taught by their teachers, that were endorsed by a Montana college. 
That number has multiplied like prairie dogs, with 57 high schools offering such courses last school year, and more students statewide took similar courses in fall 2019 than any other fall semester.
But the progress hasn't been uniform, and Montana education officials are still aiming to increase access to college credit programs in small, isolated schools. 
At Thursday's Board of Regents meeting, officials presented a map showing the increase in small schools offering concurrent enrollment courses. There were new dots on the more recent map, but some schools that had offered courses in the 2014-15 school year had dropped off. 
"We don't like to see that," said John Miller, a University of Montana law student serving as the regents' student representative. "What are we doing … to support these schools?"
Most schools that had early offerings have continued them. For example, Baker High School has offered at least one dual enrollment course throughout the time span. Ditto for Park City and several others. 
But a few high schools, from Anaconda to Rosebud County, had offerings early that they didn't in 2018-19. 
More than 40 high schools have added dual enrollment offerings when considering those that dropped the courses, including Roundup, Huntley Project, Lodge Grass, Columbus and Shepherd.  
Rural schools are seen as one of the largest areas for potential growth for dual enrollment, an umbrella term that encompasses courses high schoolers can take online through the Montana Digital Academy; courses they can take at university campuses; and concurrent enrollment, the courses taught at their high schools by their teachers. When lumping in the other options, more than 90 schools have students enrolled in college-credit classes. 
Officials acknowledged there's no replacing a student's comfort level in familiar hallways. 
"It shows how students can get access locally," dual enrollment program manager Dan Karalus told regents. "They don't have to go online. They can get access in their classrooms. They're doing it right there."
One of the biggest barriers for rural schools is finding and keeping teachers trained to teach concurrent enrollment. Teachers need to have a master's degree and 12 additional credits of study in the subject they're teaching. 
Most turnover among school offerings, Karalus said, is likely related to teacher availability. 
"This is a symptom of what I see as one of our very, very top tier challenges in the entire state, which is recruiting highly qualified and credentialed teachers into our more rural areas," said Brock Tessman, deputy commissioner of academic, research and student affairs. 
"We have, I think, even more challenges ahead as a generation of very well trained, very well credentialed, high school teachers look at retirement options in the next several years."
Tessman said that any progress battling Montana's rural teacher shortage — a long-running trend that's worsened in recent years — will hopefully spill into concurrent enrollment offerings.
He pointed to training programs colleges are offering to help get teachers up to speed for concurrent enrollment courses, like grant-funding summer courses that some high school teachers have taken at Montana State University Billings. 
Some turnover in concurrent enrollment offerings is reflective of course structure, Karalus said. Some schools with small student populations may offer a course only once every other year. 
There's no one quick fix for ensuring rural access to concurrent enrollment, Tessman said. "It's going to be a lot of different arrows in our quiver."
But the burgeoning numbers have been a bright spot that university officials have been eager to point to, and it's unlikely that the spotlight will dim. 
"Seeing a dot in every single county would be a great opportunity for so many rural students," said Regent Brianne Rogers. 
Get local news delivered to your inbox!
Subscribe to our Daily Headlines newsletter.