Sisters Wendy Dubinsky, Corrine Cross and Michelle Brask showered their father with affection during a recent visit with him at St. John's United retirement home.
The sisters held his hand and gave him frequent kisses to make up for the year that COVID-19 restrictions kept them apart. The sisters also hugged each other and smiled, thankful they could be together in person after finally receiving their COVID-19 vaccines.
Their father, James Tallman, 91, lives in Rimview Square at St. John's United. The sisters recently helped move Tallman from The Vista at St. John's after his health declined in 2020.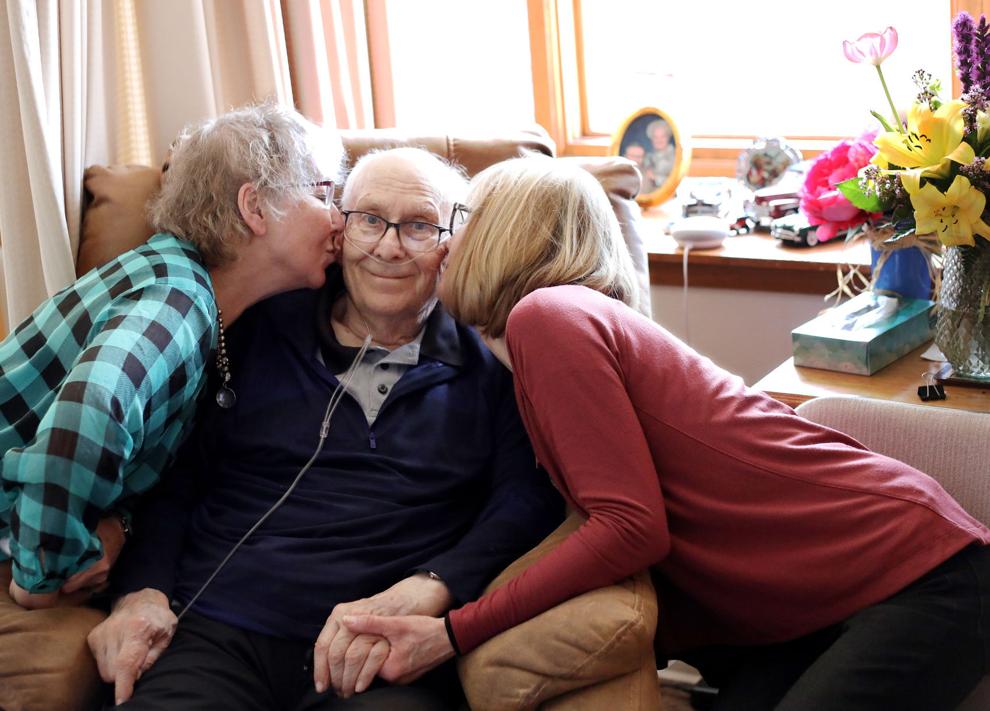 "When I was able to come see him, he said, 'This is the exact day you needed to be here. I couldn't have gone one more day without seeing you,'" said Dubinsky, who lives in Washington. She came to Billings in March to visit Tallman after getting her COVID-19 vaccine.
Care facilities started opening to visitors after pharmacies vaccinated residents and staff in the state. Centers for Medicare and Medicaid Services (CMS) revised visitation guidance earlier this year, providing specific rules and regulations for both vaccinated and unvaccinated visitors within long-term care facilities.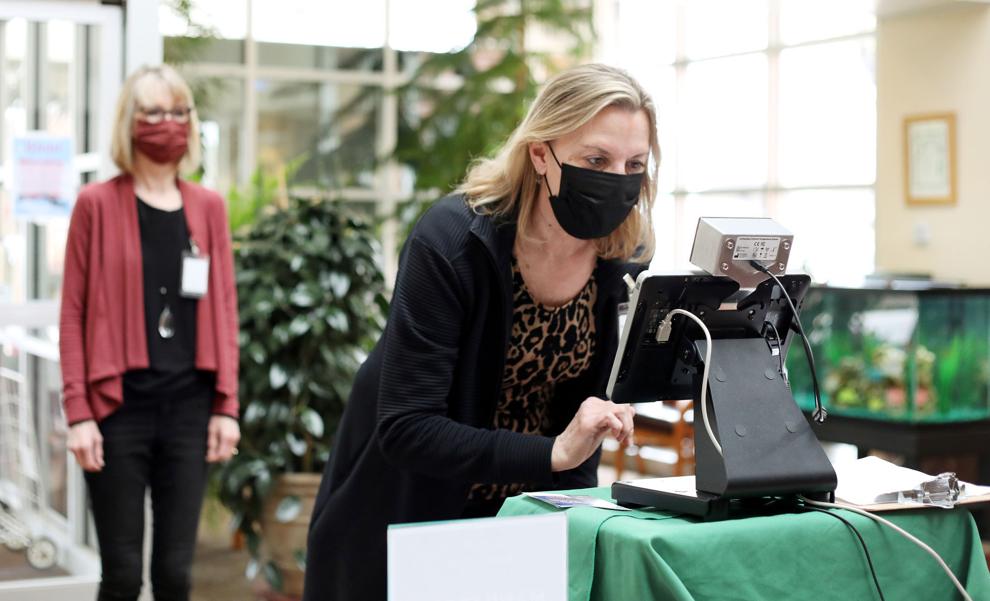 Before visitor restrictions were lifted, the sisters, including another sister in Florida, Laurie Huotari, became "masters of Zoom" and frequently talked with their dad online.
With St. John's United's registered visitor program that launched in March, the sisters were able to visit their father in person. Huotari plans to visit Billings soon.
The registered visitor program allows those who are completely immunized for the coronavirus to visit a St. John's resident during location-specific visiting hours, said Karna Rhodes, St. John's United administrator.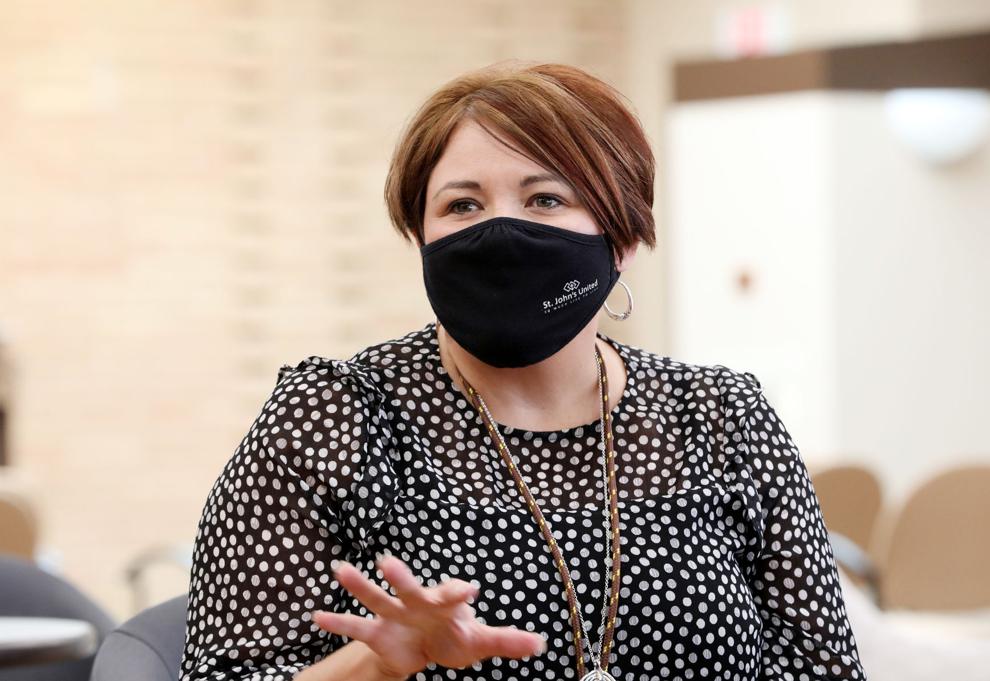 Individuals must wear their registered visitor badge, a mask, and be screened for symptoms. Only two visitors can enter a room or apartment at once. Residents may also leave campus without having to quarantine when they return, unless they leave the country.
Unvaccinated visitors must make an appointment, and are encouraged to receive COVID-19 testing through St. John's United before visiting a resident.
CMS most recently revised visitation recommendations on April 27. Facilities are able to allow indoor visitation to all residents and visitors regardless of vaccination status. However, facilities should suspend visitation if a unit goes into outbreak status, or if a new case of COVID-19 among residents or staff is identified.
As of Wednesday, two units at St. John's were in outbreak status after almost eight weeks without a case, said David Trost, President and CEO of St. John's United. Because vaccination rates in Yellowstone County haven't gotten to recommended levels, facilities will continue to see COVID-19 cases, Trost said.
So far, the number of registered visitors has grown to 200.
"I normally come three to four times a year," Dubinsky said. "So, this last year in particular has been so difficult — not getting to come for his birthday, not getting to come for the holidays, things like that."
Tallman said he's happy to see his daughters.
"We get together right here in my room and it's a really marvelous thing," he said.
Highgate Senior Living resident Lena O'Dea and her son Bob O'Dea were finally able to meet in person in April after spending months visiting through a window. Both are fully vaccinated.
Complying with restrictions was an adjustment, since Bob O'Dea was used to visiting his mother multiple times a week. He's had to put his full trust into Highgate staff to take care of his mother when he couldn't be there.
"I was able to bring her great grand-daughter — our grand-daughter — to see her and she was able to hug her too, which was great," Bob O'Dea said.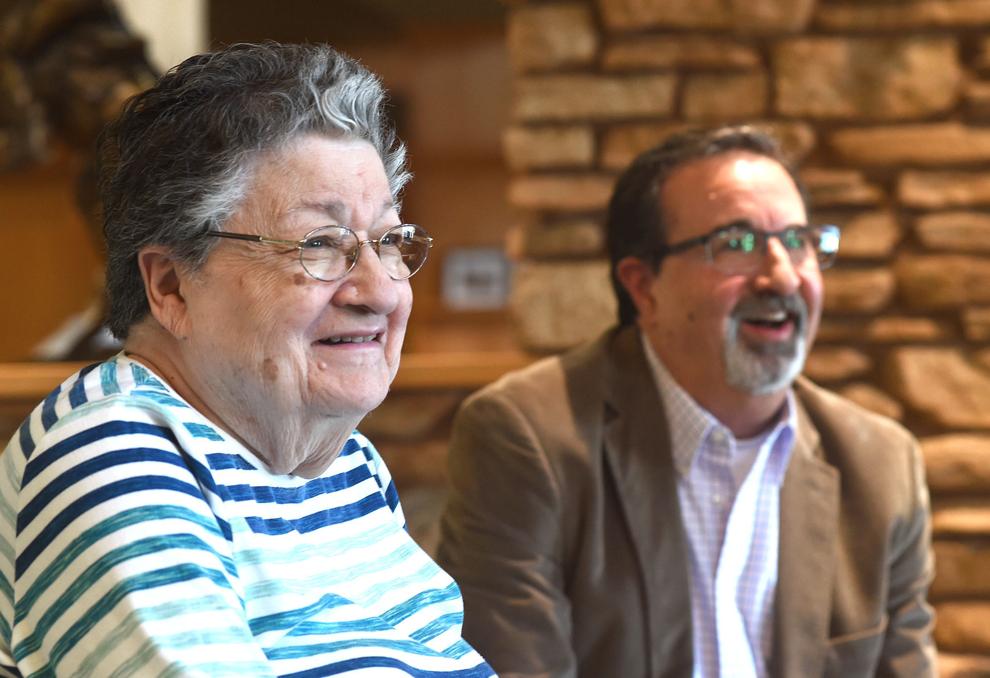 Earlier this week, health care and long-term care officials voiced concerns over House Bill 702, which prohibits all vaccine requirements. The bill in its original form directly affected hospital and long-term care visitation, according to health care and long-term care officials during a press conference over Zoom on Monday.
On Thursday, the Montana Legislature passed amendments made by Gov. Greg Gianforte to the bill.
With the changes, nursing homes, long-term care facilities and assisted living facilities can't require immunizations unless it puts them out of compliance with federal regulations.
The changes also allow health care facilities, including long-term care, to ask employees to provide immunization status if needed to provide "reasonable accommodation measures to protect the safety and health" of people in their facility. Reasonable accommodations can be made for those who are not vaccinated to protect the health of residents, staff and others.
Montana Health Care Association executive director, Rose Hughes, also met with health care facilities over Zoom on Monday. The bill in its original form prohibits any discrimination related to vaccine status. The bill pertains to all vaccines, including influenza, Hepatitis B, whooping cough, and others.
Specifically, this would have required long-term care facilities to treat everyone as if they're unvaccinated, Hughes said Monday. The Montana Health Care Association serves long-term care facilities in the state.
"We will treat everyone, to the extent we can, as though they are not vaccinated, which again makes it far more difficult for families and residents and staff," Hughes said Monday.
The amendments, however, would resolve this issue, Hughes said Thursday after the Montana Senate approved the amendments. The bill is now on its way to the governor to be signed.
Federal regulations and state law won't clash under these provisions, Hughes said.
Not many of Montana's long-term care facilities mandate vaccines anyway, Hughes said, but with the amendments, facilities can make accommodations to protect residents and staff if an individual isn't vaccinated. 
While these accommodations aren't defined in the bill, Hughes said facilities could require unvaccinated individuals to wear masks, assign staff to different types of work depending on vaccination status, among other changes.
"The amendments are very helpful for our long-term care facilities. They really address the issues that we raised," Hughes said.
Trost of St. John's United said Wednesday before the amendments were approved that he was concerned about how the bill could affect resident and staff safety, as well as the registered visitor program. 
"I am grateful for the modifications to HB 702 which provides an exception for licensed senior living communities to continue to provide measures for health and safety of our most at risk clients, including the registered visitor program," Trost said in an email Thursday.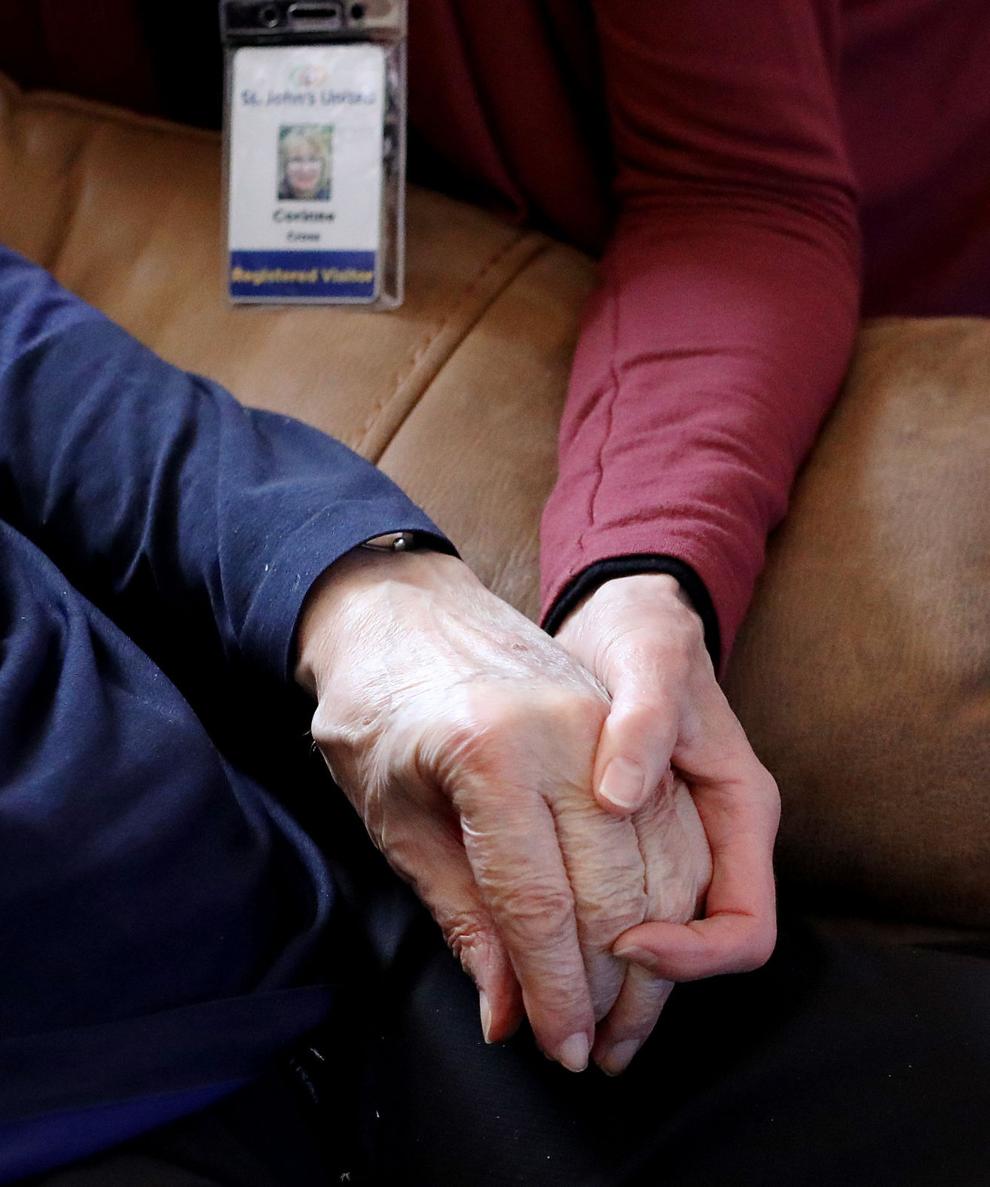 As more people are vaccinated, CMS and the Centers for Disease Control and Prevention could lift more restrictions in long-term care facilities, Hughes said.
Vaccines will continue to help bring residents and families together, Hughes said.
At St. John's United, Tallman's daughters describe him as a caring father who is devout in his faith and shows an undeniable love for his family. 
He worked as an insurance salesman well into his 80s, and never left his wife's side until she died in 2019, three days before their 70th wedding anniversary, Cross said.
Now, it's the sisters' turn to be there for their father as he transitions into his new home at St. John's United.
"I'm so thrilled to see my daughters," Tallman said.