Becky Richardson finds something immensely satisfying about watching an ax spinning through the air, handle over head, and thudding into the center of a wood target.
She's hoping people around Billings will share her passion. Richardson, along with her husband and son, will open Öx Indoor Axe Throwing on July 6 just east of downtown at 1711 Sixth Ave. N.
"We are hopeful it's going to go big," Richardson said. The business occupies the former Asylum Gym and will allow customers to bring their own alcoholic drinks.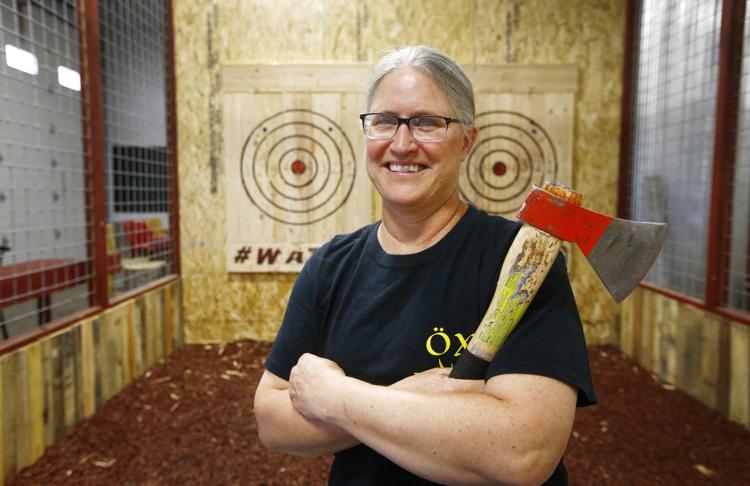 She first heard about the lumberjack-adjacent trend from her sister, who visited an ax-throwing bar in Boston.
"I was like, 'a what?'" she said. But she and her husband, Mark Coxwell, were intrigued. They visited two different establishments in Denver, a chain bar-and-throwing facility and a bar-slash-art gallery-slash-throwing facility.
"It kind of leaked out of Canada, down the East Coast, across the south," Richardson said. "Really, Montana and Billings are behind the times."
They came away convinced that the business model was sound, but with one big question: how would insurance work out for an establishment mixing alcohol with sharp flying objects?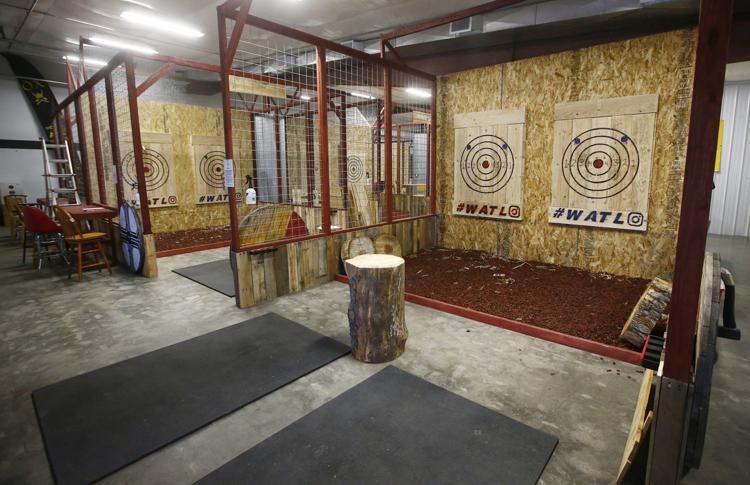 They found a company that specifically insures ax throwing. The agent told them that of the 163 new clients he'd signed in the past year, none had closed and the only two insurance claims were for slips and falls, not ax incidents.
The couple first eyed the former Good Earth Market building downtown, but the zoning didn't work out. They put the idea on hold, only to watch Lumberjaxe Throwing Company open in Missoula in March and announce plans for a Bozeman site this fall.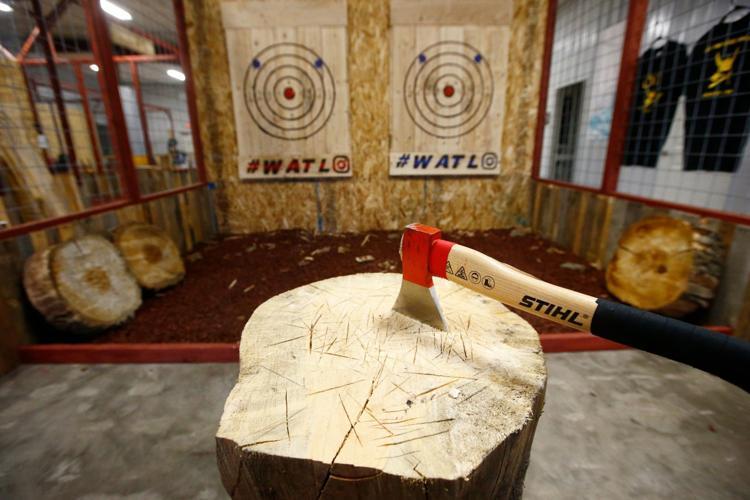 "We were like, 'OK, we're doing this,'" Richardson said. They signed a lease for the building in April and began constructing throwing lanes in June.
The space now holds an array of cage-like throwing lanes. Side walls hem in a pair of targets, which have a run up of several feet of rubber mulch designed to improve safety. A viral video that sawed through social media shows a woman throwing an ax that hits well below a target, then ricochets off a flat rubber mat back at her and forces her to duck.
"Having the rubber mulch really helps with the bounce-back," Richardson said.
The facility allows customers to bring their own drinks and has a mutual discount partnership with downtown taproom Craft Local. But rules allow the business to kick out intoxicated patrons, and Richardson said insurance provisions often limit how much alcohol patrons may consume. 
Ax throwing also has a competitive circuit, and Öx will be part of the World Axe Throwing League. Richardson hopes to hold local and regional events, giving participants the chance to qualify for national or world events.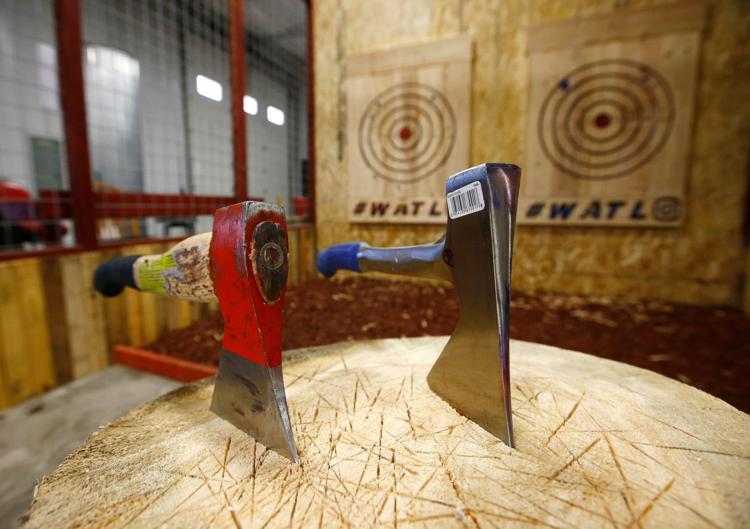 For beginners, the business will offer a training session before paid throwing time begins. Most people can find a style that works for them in about 15 minutes, Richardson said.
She throws with a two-handed, overhead grip. Her son Nick uses a one-handed toss. The ax requires touch — but not as much as a dart — and strength — but not as though whipping a baseball. And the thrower's distance from the target must be consistent to time the ax's rotation.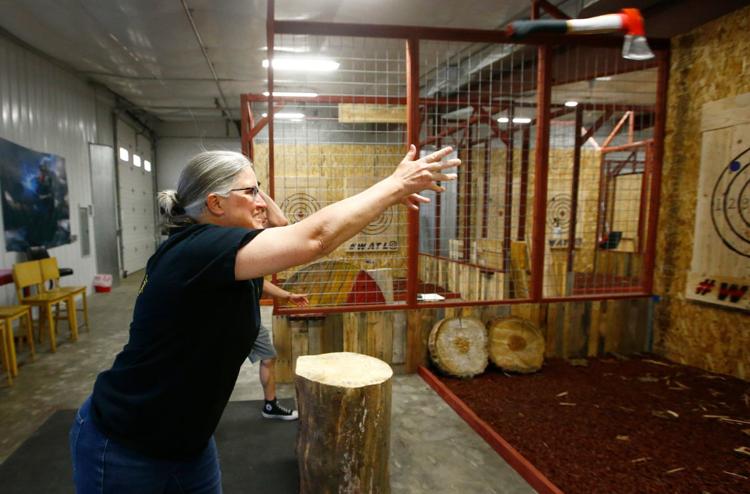 "A perfect throw has a feel to it, like it rolls nice out of the hand," Nick Richardson said. "It's very finesse oriented… it becomes a muscle memory sort of thing, where you just end up in the zone."
Competitions include games like hitting zones on a bulls-eye like target in order. The business hopes to add competitive league play this fall, and perhaps a youth league. Facility rules recommend that children are at least 12 to throw, but leaves it to parent discretion. Richardson said that a 10-year-old displayed a knack for the activity at a recent soft opening.
The business will charge $16 per hour per person of throwing time, will offer group rates, and is developing a membership model.