The groom wore a tux, the bride, an elegant dress, and the longtime couple sat in front of a crowd of about 30 people and spoke their wedding vows Saturday afternoon at RiverStone Health Hospice Home.
Words so often taken for granted held a special poignancy. The Rev. Eric Johnson asked David Wiese, 77, and Carolyn Gabbard, 83, to each repeat after him that they would have and hold each other "from this day forward for better, for worse, for richer, for poorer, in sickness and in health, to love and to cherish, till death do us part."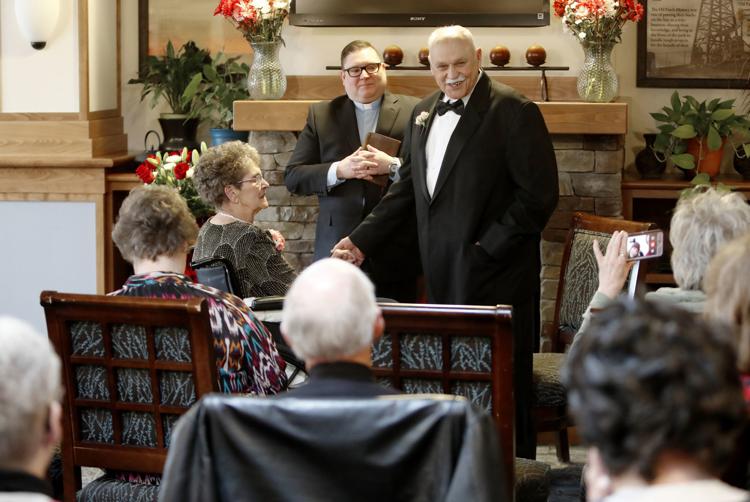 When Johnson announced that Wiese could kiss his bride, Wiese gladly complied as family and friends, hospice staff and patients clapped and cheered.
"I present to you Mr. and Mrs. David Wiese," Johnson said, and Wiese flashed a big smile to all the guests seated in the lobby.
Then he wheeled his wife to a table that held a white cake decorated with red roses, stopping to chat with friends.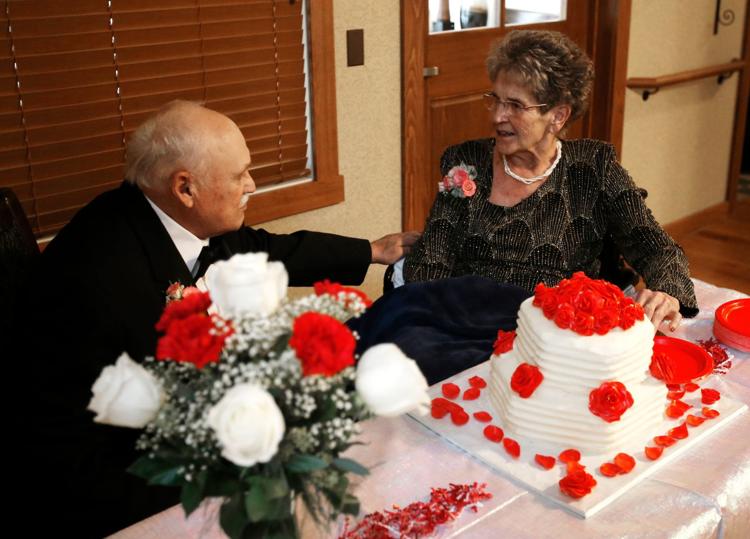 After a piece was cut, the two gently fed a mouthful of the cake to each other. Some of the guests filmed the moment or spoke to other family via video so they could also take part.
The couple, who live in Three Forks, came to Billings after Gabbard had a stroke on Jan. 3 and was flown to town. After her month-long hospital stay, she was transferred to hospice care two weeks ago.
Wiese and Gabbard met in 1984, when they both lived in Belgrade. They've been together ever since, spending the past 25 years in Three Forks.
Carolyn Gabbard is the mother of three sets of twins, plus one other child, and David Wiese has four children of his own. Before the ceremony, Wiese, his hand resting on her shoulder, said from the start, "I loved her looks, her kindness."
"I should have done this 35 years ago, but it's better late than never," he said, smiling.
Gabbard, asked her reaction when Wiese popped the question, she said she was surprised.
"About time," she quipped, and everybody listening laughed.
"She's the best thing that ever happened to me, and she's made me what I am today, and I thank her for that," Wiese said. "I love her dearly."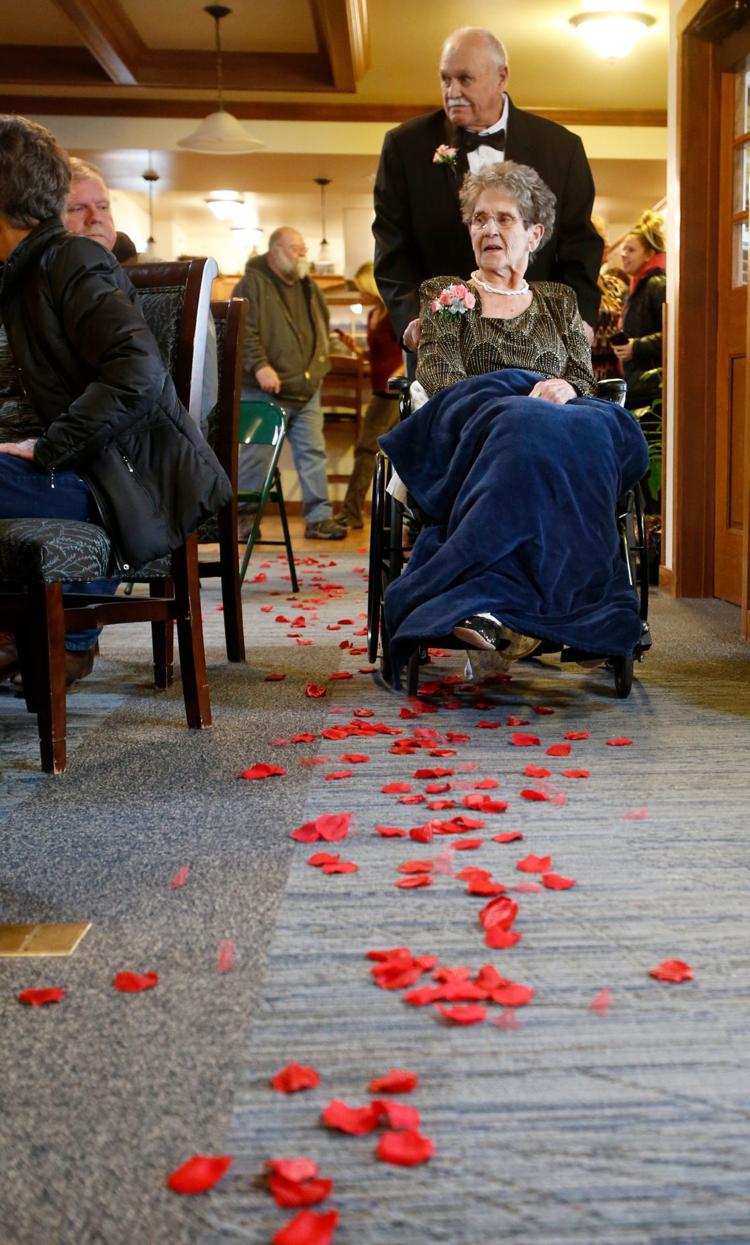 He said he loves waiting on her and bringing her coffee in the morning. Over the last three years as Gabbard experienced health issues, Wiese said it had been his pleasure to take care of her.
"And she took care of me when I had health problems years ago," he said. "When I was working lots of hours, I wished the yard would be mowed and she'd have it mowed for me."
On Wednesday, Wiese sat down with Gabbard and grew emotional as he asked her to forgive him for never having married her. That night, he approached Johnson to see if the chaplain would be willing to perform the ceremony.
Johnson's immediate reaction was yes. It's the first wedding he has done.
"I was honored to do it," he said. "This is something I will certainly cherish my entire life."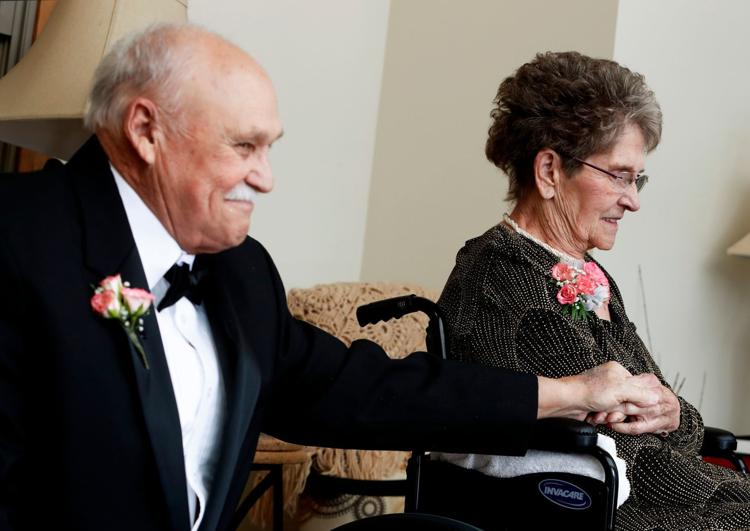 Wiese figured it would be a small affair, just he and Gabbard and a couple of witnesses.
But then the staff found out, said Monica Schaff, RN supervisor for the hospice. And they sprang into action.
"Louise, who is our nurse and resident cake baker decided she was going to make a cake, and it kind of spiraled into everything else," she said.
The Montana Dress Co. donated the bride's dress and Magic City Floral provided the flowers. The staff found a photographer, arranged for food for the reception and took Wiese out to get him fitted for his tuxedo.
They worked with Gabbard, to make sure the ceremony and reception would be everything she wanted. Events like weddings don't typically happen at hospice, Schaff said.
"Usually we're doing another kind of planning," she said. "So everybody here is just elated that they can use all their talents to come together and bring the best day ever for this family."
Lots of special touches were added. Rose petals were strewn on the carpet. "Just Married" sign with a red heart decorated a punch container.
All of the tables were decorated with metallic-colored tablecloths; the bride, whose hair had been styled by a staff member, wore a corsage.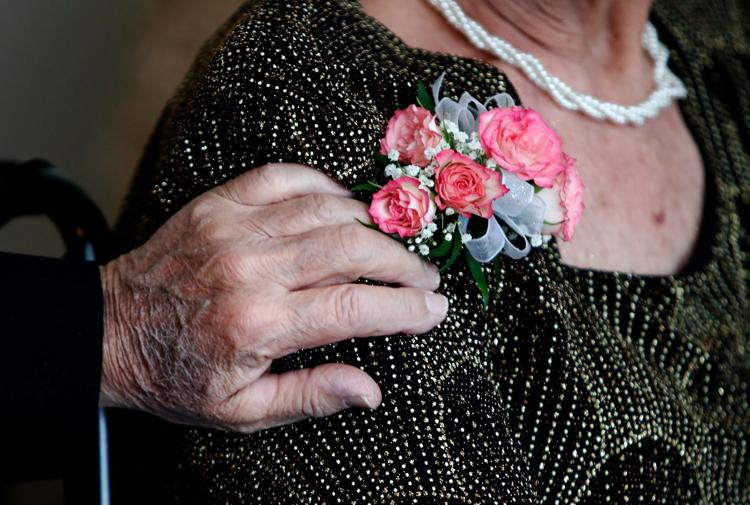 Wiese was overwhelmed by the efforts of the staff to make it such a special day. At the end of the ceremony, still holding Gabbard's hand, he stood up and addressed first his wife and then his guests.
"I'm sorry dear, and I love you dearly, and we had a lot of good years," he said. "I wish we had as many more to go."
Then he looked out to the others and said he couldn't believe there were so many nice, loving people in the world.
"I hear stories about something like this happening," Wiese said. "I never thought it would happen to me."
Photos: Carolyn Gabbard and David Wiese married at RiverStone Hospice House