Prudy Ladd and a friend were running their dogs at Sundance Lodge Recreation Area southeast of Billings earlier this week, peeling ticks off of themselves as they went.
She found them on her shirt and her legs. Each time she'd try and destroy the little bloodsucker, there was always another.
Her dogs bounded through the grass. One is a 7-year-old mastiff-Great Dane-lab cross named "Rasta" that weighs 160 pounds. The other is a small, 13-year-old Affenpinscher named "Ratchet."
Ladd says the animals went down to the water's edge to drink. When they came back up, it was open season on the arachnids.
"I look down, and, holy crap, there's ticks all over Rasta's feet," she said.
Tick season in Montana begins when the spring weather warms, and they thrive in the moist environment. Their prevalence is reduced during the hotter, drier summer months, according to Montana Fish, Wildlife and Parks.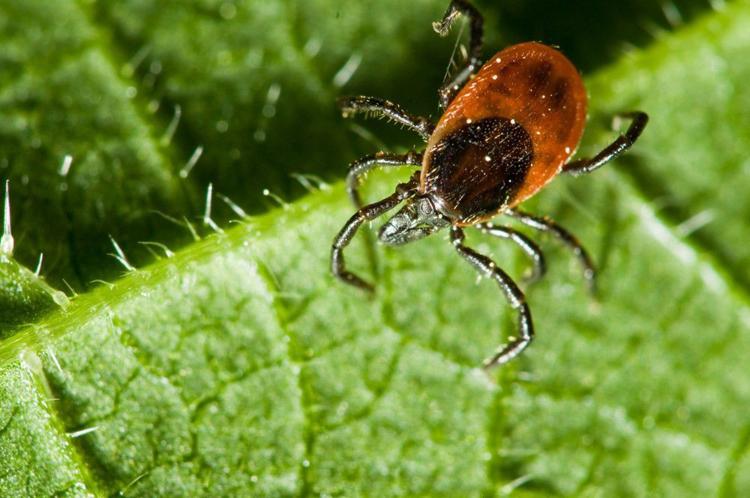 Ladd figures she got there just as a whole bunch of them hatched. She said she was picking ticks off the animals in bunches and shoving them into an empty water bottle.
Ladd's dogs were treated with a topical tick repellent, which she said prevented the ticks from becoming attached and gorging on canine blood. But they still crawled everywhere.
You have free articles remaining.
Keep reading for FREE!
Enjoy more articles by signing up or logging in. No credit card required.
"The ground wasn't literally moving," she said. "But it felt like it."
While ticks can carry disease, most animal owners simply pick the bugs off at home or on the trail.
Breanna Mattison, an assistant at Skyview Veterinary Hospital, said that they haven't had many owners bringing in pets in response to ticks. She said they're mostly stocking up on treatments to avoid ticks.
Tick treatments for dogs can be applied to the outside of the animals or orally. The former method is more of a repellent.
Caylynn Allen, a canine rehab practitioner at the Animal Clinic of Billings, said that they've had good success with oral treatments, often a small chewable. It lasts for months and inflicts justice on the bug.
"Ticks can actually get on them, and they ingest a little bit of blood and it actually kills them," Allen said.
Ladd was removing ticks from her dogs all the way home. Then she shaved the animals and went over them again, picking off more ticks.
She said she'll wait a bit before she heads back to that particular park spot.
"I've never seen it like that," she said, "and we walk all the time every year."