Owner Sarah Moyer had kept the growth of her company tamped down for the past year as she worked to hire help and set up a permanent location in downtown Billings, something that finally happened just a few months ago. 
Her business, which delivers homemade salads and wraps in returnable containers to people and businesses in Billings and the Huntley Project area, seems to be the perfect model for riding out the COVID-19 closures. 
That's not the case, she said. 
Many of her customers who ordered Project Lunch from work are now working from home where they've stockpiled food and resources. The conferences and events she catered — the bulk of her business — have been postponed. 
"I have a $10,000 event in May that I'm sure is going to be canceled," she said. 
On Sunday night she channeled that fear and panic into working to get food into the hands of the county's most vulnerable population. 
But that fear is something with which multiple businesses across the county are grappling. Monday afternoon, Yellowstone County health officer and RiverStone Health CEO John Felton ordered all restaurants, bars and casinos closed for at least the next week as the county works to mitigate the local impact of COVID-19. 
On Tuesday, the normally bustling Oktoberfest German restaurant on Grand Avenue had served maybe 10 meals by 4 p.m.
One of those meals had been delivered by Uber Eats; the rest came in through phone or online orders with the patrons picking them up. 
"If this goes on," said Ernie Adams, the owner, "well, there's no way."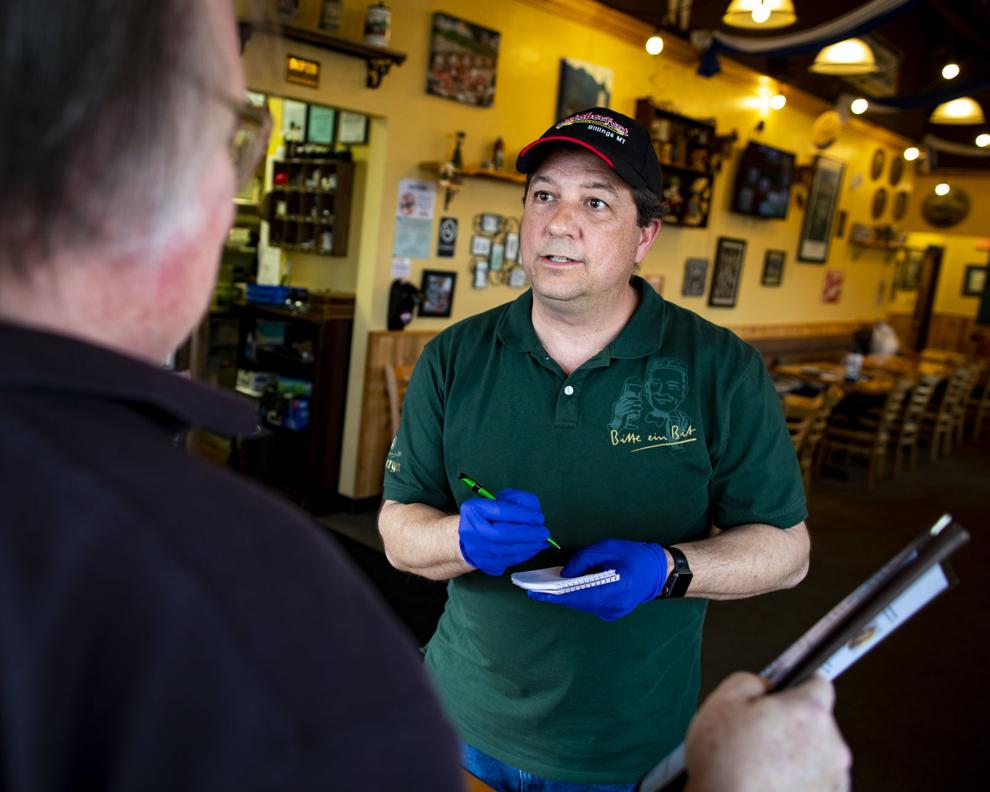 Uber Eats has waived the fee it charges customers to order from the app in an effort to encourage users to order more meals from local businesses. Uber Eats still charges the restaurants its fee for using the delivery service. 
Adams figures he can probably recover from a two week closure; anything longer and it becomes much more tenuous. He laid off his 13 employees on Monday and right now he and his wife are running the restaurant. It's a small operation, and he knows his employees well, so it was a hard decision. 
"They've gotta survive, too," he said. 
Many of them have been able to file for unemployment benefits, he said, and Adams is hopeful that he'll be able to hire back those who want to return if the restaurant survives. Until then, he and his wife are doing what they can to keep the lights on.
Adams has a food truck and on Friday he'll be parked at the Cherry Tree Inn at 823 North Broadway downtown for the lunch rush. He's hopeful pickups and deliveries at the restaurant and sales from the food truck will be enough to keep Oktoberfest afloat. 
"We'll go as long as we can," he said.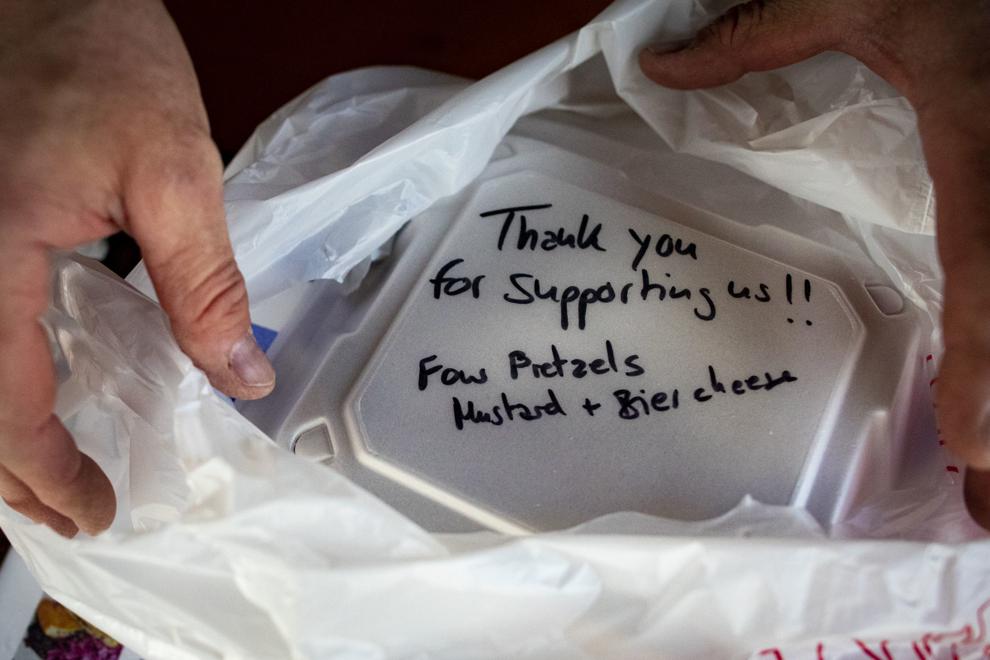 Caramel Cookie Waffles at 17th Street West and Avenue D is still figuring out its response, but the sense is the impact will be significant given the restaurant's clientele. 
"We have a lot of regular customers," said owner Judy Boogman. "We have a lot of older customers."
Those customers, who congregated at the restaurant most mornings and afternoons to sit at tables and chat and eat, are now barred from the dining room and will now be limited to picking up their orders or getting them delivered. 
Like Oktoberfest, Caramel Cookie Waffles uses delivery services like Uber Eats to reach customers. Boogman is hopeful that through deliveries and online orders the restaurant will be able to survive the closure order. Caramel Cookie Waffles has 12 employees, and Boogman would like to keep them working. 
"We'll be trying to do right by our employees," she said. "We're trying every avenue we can."
Reid Pyburn, of the High Horse Saloon and Eatery, told county officials during a Tuesday press conference that some of his 40 employees are asking whether they can file for unemployment, how long the closure could last, and other questions. 
"We have lots of employees, and they are scared," he said. "What should we tell them?" 
Pyburn said he's trying to figure out if the business is better off shutting down temporarily to avoid costs or remaining open in the limited capacity allowed under the county closure, selling takeout and delivery food. He's uncertain whether that will generate a profit.
Billings resident Laurence Elisha is a driver for DoorDash and expects to be delivering a lot of meals the next few weeks. DoorDash, like Uber Eats, is an app-based food delivery service that connects customers with area restaurants. 
"The weekend was very busy," he said. "I think it's gonna get busier."
Elisha picks up DoorDash deliveries whenever he has time. His day job is working as part of the banquet crew for a local hotel, which has seen a number of event cancellations in the last week, he said. He anticipates less work at the hotel and is hopeful DoorDash will fill the gap. 
It was that desire to fill the gap that led Moyer, owner of Project Lunch, to change the direction of her business Sunday night. 
She understood that while schools are working to make lunches available to students while classes are canceled, there's a whole segment of the population that can't even get to a school to pick up the food. 
With her business, she has all the resources to reach those kids. 
Reaching out through Facebook and her business contacts, she began selling sack lunches for $5 a pop. For every two lunches sold, Project Lunch donates a third lunch. Over the weekend, orders and donations poured in, with many community members buying lunches for kids who were in need.
In every lunch, Miss GiGi's Sweets added a cookie. Project Lunch operates out of Miss Gigi's kitchen.  
On Monday, Billings youth probation officers reached out to her asking if they could help deliver. A community member donated a pair of roasts that Moyer will cook for more sandwiches this week. 
"We can cook," she said. "I have employees who need to work. As long as I can buy food, we're going."
 In all, Project Lunch and volunteers delivered more than 100 sack lunches.  
"This is the community," she said. 
---
Retrospective: Billings restaurants you'll never eat at again