Candi Adams and a group of ranchers repeated the mantra 'paint, dry' three times on a December afternoon in the vocational warehouse at the Special K Ranch.
Glazing pottery can be tricky, and usually requires three coats to reach the desired level of opacity. Before a new coat is applied, the previous one needs to dry completely.
But Adams was there to teach the group of Special K Ranchers exactly how to properly glaze and handle the ceramics on Monday, Dec. 9. Adams donated the glaze, ceramics and a kiln to the Special K Ranch earlier this year.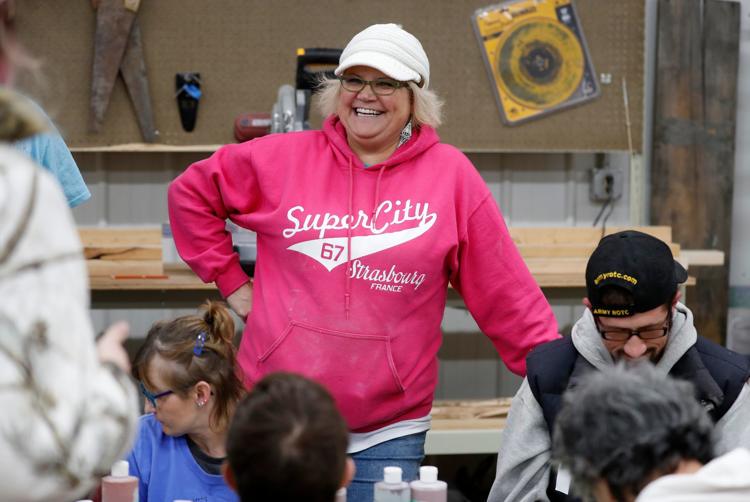 Special K Ranch, east of Columbus, is a nonprofit working ranch for adults with developmental disabilities. The ranchers live on the Special K grounds, work the land, raise sheep and work on several vocational programs. Proceeds from the work go back to running the ranch.
Earlier this year Candi Adams decided to close her business Candi's Art & Party Studio, where she taught pottery-making and hosted birthday parties and classes. The overhead costs of housing several large-scale kilns that rely on electricity to fire ceramics had left Adams with a tough decision. She decided to downsize. 
But Adams still had several kilns and wasn't sure where they should go.
In October Adams' daughter, Ariel Freyenhagen, 27, moved into the Special K Ranch's newly constructed Carla's House. Freyenhagen has loved pottery since her mother introduced her to it a few years ago.
Freyenhagen had taken charge at the studio, and had several birthday parties there. Many of Freyenhagen's friends are Special K Ranchers. 
"She was a rule keeper at my studio," Adams said. "Ariel has done a couple of birthday parties. We did ceramics. That was one of Ben's favorites." 
Ben Lindenbaum has been a rancher at Special K for two years. On Dec. 9, he quickly began glazing a small ornament. He said he enjoys pottery, but that his favorite pastimes are bowling and singing karaoke.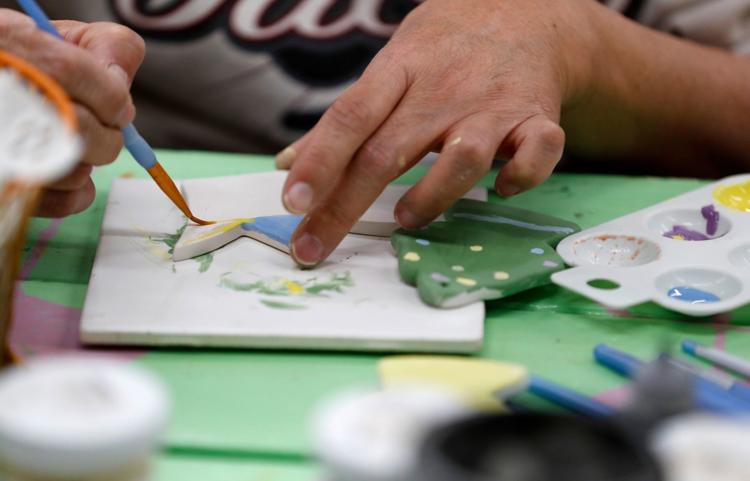 You have free articles remaining.
Faced with her daughter missing a therapeutic art outlet, and knowing that Special K offers a wide variety of programs often featuring handmade arts and crafts, it was easy to connect the dots.
"(Special K) helps them all have work," Adams said. "All people with a disability, anybody really, should have that feeling of work and purpose, and the fact they're giving them this opportunity is amazing."
Vocational programs at the Ranch include working the ranch, taking care of sheep and cattle, doing light manufacturing work, crafts and caring for produce and plants in the hydroponic garden and greenhouses, said program director Marvin Schieldt.
"(Ranchers) just need a supportive community that isn't going to take advantage of them," Schieldt said. "The vocational programs give them legitimate career occupation, just like you and I have, and they can be really proud of some of the stuff they turn out. And they love to sell it."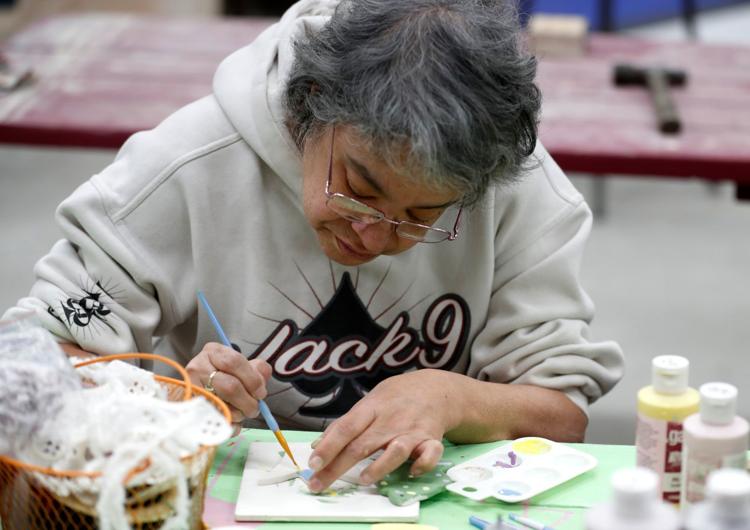 The Christian ranch houses 35 residents, not including staff and house parents. Each house has parents who provide 24-hour supervision for residents.
Adams, who runs Candi's Artsy Fartsy and primarily does board art, now shares a studio on Billings' West End with other artists, and still puts on classes and programs.
She hopes that the ceramics could become one of many full-time arts and crafts programs that the ranchers work on. 
Adams began showing the residents the ropes in early December, including teaching house parent Jeremiah Moseley how to work the kiln, but it may take some time for pottery to become a full-on program.
Regardless Adams hopes the pottery will be fun and therapeutic for the residents. Art is important, she said.
"No matter the age or ability, everyone can make a work of art," Adams said.