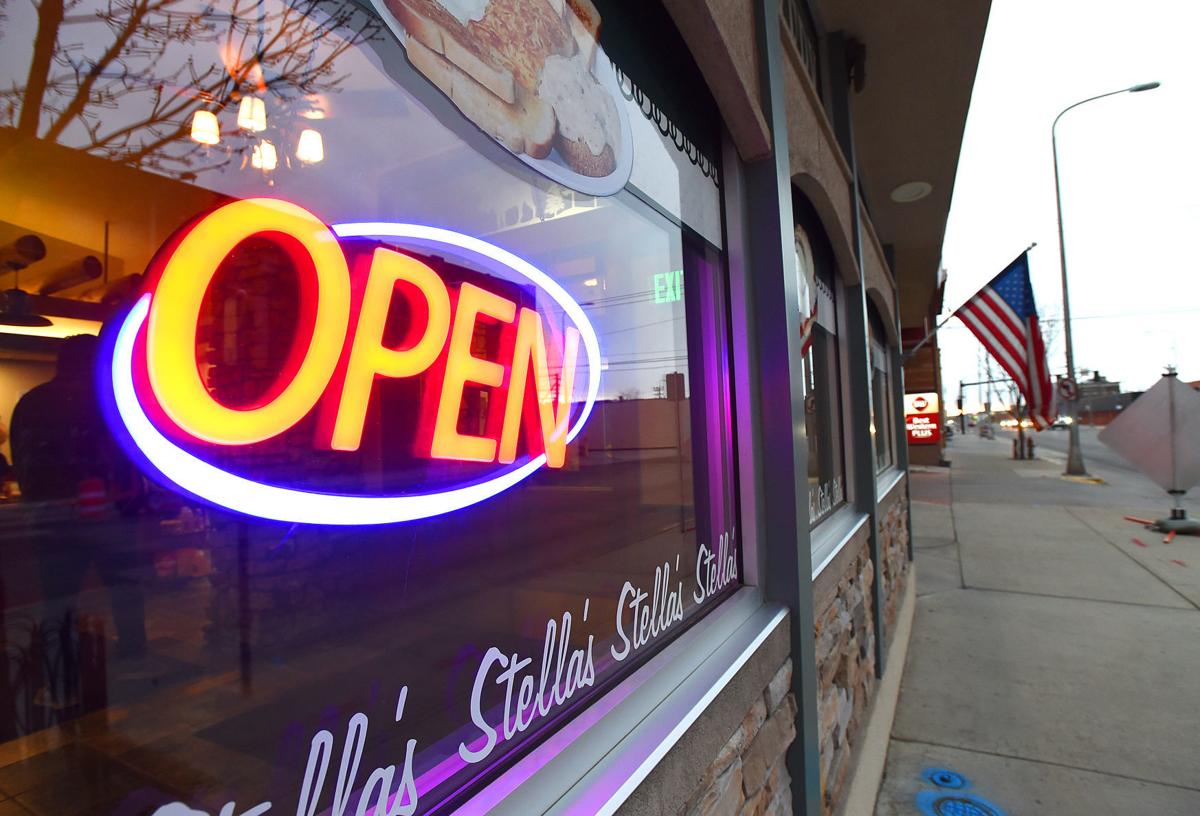 At 6:28 a.m. Monday, after 48 days closed, the Tippy Cow Cafe's first dine-in customer of Montana's gradual COVID-19 reopening, parked his car and headed inside, intent on a breakfast burrito. 
Billings resident Vidal Rossi said he's a big fan of the food at the Heights restaurant, and that the employees were a large part of why he showed up early. "They're way good people," he said.
With Monday's start, restaurants in the Billings area got a first look at what things could look like going forward, and places like the Tippy Cow got a glimpse ahead of other establishments specializing in lunch and dinner, or late-night drinks.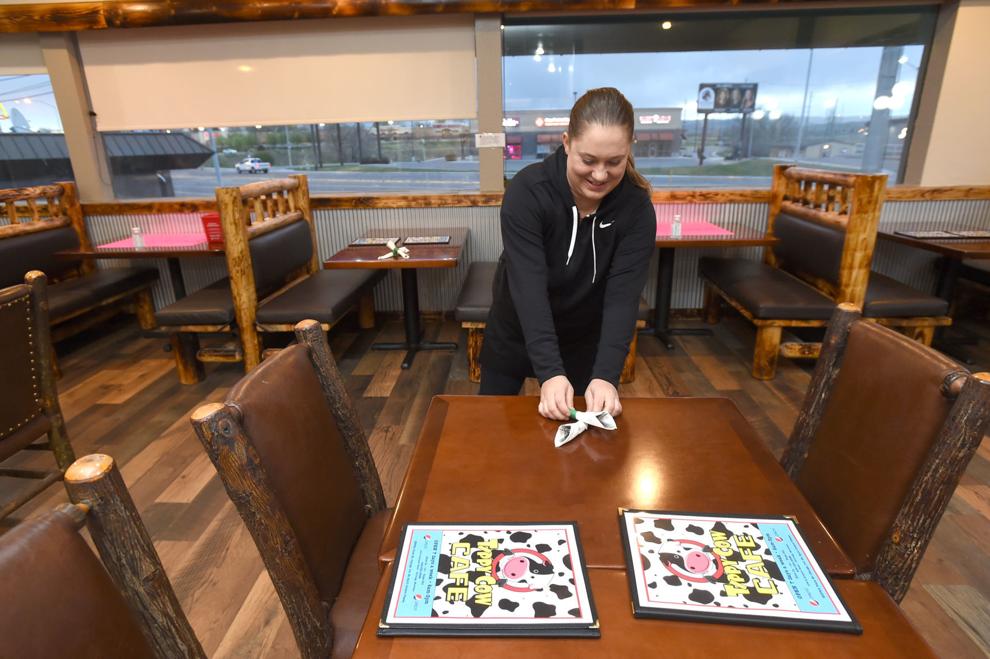 Monday morning, the Montana Department of Health and Human Service's online COVID-19 tracking map showed 31 active cases in the state, with five active hospitalizations. The state added two new cases on Monday, with one in Yellowstone County.
Yellowstone County is tied for the highest number of active cases in the state with eight. The county has reported six new cases in the past week. Yellowstone County has had a total of 83 cases, 73 recoveries, and two deaths.
Last Friday, St. Vincent Healthcare and Billings Clinic were operating at greenlight levels indicating normal capacity, according to RiverStone Health.
The Tippy Cow, having opened in late January, is among the newest restaurants in Billings and wasn't open long before state-ordered regulations to slow the spread of the coronavirus closed its dining room. 
Owner Steve Harkless said they'd already started to form friendships with customers in that short time. Without government aid, the business survived on carryout orders during the shutdown, but wasn't turning a profit.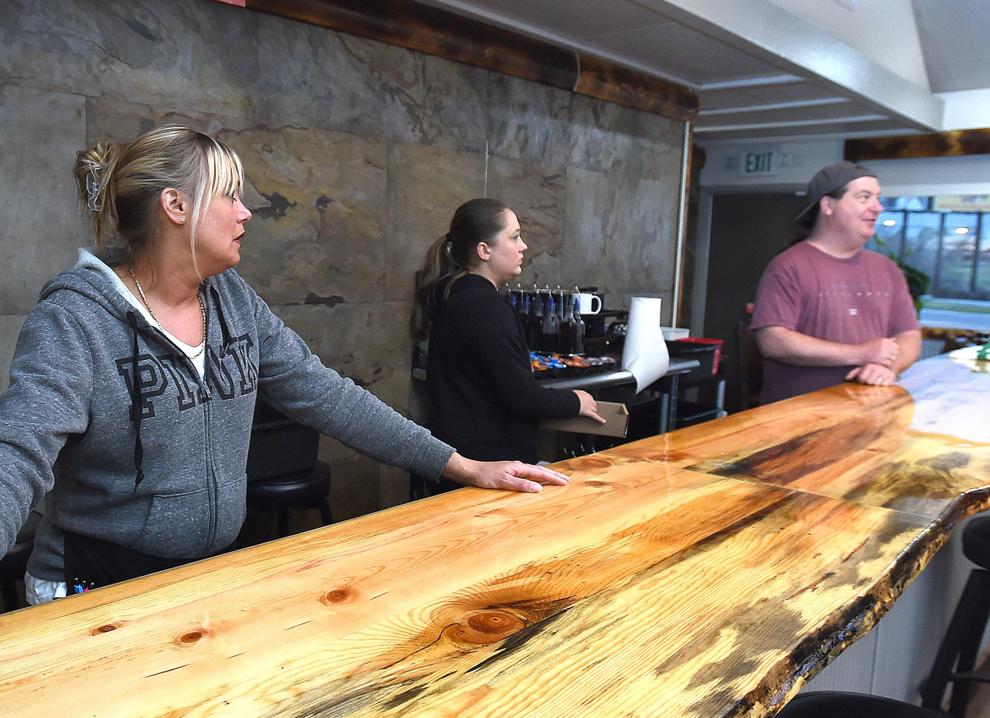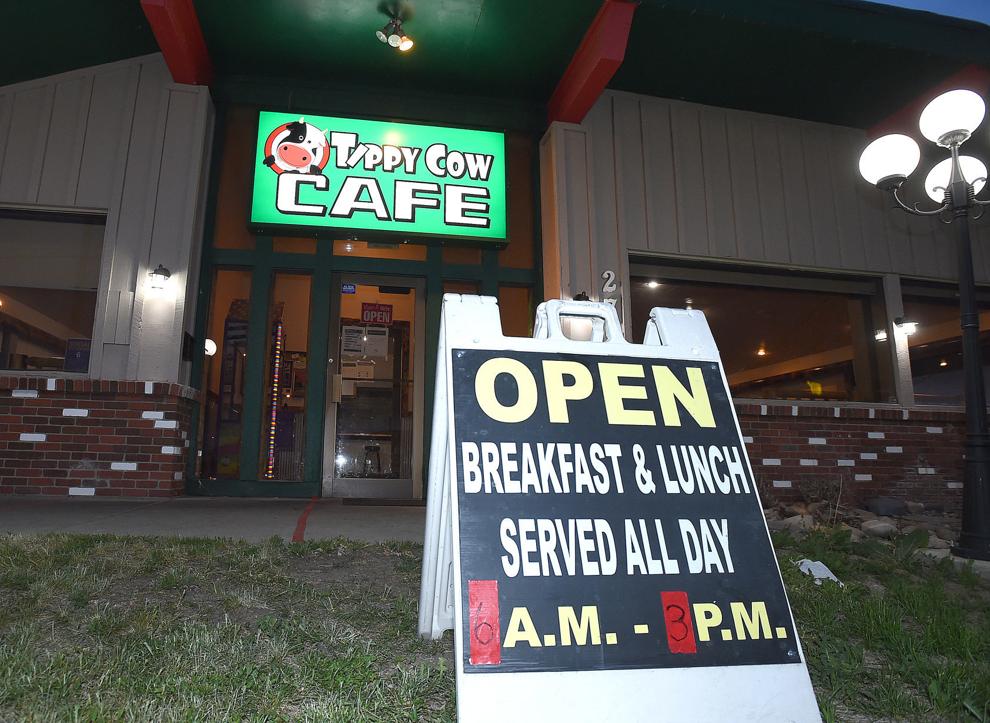 "We weren't so bad we had to take any government money. I'm sure there's a lot of other people out there that need it more than us," Harkless said. "All our customers have been very, very understanding, and very good to us."
The Tippy Cow Cafe opens at 6 a.m., and Monday is normally a slower day at the restaurant. It usually doesn't start getting crowded until about 8:30, he said. They've had groups as large as 15 wanting a table, but because of new regulations, tables will be limited to six people. 
Harkless said the restaurant had fielded many calls during the past few days, from people wondering if his business would reopen with the others.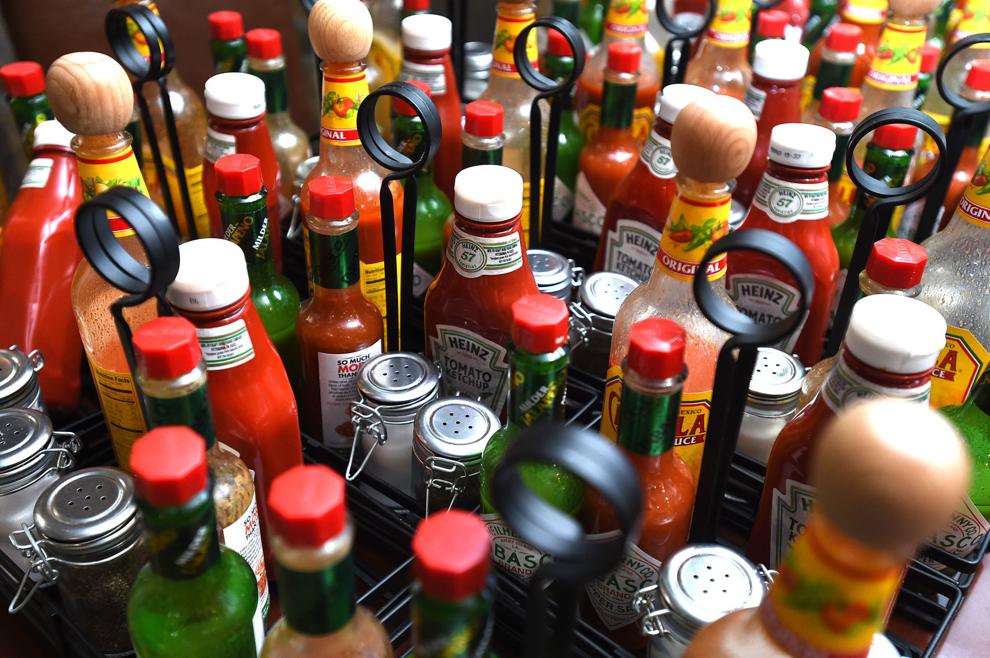 Signs about COVID-19 and social distancing are posted on the front door, as well as on the inner door and on a stand in front of the bar top in the middle of the dining room. Bright pink posters with the words "Table Closed" were laid atop tables shut down to maintain new social distancing and capacity requirements. Those tables also had hand sanitizer. 
A table in the back corner had condiments, which Harkless said would now be provided on request, because the restaurant is now sanitizing them after each use. Having family members to staff the restaurant has been important because Harkless said he can't compete right now with unemployment benefits, which has made staffing difficult.
One of Billings' breakfast landmarks, Stella's Kitchen and Bakery was serving about seven people by 6:45 a.m., with another five or so having already come and gone. 
On a busy day, the front entrance is packed with customers waiting to have their names called for a table. Many of the tables are now gone because of public health guidelines meant to increase social distancing and limit capacity.
Stella's is now also limiting how many can wait inside for a table. Stella's and the Best Western Hotel share ownership. From the hotel, the restaurant has adopted a new system involving walkie-talkies and headsets. 
General manager Connor Smyle said once the restaurant has reached its limit for people waiting inside, the new system will allow Stella's employees to take down party information outside and then communicate about availability with people inside the restaurant, which will minimize the amount of back and forth. 
Throughout the shutdown, Smyle said the bakery's business was key to Stella's. In some cases people would order dozens of cinnamon rolls or other pastries to donate to staff at the local hospitals. 
On a normal day, the first customer through the door at Stella's is often 80-year-old retired Billings resident Gary Kelling. His morning presence at Stella's is so consistent that staff said if he misses a day he calls ahead as if he won't be showing up to work. Kelling figures he's been going there regularly for 14 years.
"Well, I'm glad to be back, to be honest with you. It's been a long time," he said. "You get used to these people and all the waitresses here and you miss them."
He knows he's considered high risk for COVID-19, but decided to return to his regular breakfast place anyway. His faith, and his devotion to prayer are important to him, and he said they helped with the decision. 
Kelling said that living with his son's family means some of the risks of exposure were already in the back of his mind. Like his parents who lived during the 1918 influenza epidemic, Kelling said he knows people have survived times like these before. 
"Do I fear it? No." Kelling said. "I have a faith that goes along with it."
Another factor for Kelling was wanting to support the business that means so much to him during a time when many local businesses are struggling financially.
"This place was just a place I could come and do my thing, and read my paper, and do my puzzles, and talk to the gals, and talk to the guys and cooks," he said.  
His wife passed away several years ago, and Kelling said that being around the staff at Stella's has become a way for him to see friendly faces. His regular breakfast routine involves the newspaper, a crossword puzzle, decaffeinated hot tea, poached eggs, two pieces of toast and jam. 
He said losing that routine is "almost depressing." 
"You get out of that habit and you feel kind of lost."