With their ICU at 150% capacity, wards overflowing and the National Guard called in to assist Wednesday to help the hospital's sickest, the Billings Clinic announced that they are preparing for the possibility they will have to implement "crisis standards of care" put in place by Montana's Department of Health and Human Services.
Crisis standards of care is implemented when demand exceeds available resources, in this case, ICU beds, hospital beds and staff. DPHHS provides a framework that the Billings Clinic will follow when changes to standard care are needed.
At this time, Billings Clinic has not entered crisis care. The Wednesday announcement fulfilled the transparency requirement by DPHHS that the process to start changing care decisions has started.
The nationally-accepted and Gov. Greg Gianforte-approved framework requires hospitals to adhere to a continuum of care which starts with conventional care and moves to contingency care when different spaces, staff and other adaptations are necessary in order to maintain the traditional standards of care. This level has been utilized for the last few weeks at Billings Clinic.
When crisis standards of care are implemented, the DPHHS stresses the use of an ethically grounded system to aid in decision making when allocating scarce resources. The triage team made up of nurses and physicians will consider the duty of health care workers to care for patients, duty to steward scarce resources in order to save the greatest number of lives, transparency, proportionality of the scale of the crisis to those in need, accountability and nondiscriminatory care, according to DPHHS.
"The government role is to support ongoing, substantial changes in operations and medical care decision-making during a prolonged emergency, when insufficient resources are available, and when the focus of care must shift from the benefit of the individual to the benefit of the community," according to DPHHS.
Starting as early as this week, the clinic may start expanding testing and monoclonal antibody treatment capabilities; expanding triage space to diagnose and treat the ongoing extremely high number of patients; continuing to call on other agency support to include the National Guard; opening additional overflow space for patients; and dedicating additional units to COVID-positive patients.
Triage
Of most concern to clinicians is the possibility that staff will be forced to triage limited levels of care to best save lives, explained Chief Nursing Officer Laurie Smith. She added the clinic was working with ethicists and setting up a team to make those decisions to reduce the burden of triage on medical staff.
"If it comes to a point where we have to make those incredibly (difficult) life or death situations, we will have an objective team that will be available to provide council and make those decisions," said Smith. "We don't want those decisions to weigh on the shoulders of our clinicians who are taking care of the patients."
Dr. Nathan Allen is the medical ethicist taking the lead on these changes.
"It is not a choice to enter into crisis care. What determines that is by what is going on in the community. This is a way to respond to a crisis that saves more lives," Allen said.
Crisis care looks at all diseases and all conditions equally, Allen said. Care choices will focus on how resources can be used to create the best outcomes for the community.
"People with medical problems … whose lives could be saved are put into the process to identify and save lives no matter what that decision must be," Allen said. "(Crisis care) results in more lives saved verses the alternative."
There is no exact threshold when the hospital will enter crisis care as the situation is fluid. One hour can look completely different from the next when it comes to COVID care. Allen puts it on the community to make the choice to get vaccinated as it is the best way to keep friends and family members safe, even when it comes to non-COVID conditions.
The hospital will to make decisions to bring someone into an operating room who is more likely to survive, recognizing that the hospital cannot do that for everyone.
"Knowing there are people that need help but (health care workers) can't help in the way they would like is incredibly burdensome," Allen said.
The team will look at life stage, overall health and comorbidity while considering triage, but will not consider vaccination status.
"Vaccination status likely will not be something we consider as a factor," said Smith. "Unfortunately the goal when you are at the point of triage is to try to save as many lives as possible."
Billings Clinic Foundation President Jim Duncan stressed that the clinic was not immediately implementing the standards, but that without significant change it was likely to happen.
"While the current increase in numbers is moving us closer to having to implement these standards, Billings Clinic is constantly and diligently working to avoid having to do so," said CEO Scott Ellner. "The numbers across our region are overwhelming health care facilities and staff. We are doing everything we can to take care of everyone who needs us, and we will continue to find ways to do that."
Billings Clinic has seen a dramatic rise of COVID-positive inpatients over the last few weeks, and that number continues to grow. The clinic has been forced to use hallways, conference rooms and other places within the hospital to care for patients. Those patients are also getting younger, explained Smith. During the first wave of the pandemic, patients were mostly older or suffering from underlying conditions. Today, those patients can be young and otherwise healthy. Some are even young children, said Ellner, who pointed out that the patients under 12 have not been afforded an opportunity to be vaccinated.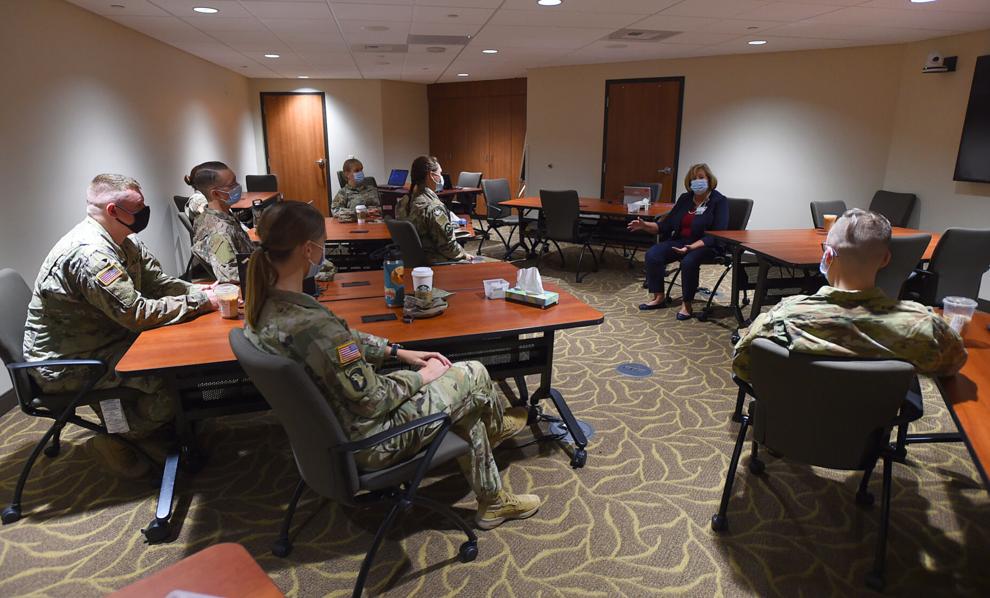 National Guard
The announcement coincided with the arrival of 10 National Guard soldiers and airmen from various units across the state. They will be working 12-hour shifts for the next two weeks before they are rotated out and replaced with fresh troops. The guard members will be assisting with repositioning COVID patients in the ICU and other care areas to best help them breathe and alleviating staff by performing basic non-clinical duties, explained Smith.
"We are incredibly grateful you are here," Duncan told the gathered Guard Soldiers and Airmen.
Some of those guard members are returning to assist the clinic after serving a rotation in 2020. Air Guard Tech Sergeant Jessica Calvin assisted in the clinic's ER in 2020, and she said Wednesday, working in health care herself makes a return to the clinic meaningful since she is very familiar with the struggles health care providers are going through in the current surge.
"We're here to help our fellow neighbors here in Montana," said Calvin. "It was very valuable for me to be part of that and more reason for me to jump on this opportunity for a second time and continue to provide that support."
As for how long the Guard will be at the Clinic, Ellner joked, "forever." In reality, it is unclear what the timeline will look like, but the support will continue as the hospital faces a workforce shortage.
"Unfortunately, not only is there a crisis with the virus and patients coming in incredibly sick," Ellner explained. "We just don't have the staff available across all of Montana, and even we're seeing this nationally, and so the National Guard was really a great opportunity that the governor had worked with us and collaborated with Billings Clinic to provide."