Wednesday's winter storm could bring its heaviest snowfall during the morning commute, according to the National Weather Service in Billings.
In all, the storm could drop between 6 and 8 inches of snow over Billings beginning late Tuesday or early Wednesday. That forecast was still holding as of about 3 p.m. Monday.
Between 6 a.m. and 9 a.m. Wednesday could be when the heaviest rate of snowfall is observed, said Julie Arthur, a meteorologist with the weather service.
"Leave earlier than you normally would," Arthur said. "That's the best advice I can give you." 
The conditions for the storm include a drop of about 40 degrees from Tuesday into Wednesday. The weather service expects that before road temperatures catch up to the cold some of the early snow could melt and then re-freeze as the temperature continues to drop. There's also a chance for rain Tuesday night.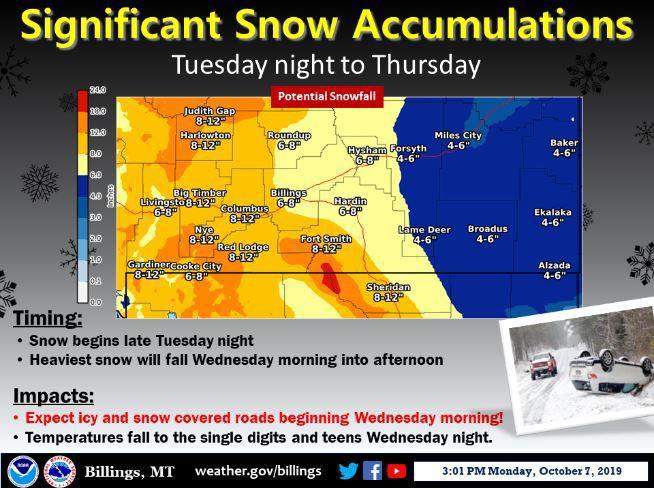 You have free articles remaining.
There could also be gusting winds out of the north between 20 and 30 mph Wednesday, Arthur said. "Plan to give yourself extra time Wednesday morning to get to work or wherever you need to go." 
Snow could continue into Wednesday evening. Temperatures during the day are expected to fall into the teens and might reach single digits over night.
The warm-up after the storm won't be immediate and will be dependent on the amount of snow cover the storm leaves. 
Tuesday Billings is forecast to have a high of 72 and a low of 26. Wednesday is expected to bring a high of 29 and a low of 16. Thursday is forecast to have a high of 27 and a low of 11. Friday's forecast shows a high of 35 and a low of 22.
A 61-year-old Kansas man on a hunting trip got lost for two days in the Bighorn Mountains. Poor weather hampered the search, but he was found safe.