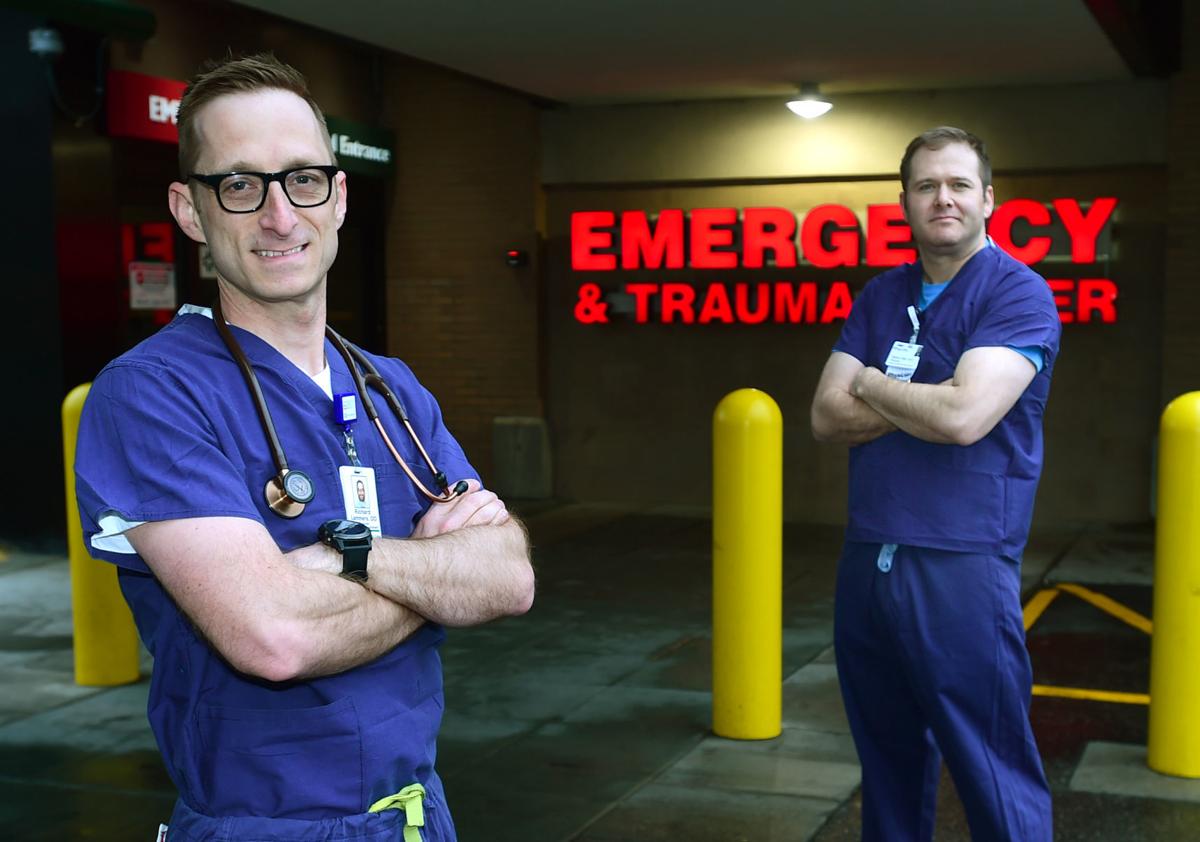 First responders, grocery store workers putting food on the shelves, city sanitation workers, and others whose work is critical to the community all stand to benefit from a community that sticks to the guidance of experts trying to slow the spread of COVID-19. 
That's in addition to people in high-risk groups who are more likely to have severe complications and could even die from the illness.
The letter was "written for everybody in our community and it's about them and about their lives," said Dr. Nathan Allen, the Billings Clinic emergency room chair. "This isn't just about healthcare workers. There are a lot of people doing critical work right now keeping us healthy and safe."
"We really do have a strong and resilient city and community," said Dr. Richard Lammers, the Emergency Department medical director of St. Vincent Healthcare. "You know, we're all nervous and we're all scared, but I think that's OK. I truly think that we can do this together, and regardless of where you stand on this on the political spectrum, or where you work or who you are, I think together we can definitely get through this."
Allen said part of the reason they wrote the open letter published Wednesday on the front page of The Gazette was to convey what members of the nation's medical community, many of whom are on the frontline of battling the pandemic, already know about the danger COVID-19 poses.
"When I think of other parts of the country right now, we can prevent that from happening here," Allen said. "I understand how when people look at the situation right now and they look at the numbers right now, it could be easy to come to the conclusion that this isn't a big deal and it's not a problem. But if we don't stop this now, by the time that we realize we should, it's potentially too late."
It can take up to two weeks for someone to develop symptoms, but in many cases it's between five and seven days, Allen said.
The delayed onset of symptoms, along with the contagiousness of the novel coronavirus, can create situations in which the number of people requiring medical care surges rapidly, overwhelming health care systems and leading to worse outcomes for patients.
The New York Times reported Wednesday that at one New York City hospital with 545 beds, 13 people had died in a 24-hour period. Some died waiting for a hospital bed. Others were killed by cardiac arrest caused by the virus. A refrigerated truck was brought to store the bodies of the dead, and a total of 85 similar trucks were requested from FEMA to deal with morgues running out of space in the city.
"If we wait until we're overwhelmed, we're two weeks behind," Allen said. 
Social distancing and other restrictions and public health guidance are part of an attempt to slow down the rate at which the disease spreads. If it can be slowed, that could prevent healthcare systems from being overwhelmed.
In the meantime, both hospitals emergency departments are continuing to accept people with medical emergencies. They do ask that people with COVID-19 symptoms to call ahead and speak with someone first.
The newness of the COVID-19 means medical professionals are still trying to understand it. "Everybody can present differently, which is what makes it very tough to identify and treat," Lammers said.
Some people at the greatest risk are older adults or people with health conditions, although even that consensus is continuing to evolve. One thing both doctors pointed out is how the numbers in the United States so far are showing a higher percentage of young people with severe illness getting treatment in Intensive Care Units compared to what some other nations have seen.
When breathing issues become severe, a ventilator may be essential. And in severe cases, patients can be dependent on ventilators for up to two weeks, according to Allen.
"The common number of ventilators given in the United States is 100,000," Allen said. "That's not a lot when you're talking about a disease that between 20% and 70% of Americans could catch."
Both doctors are married and have children. Allen has a 9-year-old daughter and twin 7-year-old boys with his wife who is a pediatrician. Lammers has daughters age 11 and 7.
"My wife and I have always talked about, especially in emergency medicine, that there would be a time in which my family is running away from a situation, and I'm running toward it as an ER physician," Lammers said.
He added that his wife has concerns, but that she's civic minded and has tried to find ways to channel those concerns into action. "That's put a lot of comfort into our home," he said.
Allen said it's a stressful time in his household. "It's really challenging right now to try to balance, for both my wife and I, being a doctor for our patients, trying to be a leader in the hospital, in the community, and then raising our children, and managing home school at the same time. It's really hard," he said.
Allen said he knows of people in his field who have 50% of their department physicians out with illness. There are emergency physicians in ICU on ventilators in some places, he said.
The open letter published Wednesday mentioned medical professionals drafting last will and testaments. Allen acknowledged that he recently spoke with a lawyer about those matters. "Not because I think that's a probable, but because I think that's possible. Right now is a time of preparing for the worst case possibilities."
Neither doctor said they know exactly what the future holds, but Lammers put forward one vision he hopes to see come true.
"I'd love to be having a conversation with all my partners and them be like 'Man, do you remember back in March, Lammers, when you were freaking out about this and you were having us do this, that and the other,' and them kind of ribbing me about being overly prepared for this," he said. "I'd much rather be having that conversation than the conversation of, heaven forbid, somebody passing away."
Get local news delivered to your inbox!
Subscribe to our Daily Headlines newsletter.