Tuesday morning, Tiffany Miller O'Brien drove down to Good Earth Market Co-op in downtown Billings and began pulling her custom-made clothing from the store. 
She was able to keep her composure nearly the whole time. But back in the car, loaded with merchandise, and sitting with her young daughter, she broke down. 
"It was emotional," she said. "It was an ugly cry."
Like many of the co-op's loyal customers and vendors, O'Brien got word Monday night that Good Earth would likely close at the end of the month. It broke O'Brien's heart.
"My girls have grown up there," she said. 
The co-op first opened in June 1994 as a tiny store in a downtown residential neighborhood. At the time, it was one of the area's only options for organic and locally produced groceries.
Since that time, it's expanded to its current location at 3024 Second Ave. N. and includes a large grocery store, specialty items, local goods and wares, a deli and juice bar, and a lunch spot.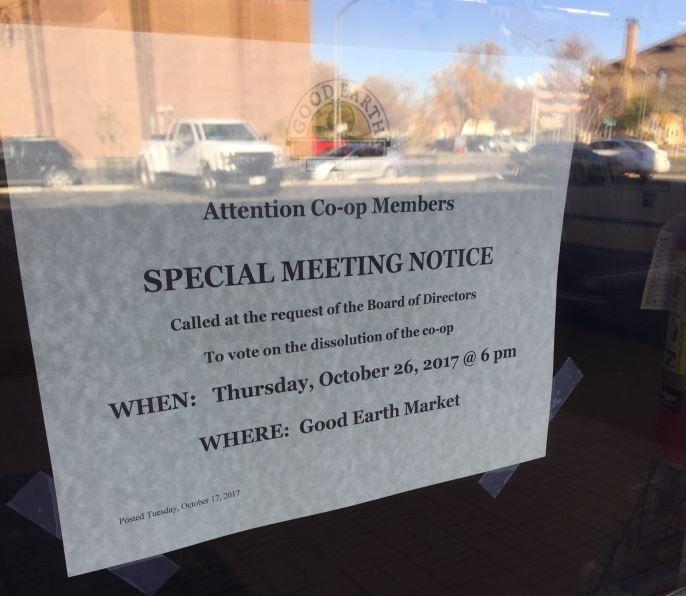 Monday night, the co-op's board of directors held a special meeting to discuss the issue. The board decided to begin the process of closing, which will require a two-thirds vote from all members to dissolve the cooperative. 
That meeting will be held at Good Earth Market at 6 p.m. on Oct. 26. 
"We've had challenges for years," said Kevin Dowling, the board's vice president. "We've been losing customers."
Sales at the Good Earth Market have been in decline as more natural and organic grocer competition has moved into Billings. Dowling noted that in the last few years, major retailers like Costco and Wal-Mart have started selling many of the products Good Earth had carried for years. 
And then specialty stores like Lucky's and Natural Grocers came to town, making a deeper dent in the co-op's sales and peeling off customers.
"We don't really have the same marketing budget," Dowling ruefully said.
Last year, in an effort to boost revenue and increase membership, the co-op remodeled and updated its deli. It debuted in February. The upgrade included a new menu with more lunch, snack and drink options. 
The $100,000 upgrade came by way of a grant from the National Co-op Grocers, an industry trade group.
Dowling believes Billings is a town that could support a cooperative grocery store and produce market. 
"Under the right circumstances a co-op could make a go," he said. 
As he grappled on Tuesday with the realities that have brought about the potential closure of Good Earth Market, he acknowledged he didn't know what those circumstances would be. 
Should the membership vote to dissolve the co-op, Good Earth would then begin the process of shutting it down and paying off its debts. If they find they can't pay all the outstanding debts, the board of directors would then look at bankruptcy options. 
Good Earth leases the building on Second Avenue North. Dowling said they would have to look at the contract to see how the lease would be terminated. 
For Dowling it's not just the loss of the store, but the dissolution of the community that gathered around it. The co-op faithful were part of a tight-knit group that kept close. 
It was the loss of that community that O'Brien was struggling with on Tuesday. 
"It's kind of scary and sad," she said. "They've been around for so long."
O'Brien has been selling her custom-printed shirts and clothing at Good Earth for more than six years. She was there nearly every day with her two daughters. She sees the loss of the co-op as a genuine blow to downtown Billings. 
She hears so much about the desire to buy local and to support independent retailers she almost believed it.
"And then this happens," she said.