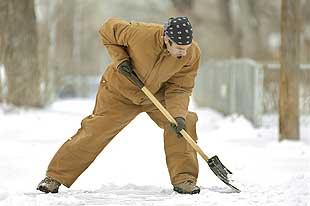 Snow just keeps setting records in Billings.
For the first time in 71 years of record keeping, measurable amounts of snow have fallen on Billings for 11 consecutive days.
The record was broken as an Arctic storm moved through the state Monday, wreaking havoc on roads in central and north-central Montana by the early evening, officials said.
On Monday, the city received 1.8 inches of snow, breaking the old Dec. 5 record set in 1975. That year, 1.7 inches fell on Dec. 5. Measurable snowfall is .1 inch or more.
The old record of nine straight days with snowfall was tied Sunday when .3 inch was measured by 7 p.m.
Snowfall from a storm Monday left roads around Billings snow-covered or snow-covered and icy this morning. Most roads in the state have some degree of snow and ice. Highway 191 north from Harlowton to Highway 200 was listed as closed this morning.
Since Nov. 26, Billings has received about 10 inches of snow. The biggest snowfall in the nine-day period ending Sunday was 2 inches on Dec. 1. National Weather Service records show 1.2 inches on Nov. 26; 1.1 inches on Nov. 27; .1 inch on Nov. 28; .2 inch on Nov. 29; 1.4 inches on Nov. 30; 2 inches on Dec. 1; 1.3 inches on Dec. 2; .6 inch on Dec. 3; and .3 inch on Dec. 4.
So far this winter, Billings has received 21.4 inches of snow. That's 6.9 inches more than normal.
Records date back to 1934 at Billings Logan International Airport. The old nine-day record was set in December 1989, a moderately snowy year in Billings, and was tied in December 1996, the snowiest winter on record. Total snowfall during the winter of 1989-90 was 66.5 inches. In the winter of 1996-97, Billings got 98.7 inches. Average winter snowfall for Billings is 59.46 inches.
With the exception of the northwest corner, Montana in general seems to be faring pretty well this winter. Heavy snow warning issued for Red Lodge Monday will remain in effect until 6 this morning. The National Weather Service predicted that areas of the Bighorn and Beartooth mountains could receive 5 to 6 inches of new snow overnight.
Mountain snowpack is above average in the major river basins, including the upper Yellowstone, at 120 percent of normal. The upper Yellowstone includes the stretch of river between its source in Yellowstone Park and its confluence with the Bighorn River near Custer.
The lower Yellowstone, which relies on mountain snowpack in Wyoming, is not doing so well. It was at 83 percent of normal Monday morning.
The Missouri mainstem is at 123 percent of normal and the Smith, Judith and Musselshell river basins are at 159 percent of normal, highest in the state.
Snowpack in the northwest has some catching up to do. The Kootenai and Flathead river basins are at 76 percent of normal. The St. Mary and Milk river basins, which rely on snowpack in Glacier Park, are at 66 percent of normal, lowest in the state.
Heavy winds and drifting snow closed U.S. Highway 191 between Harlowton and U.S. Highway 87 to the north, while many other highways in the region were limited to emergency travel, including Highway 87 between Lewistown and Great Falls.
"We have semi-trucks parked all over and cars in ditches and maybe accidents we don't even know about," a dispatcher for Wheatland County communications said at 9 p.m.
There were also reports of stranded motorists in Judith Basin County, according to Central Montana Dispatch, which also covers Petroleum County and Lewistown.
Residents in north-central Montana were seeing "significant problems" related to winds and snowdrift from Cut Bank to Helena, meteorologist Jim Brusda said.
"Anyone that's going to venture out (today) should be prepared for some very extreme cold and be prepared for some roads to be still closed," Brusda said.
Judith Gap recorded a 49 mph wind gust by 5 p.m.
In northeast Montana, the storm dropped little snow but sent temperatures plummeting to subzero levels in many areas, with a high of minus 7 in Glasgow, the National Weather Service said. Meteorologists were expected lows around 20 below in the area tonight.
Today's expected high of minus 3 degrees in Glasgow was 31 degrees below the normal high of 28, meteorologist Ted Jamba said.
There were several weather-related problems reported in Billings by Monday night, including reports of motorists sliding through a stop light at 24th Street West and Grand Avenue, police said. No injuries were reported.
The snow is expected to keep falling today. Temperatures will remain in the single digits and a northwest wind at 10 to 20 mph will keep things ugly.
Lance Benzel of the Gazette staff contributed to this report.