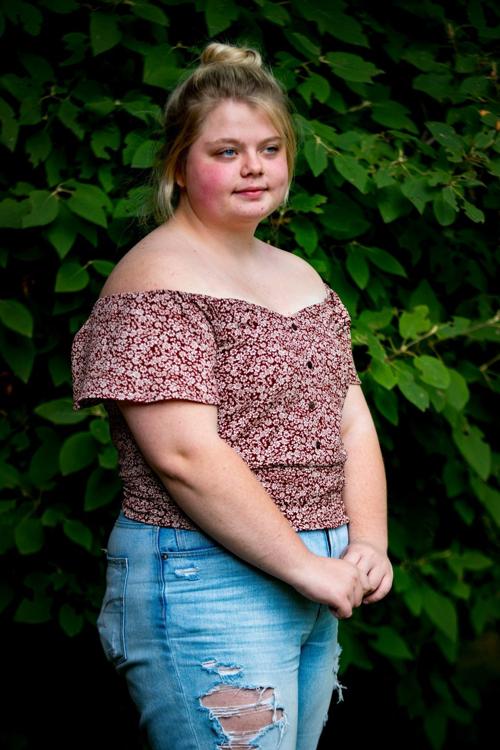 There's no slacking off for Ashton Berg during her senior year.
The West High student has a full course load — of college-level classes. She's taking six Advanced Placement classes at West, and one more online.
It's the kind of burden that's too heavy for almost all high school students, and Berg is taking it on amid family turmoil.
Her mother died about a month ago after long enduring health issues. Berg's father lives outside of Billings, so she's living with her older sister during her senior year.
"(My mom) would always tell me, 'I'm proud of you no matter what. You don't have to try so hard to be perfect,'" Berg said. "She always supported me."
It hasn't been an easy start to the school year. There are days when Berg just wants to stay in bed, not to think about the grueling schedule ahead of her.
But she's found support at West, and the motivation that drove her to pursue a raft of college credits is still there. Earlier in September, she was one of only six Billings students named as a National Merit semifinalist and has applied for prestigious scholarships.
"I can kind of see the light at the end of the tunnel," she said. "A lot of the teachers are really understanding."
Pushing herself
When Berg was in Nicolette Schuman's French class during her freshman year, her drive to succeed stood out.
"She pushes herself, kind of an extreme amount," Schuman said.
Especially when she was younger, Berg's focus was uncanny.
"She's not giving you her weak side, or saying, 'Here are the problems in my life,'" Schuman said.
Berg would go on to take two more French classes and serve as president of West's French club. She and Schuman also grew closer, discussing more personal topics, as well as upcoming college decisions and scholarship applications. Berg is shooting for prestigious schools, including Stanford. 
"She certainly has the intelligence and the drive to meet those goals," Schuman said. "You've just got your fingers crossed that (kids like Berg) get what they deserve.
"She's doing all these things, and it's amazing. I just have so much admiration for the fact that she's facing this and dealing with it."
Pyschology
It's not that Berg believes in burying her emotions. Quite the opposite — she wants to unravel how they work.
She took a psychology course at West last year and was fascinated by the idea of studying how the brain works, of trying to understand how she's trying to understand something.
It led her to take Advanced Placement psychology through the Montana Digital Academy this year. And she's aiming to pursue psychiatry as a career.
Her interest in the field is also colored by her own experience in therapy as a kid.
"I had that space around kind of dealing with emotions and talking about emotions," she said.
Berg felt like it's a topic that people need to be more open about — and not just in Montana.
"I think it's something as a whole country that we need to work on, too," she said. "A lot of people deal with their struggles in silence."
---
Check out last year's inspiring students
The Above and Beyond series highlights Billings-area students whose stories might miss the limelight, but are nonetheless examples of grit, de…