All weekend, high school students from the Billings Career Center will be at Rimrock Mall selling creations from companies they invented as part of a class on entrepreneurship. 
"It's such a great learning experience," said Scott Hanson, the students' teacher.
Hanson is one of a handful of business instructors in the state this year teaching the new Youth Entrepreneurs high school curriculum as part of the Career Center's Jobs for Montana Graduates class. 
 "We really try to prepare kids for life after high school," he said. 
Four groups of students will be selling items from a pair of kiosks near the end of the western concourse at the mall. In order to do it, the students had to survive a Shark Tank-like competition where they presented their business ideas to a panel of Billings-area business owners. 
The four winning groups were rewarded with a green light to create their company and spend a weekend at the mall selling their wares. 
The winning groups — Spunky Socks, Co.; Santa Stockings; Sassy Satchels; and Planet Dog — had to do market research on the items they planned to sell, create cost analyses and put together a business plan demonstrating how they would be successful. 
"We had to go through it all," said Jesse Edwards, a senior.
Edwards and his teammate Lucas Dukart were part of Planet Dog, which sells dog accessories and dog treats. 
Once all four groups got the go-ahead, they applied to the Youth Entrepreneurs program for a microloan in order to launch the business. The weekend will be a success if the students can make enough money to pay back the loan. For Planet Dog, that's about $1,700, Edwards said. 
But even if they don't make back the money, it'll still be a great learning experience for the students, Hanson said. 
Normally, the curriculum calls for the students to set up shop in their high school hallway and sell their goods to other students and teachers. But Hanson's class had a connection to Rimrock Mall and decided to use it.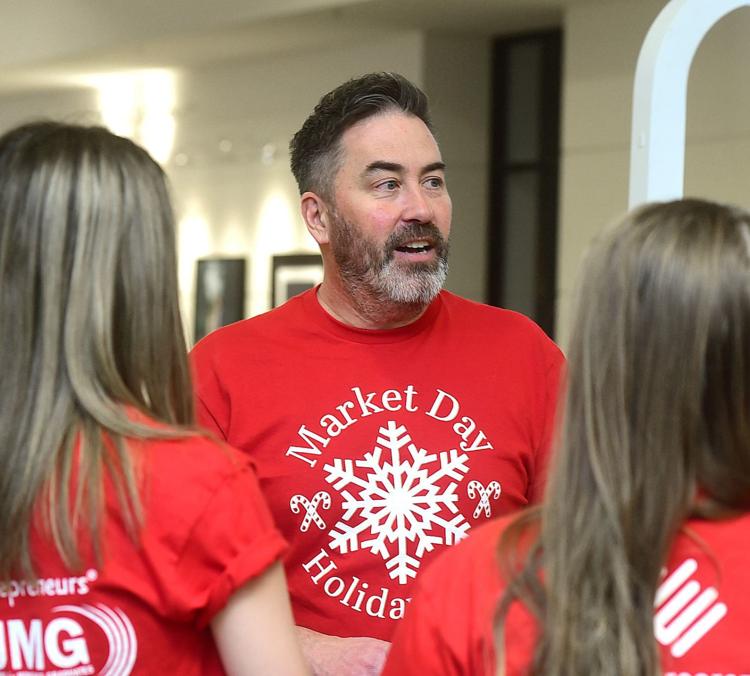 Hanson and Daron Olson, marketing director at Rimrock, partnered last year in an effort to train students in the soft skills often needed to work in retail. The long-term goal of the program is provide a quality, teenage workforce from which employers at the mall can draw.
When Hanson approached Olson earlier this year about inviting students over to set up shop and sell goods for the Youth Entrepreneurs program, Olson was completely sold. 
"And we'll hopefully keep it going," he said. 
Ultimately, Olson wants the high schoolers to see that retail can be a lucrative and legitimate career. 
And being able to work out of the mall gives the students genuine, real-world experience, Hanson said. 
"At the school you've got a captive audience," he said. At the mall "it's such a different environment selling to the public." 
Spunky Socks' Oliviya Sheridan and Laiken Williams, both juniors, and Jessey Miller, a senior, said it's a little more high stress having to sell at the mall. 
"We just really want to do well," Williams said. 
The socks they sell have wild designs and are purposefully mismatched. They're hopeful they'll catch shoppers' eyes over the weekend and sell big. 
"It's gonna be good," Sheridan said. "It's the holiday; people are looking for stocking-stuffers."