It makes sense for Billings' three largest health providers and the state's biggest health insurance company to share patient information with each other.
That type of collaboration can boost the quality of patient care, reduce costs and identify treatment gaps.
That's the idea behind a health information exchange (HIE) pilot project involving St. Vincent Healthcare, Billings Clinic, RiverStone Health and Blue Cross Blue Shield of Montana. It recently went live, and the results are promising.
"Anytime you can get more data for providers to help them make good decisions for patients, that's important and good work," said Mark Hinman, system director of IT operations for SCL Health Montana, of which St. Vincent Healthcare is part. 
The HIE project could also serve as a model for a statewide effort that's in its early stages. This new level of connection is occurring at a time when HIEs are expanding around the country, Hinman said.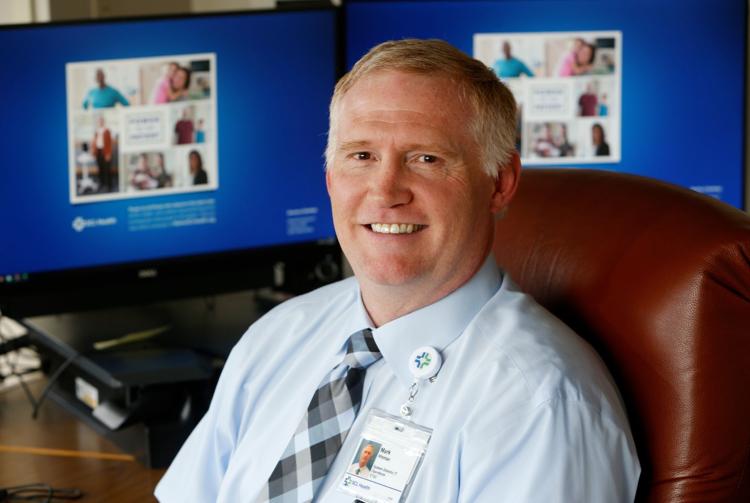 "There are some projects being looked at to see what we can do to create more of a national HIE," he said. "There's going to be significant challenges from both technological and regulatory aspects, but I think it's going to work."
Project goes back to 2015
Initial discussions on the the pilot began in 2015, around the same time the governor's Council on Health Care Innovation and Reform got underway. That initiative sought to find ways to improve patient care and control health care costs.
The resulting Montana Health Care Innovation Plan, released in June 2016, labeled a team-centered approach directed by a primary-care physician as an effective model for patient care. A patient-centered medical home (PCMH) approach focuses on keeping people healthy rather than caring for them only after they're sick.
It also suggested a shift from a fee-for-service payment model to value-based payments. That echoes a shift in philosophy at the federal level.
The Centers for Medicare and Medicaid Services has put more emphasis on value-based programs that reward health care providers with incentive payments for the quality of care given to Medicare patients. Value-based programs, CMS has said, means better care for individuals, healthier populations and lower costs.
Jean Branscum, CEO of the Montana Medical Association and a member of the state council, explained the difference this way: "We want to measure things to show patient outcomes vs. just because a person visited you, you get this amount of money."
The innovation plan also concluded that collecting and analyzing data from providers and payers, including insurance companies, could help confirm what types of treatment work best and are most cost-effective, and define the health needs in specific geographic areas.
Patty Estes, senior director of network innovation and strategy of Blue Cross Blue Shield Montana, said as the insurance company began to focus on value-based care, the conversation turned to sharing data.
"When you look across payers and providers and how information is being shared amongst all the stakeholders who need patient information, you find out that information is incredibly fragmented," Estes said.
For example a patient might go to one physician who orders an X-ray, and then to a specialist who orders another set of tests and scans, not having access to the first doctor's actions. It creates unnecessary duplication, boosting costs, and might result in a less-effective treatment plan.
"When we started to think about what we could do, what came to mind is the new technology, health information exchange technology," Estes said.
BCBS of Montana was aware of the success of MyHealth, a health information exchange in Oklahoma. It has about 350 partners and serves several million people.
"As we talked about it, we said maybe we could look at what Oklahoma did and leverage the same concept with Billings," Estes said, "They were already talking about what the reason for us to share information, then bringing payer claims information into it rounded out the picture."
Dr. David Kendrick, CEO of MyHealth, was invited to share MyHealth's framework, which would provide the backbone for the pilot project. Kendrick also shared expertise of the already-proven HIE.
The pilot isn't the first time St. Vincent, Billings Clinic and RiverStone Health have collaborated. The three have been members of The Alliance since 1994, which seeks to create and sustain innovative programs that address communitywide health issues.
Focus on 3 initiatives
All three, together with BCBS of Montana, decided on three initiatives for the pilot:
Create a portal that would provide a patient's complete medical record to a physician at any of the three centers when the patient seeks medical care.
Identify high users of health care in the Billings community to help them find more effective ways to meet their health needs.
Collect data focused on five PCMH measures, including blood pressure control, diabetes control, tobacco screening and cessation/intervention, childhood immunizations and depression screenings.
The third initiative is tied to the Montana Patient-Centered Medical Home Act, which sunset at the end of 2017. It set up a model of care where patients were linked with a team of providers, led by a primary care physician, which would focus on keeping people healthy rather than caring for them only after they're sick.
Through the act, a council developed quality measures that providers and payers who wanted to qualify for the PCMH designation would have to meet. Providers who qualified would receive a higher payment from insurance companies and Medicaid to coordinate the care.
"Statistics from PCMH-oriented clinics prove the approach works to keep patients healthier and helps lower overall medical spending," a state auditor's report said.
The pilot project participants developed working groups to deal with different aspects of the behemoth project, Hinman said. Two main focuses included the regulatory side of an HIE, to meet HIPPA criteria, and the technical aspect of the project.
"Each organization needed to make sure it was protecting patient data," he said. "Patient privacy and patient data security are uppermost, and to make sure safeguards are in place takes some time."
Another challenge was having data from different systems flowing into one common system, the common system for the pilot being Verinovum. The technology vendor provided the infrastructure and software needed for the task.
Loading two years of historical data took a significant amount of time, as did verifying that the information in the system was all accurate. That required looking at each site's patient data and comparing it with the information in the HIE to make sure it was the same.
Of the three initiatives, the clinical teams have signed off on the report detailing heavy users of health care, also called super-utilizers, Hinman said.
In regard to the provider portal, "we've given access to a select group of people to do validation of the data and how it looks," he said.
Work is still being done to extract data for the PCMH quality measures. The goal is for everything to be up and running by the end of August.
Once all of the parties have signed off on the project, likely in September, the HIE will continue for the next year.
"That's where we do proof of concept, using it and making sure it's delivering what we expected it to, to see if this adds value for our patients," Hinman said. 
A statewide effort
The Billings pilot project could have a ripple effect across the state, said Branscum, CEO of the Montana Medical Association.
"To have (Billings' project) up and heading in the direction of having a local HIE, it's a proof of concept we can look at building on as we look at statewide."
The MMA got $50,000 from the Montana Health Care Foundation for a statewide HIE feasibility study. After the Governor's Council concluded its work in December 2017, Branscum said, a decision was made to proceed with work on the health information exchange.
From that, a new nonprofit health information organization called Big Sky Care Connect was formed. It now has 12 board members and is in the process of collecting applications for the 25-member governance board.
The group is working closely with the Montana Department of Public Health and Human Services to obtain funding to do a strategic business plan for a statewide HIE. A previous attempt at a statewide HIE in western Montana focused on hospitals.
Branscum would like to see that expand with this new effort.
"We're talking about hospitals, clinics, mental health providers, dentists, pharmacies, long-term care facilities," among others, she said.
Beyond that, other entities an HIE could connect with include vaccination registries and prescription drug registries.
Once a strategic business plan is in place, the group will seek money from CMS to implement an HIE. Money has been earmarked to help states with similar projects, and it is available through 2021, Branscum said.
The money could provide the resources to smaller, more rural health care centers, such as critical access hospitals, to become part of a statewide health information exchange.
"To do something on their own would be hugely expensive," she said.
Branscum spoke about a physician she knows who sees nursing home patients. When he wants to call up a patient profile online, he has to open up four different screens to get all the information he needs.
"He'll be able to push one button and see all the information through an HIE," she said. "He won't have to dig through all those different systems. At the end, the patient will have a better outcome."