When President Donald J. Trump said that Democrats and detractors in Congress who favored impeachment were engaged in a lynching, defenders rushed to support him, while others recoiled at the loaded word, imbued with racial and historical meaning.
A lynching, by definition, is mob killing, usually by hanging, without due process or justice. 
While the history of lynching in America often focuses on the racist killings in the South, Montana has a long, ignominious lynching past. 
A band of frustrated citizens, fed up with lawlessness, robbery and murder, allegedly sanctioned by Bannack Sheriff Henry Plummer, took the law into their own hands by hanging road agents in Virginia City in 1863 and 1864. Helena had its own group of vigilantes after that. And maybe much lesser known, but equally deadly, was a mob of ranchers and cowboys, led by pioneer Granville Stuart, known as "Stuart's Stranglers."
This vigilante band brought a type of law to the desolate eastern half of the state, and dispensed its own brand of justice against cattle and horse thieves, mainly. 
Montana's history of hanging and lynching is so expansive that author Tom Donovan needed two books — totaling more than 600 pages combined — to chronicle the legal and not-so-legal hangings around the Treasure State. His unofficial count tallies as many 164 illegal hangings, or lynchings.
Billings has seen at least three hangings. In 1899, the state executed William Brooks for murdering his wife in a fit of jealousy. In 1918, Juan Cuellae was also sentenced to the gallows. He had killed a peace officer in Billings. Montana law at the time required execution in the county where the crime happened, and Cuellae and Brooks were hanged in the county jail.
But Billings' first hanging was a true lynching in every sense of the word — so hurried and illegal that even the name of the man strung up on a telegraph pole is still unknown, and only referred to as "John Doe."
What started off as a drink of beer on a hot July day in 1891, ended with the deaths of two men — one, a bartender; the other, a transient.
A group of three men, fresh off the afternoon train, wandered into Joseph Clancy's tiny bar on Minnesota Avenue. They ordered a quart of beer and Clancy brought it to their table, setting three glasses on it. When he asked who would be paying for the beer, the man referred to in two newspapers only as "John Doe" told Clancy he sure didn't intend on paying for the drinks and knocked the glasses to the ground.
At that point accounts vary, but a beer keg mallet enters the story. It's unclear whether Clancy swung first, but the mystery man quickly gained control of the weapon and pounded Clancy, who was on the floor, in the back of the head. Consensus among the eyewitnesses was that Clancy died nearly instantly.
The rest of the bar stood still while Doe asked if there was any other patron who wanted a piece of him.
Several other transients in the bar wasted little time emptying the supply of liquor and cash. 
Not long after that, Doe ran out the back, but one of his companions, William Quinn, rushed for the counter where his gun had been stored after he entered. Quinn raced out the front door and managed to hold Doe at gunpoint. Doe was arrested and taken to jail.
Clancy had been a beloved barkeeper, and Dr. Henry Chapple tried to resuscitate him, but it was hopeless. Clancy had recently been bedridden for some time with an illness, and he was a widower with two young girls. He had to work to make a living.
As soon as word spread in Billings about the murder, angry citizens started talking. 
"Although there had been a growing sentiment of indignation and execration of the deed of blood by which Joe Clancy's life had been taken and his two little children doubly orphaned, the sheriff, although hearing rumors to that effect, did not anticipate any trouble that night, nor that a band of masked and determined avengers would demand the delivery into their tender mercies of the red handed murderer," The Billings Gazette reported. 
Yellowstone County Sheriff James Ramsey was sleeping when the crowd amassed outside the jail, at what The Billings Gazette called "the witching hour."
The group surrounded the block, and a growing number of spectators also joined, curious and awakened by the commotion. When a nearby dance broke up, another group added to the crowd, all watching what was going on, none stepping into help.
Ramsey told the crowd that he'd thrown the keys to the cell into a well.
"Strong in the belief that the Pauley cells and cages would successfully resist all attempts at battering them down with such means as a vigilance committee could bring to bear, and that daylight would intervene and save his prisoners, he denied having the keys," The Gazette and Billings Weekly Times reported.
After some back-and-forth conversations, Ramsey evacuated his family, and the mob took over the jail. 
Reports estimate it took the crowd between 90 minutes and two hours to finally break in and break down the jail cell. After taking charge of Doe, the mob marched toward the Northern Pacific railroad tracks. Instead of a tree, they had selected a telegraph pole. In the darkness with daylight not far behind, the second killing in less than a day took place in Billings.
For several hours the body swung from the pole. As soon as light broke, photographers came to commemorate the event. By then, the masked mob had given way to gawkers and onlookers, some of whom posed for posterity.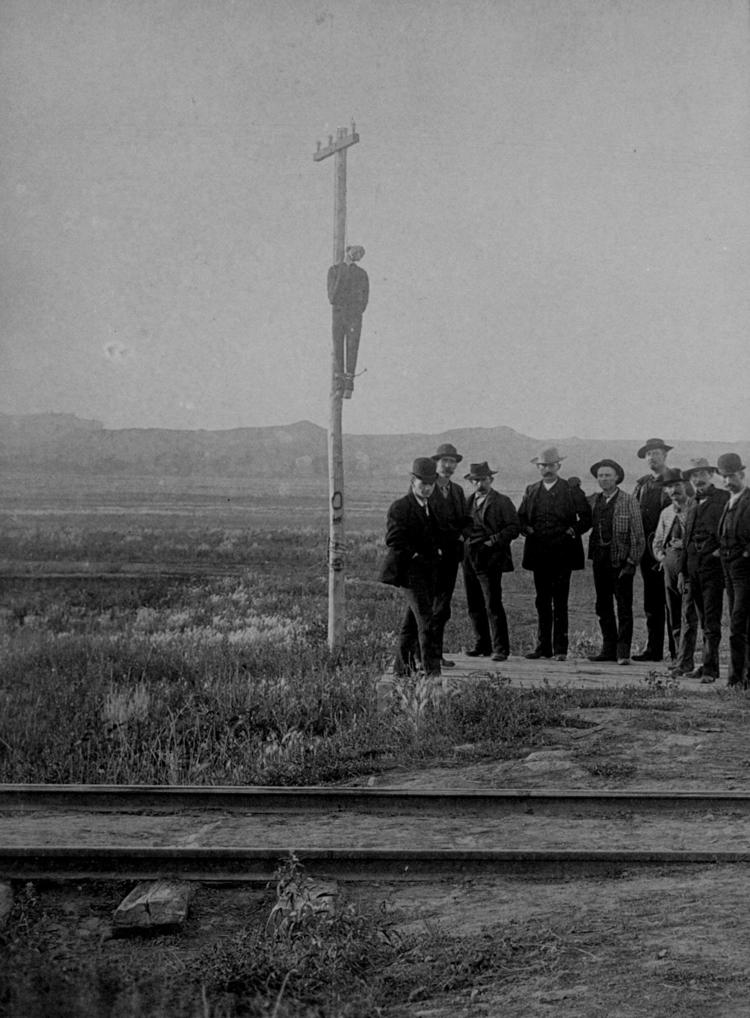 At 8 a.m., Chapple, the same man who had attended to the dying Clancy, ordered the body taken down for an inquest and burial.
The coroner's inquest held later that day ruled, "the deceased came to his death by hanging at the hands of party or parties unknown to the jury." 
The Gazette reported that no papers, identification, or money was on Doe that would have given a clue about his identity. 
"Some anguished heart may pine for knowledge of his fate, but it is better as it is," The Gazette said. "Whether or not he made a confession, told his name, made any ante mortem statement, or dying request cannot be learned; the actors in the last party which John Doe attended decline to make themselves known and refuse to be interviewed."
One traveling dignitary, a British general and later member of Parliament, H. Cecil Lowther, happened to be traveling through Billings at that time. He was hardly impressed by what he found.
In his autobiography, "From Pillar to Post," he described Billings and the lynching.
"A few nights before my arrival a tramp had ordered up a decanter and killed a bar-keeper who had refused to serve him without prepayment," Lowther began. "The murderer was locked up all right, but the local nobility and gentry had such a distrust of the machinery of the State that they went to the Sheriff and demanded that the culprit be handed to them."
Lowther said that a few days later, some of the men who had participated in the lynching went to the photographer who captured the moment, and told him to destroy the negative.
"For said they that it was a blemish to a rising town such as theirs," that a man should be hanged incorrectly. Lowther confirmed that the hangman's noose had been incorrectly tied, although still lethal.
Lowther left Billings and its rough reputation, saying, "Only fools or dangerous people carried guns in town, and one could visit saloons, gambling halls or other riotous resorts in complete safety if unarmed. Of course, one had to exercise discretion if nudged into discussions with inebriates; also, if the 'diplomatic tension' which precedes all action and hostilities became evident, it was best to decamp.
"To do otherwise was asking for trouble and for the inquisitive man stopped by a stray bullet, he had but himself to blame."
After Doe's body was removed from the telegraph pole, the tension didn't subside. Citizens were agitated, worried that a group of transients and petty criminals would demand revenge on the residents, leading to open warfare.
"Friday morning after the lynching of Clancy's murderer, the vagabonds, hobos and criminals that had counted themselves safe in harbor when Billings was reached, poured out from their hiding places like rats from a sinking ship," The Gazette reported.
The two other men who had been with Doe were released from jail and told to leave town immediately.
The newspapers reported that 28 of those who had fled had congregated near a railroad bridge across the Yellowstone River, outside the city limits.  The Gazette reported that an "army of hobos" had gathered, waiting to descend on the town at midnight.
In response, Ramsey gathered a posse. 
"After making a thorough patrol of the outskirts of the city and arranging for a night watch, the citizens retired to undisturbed slumber," The Gazette reported. "The city of Billings will harbor no more of the class of thugs, thieves and hobos during this year of grace, 1891."
Get local news delivered to your inbox!
Subscribe to our Daily Headlines newsletter.