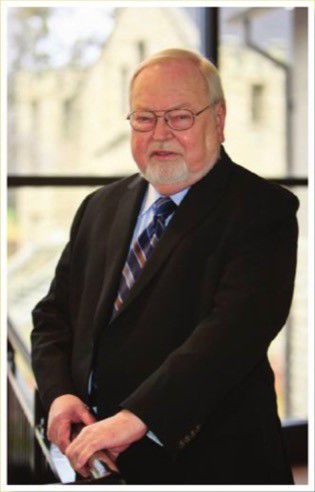 If something could be said in 10 words or fewer, Obert Undem would make sure to use 20. He was famous for using descriptive phrases and quips — dubbed "Obertisms". The always-growing list ended Saturday at about 97 "verified" and documented Obertisms.
The Billings philanthropist and Rocky Mountain College fixture died Saturday at his home in Billings. Undem was 85.
In Billings, Undem was known for his giving and thoughtful nature. Raised on a family ranch near Glendive, Undem went on to graduate from Harvard, became a banker and then lawyer before eventually settling in Billings and starting his philanthropic career.
He worked for more than 20 years as the director of planned giving at Rocky and as a founding member of the Billings Community Foundation. He also served on the board of the Montana Community Foundation and the Institute for Peace Studies and sat on the board of several arts foundations in Minneapolis. 
"He always looked out for others before himself. He used to talk about, well, he joked 'I did banking and lawyering, and now it's time for me to do something good,'" said his friend and former co-worker, Dan Burkhart.
Before returning to Montana, Undem worked as a banker in Minnesota for nearly two decades. He then moved to Arkansas, where he established a private practice law firm in Fayetteville. He was a lawyer for more than 20 years. In 1995 he took the job at Rocky, and worked there until this year.
Something that informed Undem's philanthropy was an early childhood experience, Burkhart said.
"Somebody helped him, and he wanted to help others in return," he said.
As a kid, Undem began mowing the lawn and shoveling sidewalks for a couple living near Glendive. The couple thought highly of Undem and decided to help him with his education. They paid his tuition for Carleton College in Northfield, Minnesota. Undem graduated in 1955.
The same couple later underwrote his attendance to Harvard Business School, where he graduated with a master's in banking and investment management in 1957.
"That (generosity) stuck with him, and he felt like at some point he wanted to give back," Burkhart said, "So other young people would have that opportunity."
He was honored by the Billings Community Foundation in 2010 in "recognition of almost 40 years of advocacy." The foundation named an endowment fund after Undem. At Rocky, he "raised millions to help students" by working to get endowments and scholarships for the school. Also in 2010 the school awarded Undem with an honorary doctorate. 
Dr. Larry Campodonico, a former chair of the RMC Board of Trustees, said that Undem was "instrumental in getting major donations for the college." Campodonico and Undem ate breakfast together every Saturday for more than 15 years, he said.
When asked if Campodonico had any favorite stories or memories of Undem he replied, "I have all sorts of memories of Obert, but not the sort you'd put in an article. .... He had a great sense of humor." 
Burkhart, a former media and publications director at Rocky, knew Undem for more than two decades and worked closely with him at the college.
Aside from his professional relationship, Burkhart has always more personally associated Undem with is his cooking.
"What I remember most was pies, especially his peach pie," Burkhart said. Undem was known for his gourmet cooking, so much so that his friends urged him to write his own book of recipes. He never quite did, but was always generous with sharing his recipes with friends, Burkhart said. 
Another close friend and co-worker, and president of the Billings Community Foundation Ralph Spence, said Undem's "Obertisms" will always ring through his head.
"He had fun little colorful ways of describing a situation that really kind of brought it to life," he said. "They have a country kind of flavor to them. It was kind of a work of art in the way he would express things and make it fun to listen to."
Once, when referring to a strong cup of coffee, Undem said, "It does have authority." On another occasion, he liked a tie because, "You can't tell if it's the design or something you ate for lunch." And, some sage advice was always welcome, including, "If you're going on a whaling expedition, go with somebody who's harpooned one before."  
Undem's Obertisms reflected his personality, Spence said; they were fun, just like him. And it only got more fun when Undem was with his wife, Ginny, Burkhart said.
"The two were inseparable," Burkhart said. 
Ginny Undem, 95, survives her husband, but she was not available to comment for this story. 
"Obert's door was open, and he always invited you in and had time to visit," Burkhart siad. "And he'd always ask if there was anything he could do to help." 
Get local news delivered to your inbox!
Subscribe to our Daily Headlines newsletter.