The black stone law enforcement memorial that has stood at the doors of the Billings Police Department downtown since 1992 is dedicated to Alexander Mavity, a detective who died in the line of duty 30 years ago Feb. 14.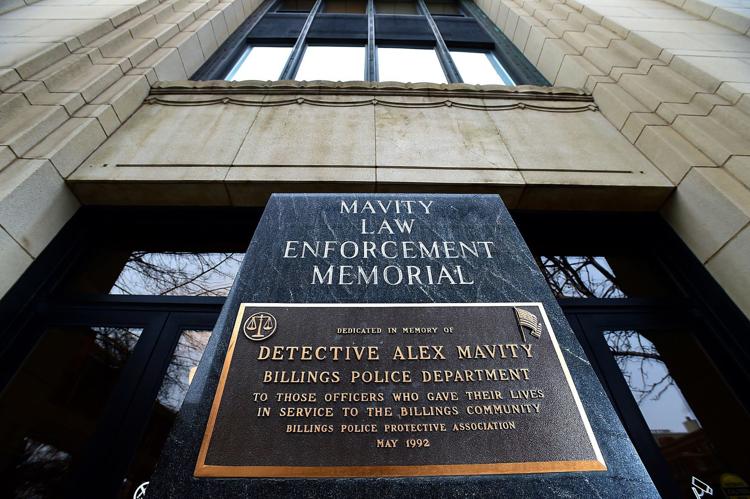 Recently another dedication was made to Mavity. The Yellowstone County Sheriff's Office presented BPD Chief Rich St. John with a metal sculpture of an American flag in the black, grey and blue colors of the "Thin Blue Line," a phrase and accompanying symbol referring to law enforcement's protection of the public from criminality.
The sculpture, which also bears Mavity's name and the words "Never Forgotten," was a gift from the nonprofit Montana Concerns of Police Survivors. The sculpture will hang at the Billings Police Department's training facility, St. John said.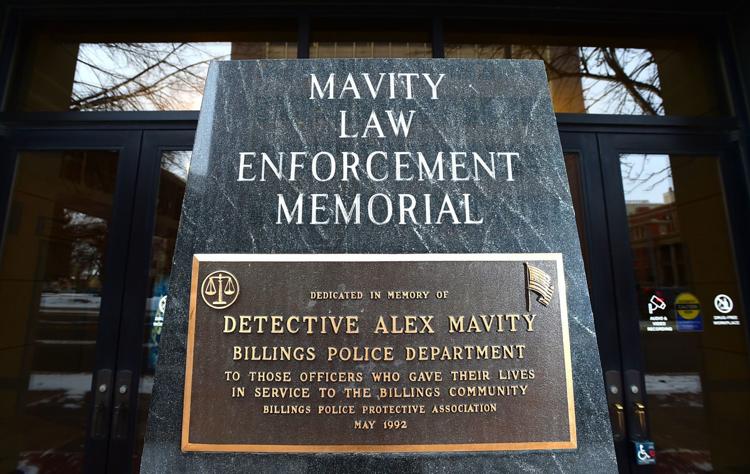 St. John says he is the only person who remains with the department from 1989, the year Mavity was killed. St. John and Mavity joined the department within months of each other, and both were detectives in 1989, St. John said.
Remembering Mavity is a way of respecting him, St. John said. It's also a reminder of the need for vigilance against the risks inherent to police work, he said.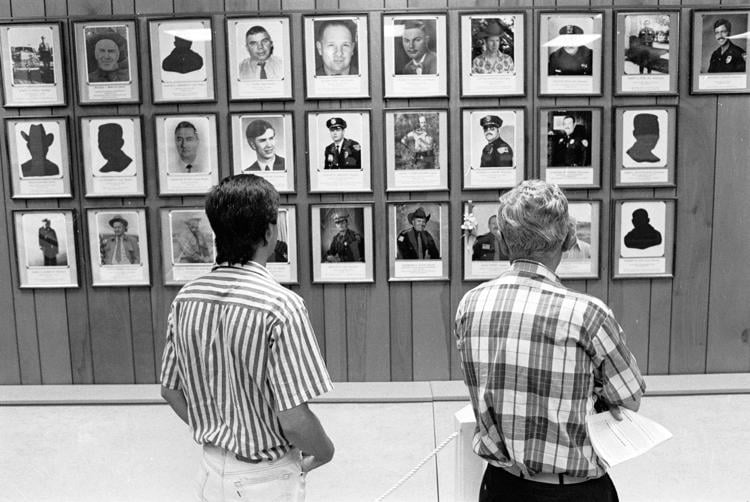 Technology and other safety measures have improved since 1989, but the chief said contemporary criminals, in many cases because of meth, behave with more aggression toward law enforcement. That further reinforces the need for police to look out for each other, the chief said.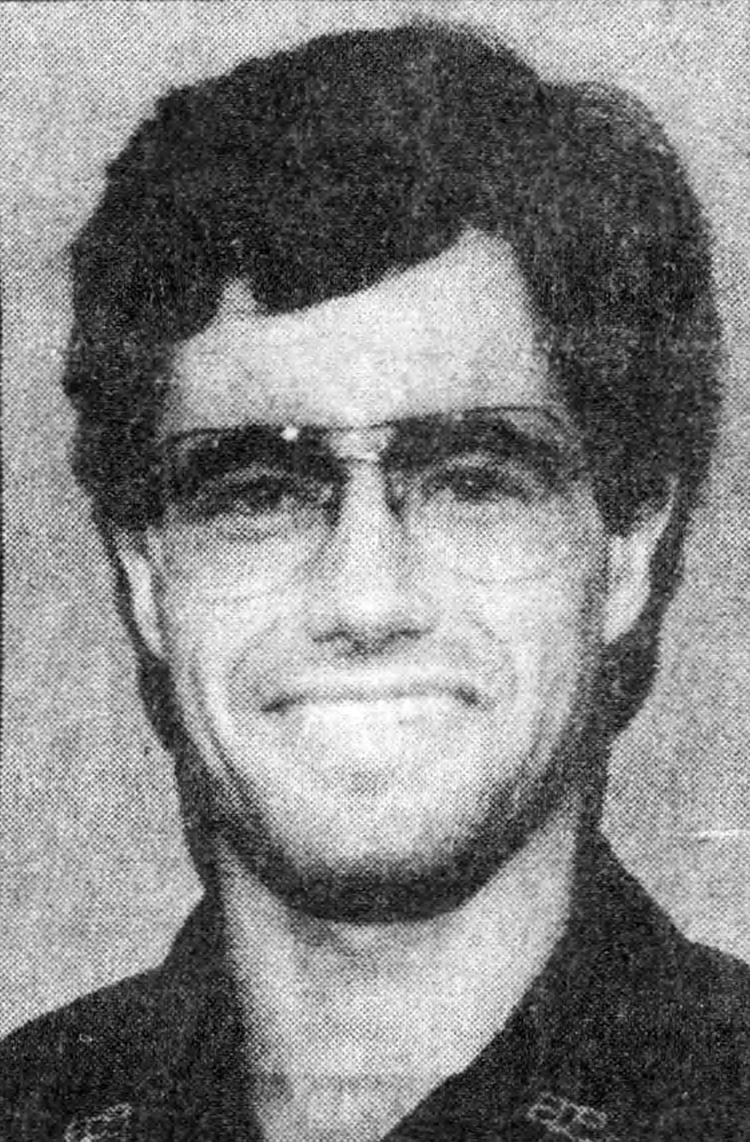 "We know that this is inherently a dangerous job and more so today than back in '89," St. John said. "We understand that it's inherently dangerous being law enforcement, but we want to make sure that people have got their priorities squared away, that they're attending to what's important."
The sculpture, a wreath and a picture of Mavity were on display Thursday at the downtown BPD office.
Mavity was a local graduate of Billings West High who endeared himself to people through his professionalism and personable demeanor.
But he wasn't always a police officer. As a teenager, he was one of the two Boy Scouts who carved a message into stone near the Rimrocks between the airport and Zimmerman Trail, according to a Billings Gazette story from 1977. The carving, "William Clark, 1805," was discovered four years later and fooled some into believing the markings were a remnant of Lewis and Clark's famous exploration of the west until Mavity fessed up later in a newspaper article.
You have free articles remaining.
Keep reading for FREE!
Enjoy more articles by signing up or logging in. No credit card required.
Early in his police career a reader wrote into the newspaper to praise Mavity's actions in saving the lives of two people asleep in a Minnesota Avenue building as a fire broke out. The Gazette reported Mavity was the first to arrive at a building where heat from flames had broken out the windows and smoke had begun to fill an adjacent building. Mavity was credited with breaking the lock on that adjacent building with a fire extinguisher and helping a couple asleep in a smoke-filled room escape.
"Who said our police force isn't a caring band of public servants?" wrote Helen Heath, the letter's author.
Mavity was a member of the SWAT team and rose to the rank of detective in the Billings Police Department, a law enforcement agency that in 1989 was smaller and dealing with a smaller city (approaching 81,000 in 1990, according to the U.S. Census Bureau).
Mavity died after he was shot by Ronnie Ducksworth, a theft suspect who jumped out of Mavity's moving police car downtown. The detective ran after him, and they struggled over his service weapon. Mavity was 28 years old and was survived by his wife and infant daughter.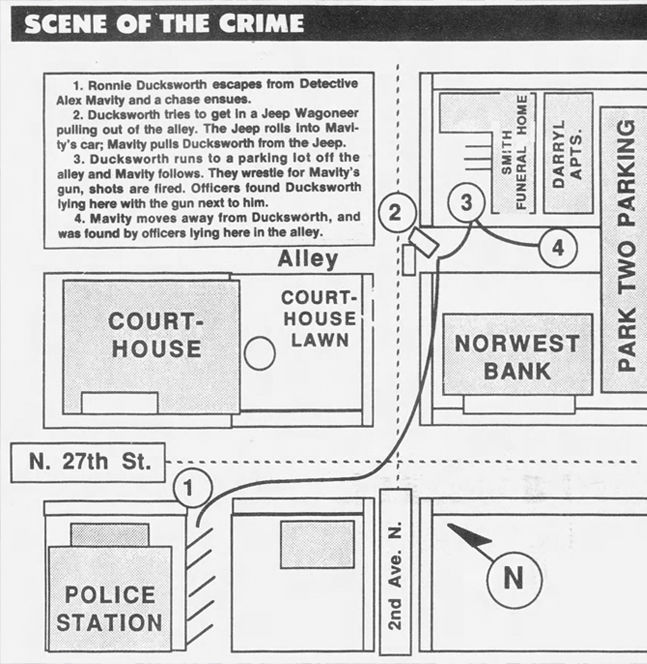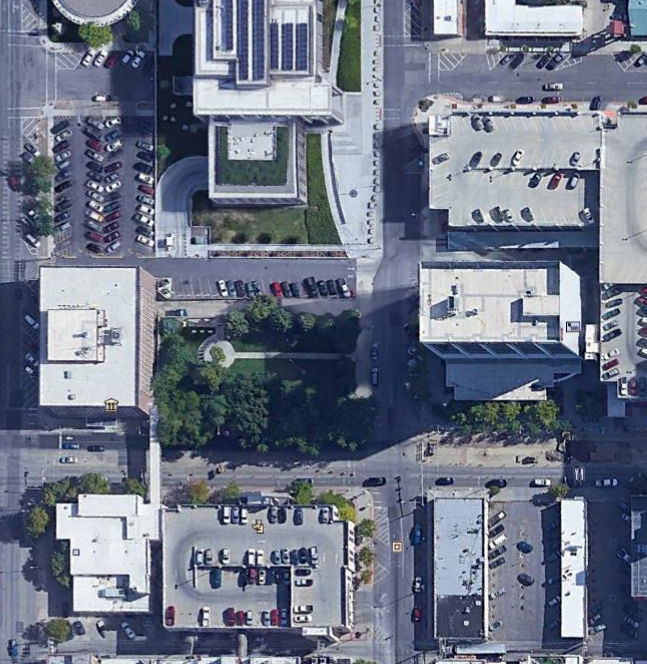 Ducksworth had come to Billings from Mississippi to play football for Rocky Mountain College but never enrolled. At one point during the fatal conflict Ducksworth had begun pulling someone out of a car and tried to use that person as a human shield, then-BPD Chief Gene Kiser said. Both Mavity and Ducksworth were fatally shot during the confrontation.
The Gazette reported 2,000 people filled the Shrine Auditorium for Mavity's funeral; among them were friends, family and about 600 of law enforcement officers representing 30 agencies.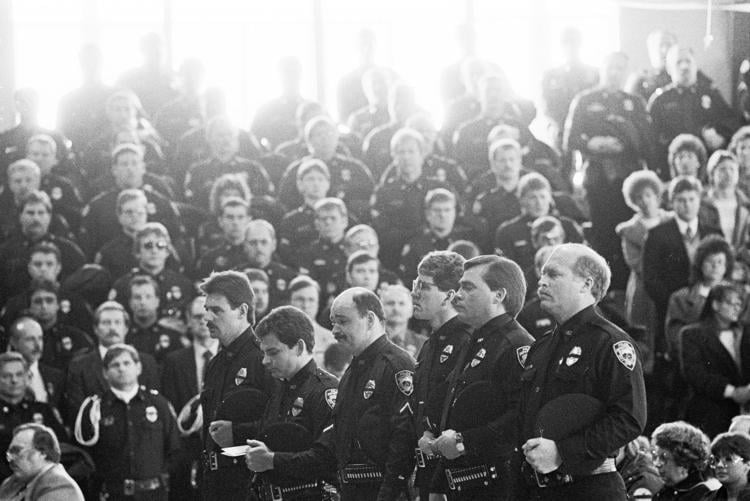 The Rev. William Burkhardt eulogized Mavity at the funeral, saying he was a motivated achiever with high moral standards who joined the police department to help people.
"Alex was one who could cross boundaries," Burkhardt told mourners. "He treated all with respect."
During the funeral procession to the cemetery afterward people lined the streets, some with their hands over their hearts or arms raised in salutes on a cold February day.
"This had profound impact on officers then, the community then, and still has impact on this department in many ways," St. John said of Mavity's death. "This was a wonderful, wonderful person."