In a Heights neighborhood behind Skyview High School, Dana Gamble-Lariviere's house and vehicles took a pounding — again.
They also got hit during the hailstorm less than two weeks ago on Aug. 11. Hail in that storm knocked holes in some of their siding, which they repaired with some extra pieces of siding they had.
This time the hail did more damage than they can repair.
Her car, her son's car, and the family's camper were also damaged in the earlier storm.
"Now, the camper and the vehicles are even worse," she said.
A storm that came through Billings Thursday night around 7 p.m. affected residents of Billings, Lockwood, Huntley, and Shepherd, according to Dan Borsum, a senior forecaster with the Billings National Weather Service.
The Billings Logan International Airport recorded 67 mph winds, and the largest hail that fell Thursday night grew to the size of a golf ball. Billings' Heights was hit the hardest with this size of hail, Borsum said.
"It was a thunderstorm that basically formed over the West End of Billings and tracked over the airport into the Heights before dissipating over Shepherd," Borsum said. "It never really made it over to Shepherd except for producing some winds."
The storm created record rainfall for the day, raining nearly an inch in 13 minutes.
"It was raining at a rate of almost 4 inches per hour," he said. "That's water coming out of the sky at an extremely quick rate."
Compared to the thunderstorm on Aug. 11, Thursday night's storm wasn't traceable until it came into the city, Borsum said. The storm on Aug. 11 was tracked for two hours before it hit Billings.
The storm was defined as a pulse thunderstorm that forms extremely quickly, having a smaller track and dissipating over a shorter time period.
"This storm did not exist really outside of the city limits before it started forming," Borsum said.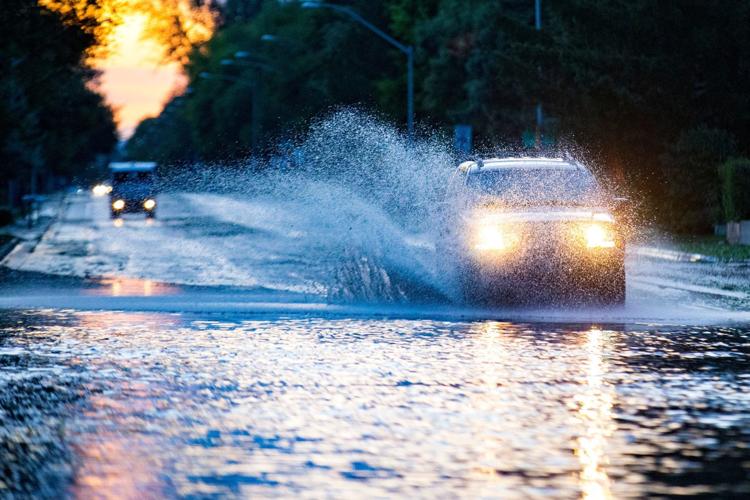 JoDee Black, a spokesperson for NorthWestern Energy, said that about 2,000 customers in Billings' Heights were without power after two power line poles broke during the storm. Crews were able to restore power to 600 customers around midnight, while the remaining customers saw their power come back on around 5:30 a.m Friday morning.
Black said that customers continued to experience power outages throughout the day on Friday but didn't know the cause. Customers in certain parts of Billings had outages at 10:30 a.m. while others on the West End suffered an outage at 11:30 a.m. The power was restored fairly quickly, Black said.
Crews were working all through the night.
"It was a long night for Billings," Black said. "We appreciate the public's patience. People were fantastic about calling in if their power was out and if they saw damaged poles."
You have free articles remaining.
Rhonda Kelim, insurance agent and owner of Jackson & Iverson Insurance, said that calls on insurance claims have been steady since Aug. 11. Different insurance companies approach hail damage to homes and cars differently, she said.
Some companies have a process in which the first hail damage claim doesn't count against the insured. The second claim would be rated, while the third would cause the company to evaluate the risk of insuring the home or car.
She said it's too soon to predict the effects on renewals or rates from the previous two storms.
"We had a lot of people who had a hail claim on their auto, and the vehicle wasn't totaled out and this second storm is totaling that vehicle out," Kelim said. "So we have to call back the adjusters and have them do a re-inspection. It's a lengthy process."
She anticipates that rates will increase, however.
Kelim said that residents should call their insurance company and set up a claim with an assigned claim number and adjuster. Homeowners should also take photos of damage before repairs or cleaning up.
"In a case like this, it's called a catastrophe storm, and they bring people into the city, so they've got teams in place. They're doing a wonderful job," she said. "They're working 10 to 12 hours a day to try to get people in as soon as they can."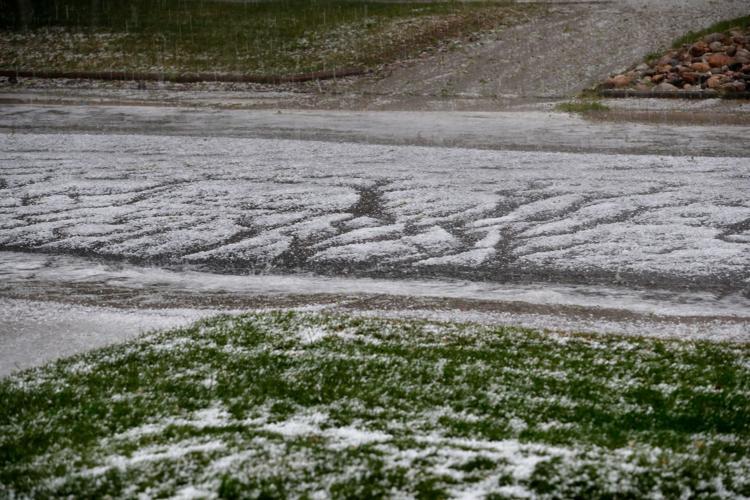 Shelly Harris, president of the Billings Association of Realtors, said that hailstorms can largely affect a home that is on the market.
The real estate company she works for, 406 Realty Group, LLC was aiming to close the sale of four houses last week. Of those four, three received damage from the Aug. 11 storm. Two of them were able to sell while one of them was not.
When a storm hits while a closing deal is in the works, claims should be processed in time for the buyer to close on the house. Having the repairs done before the sale is finalized isn't always possible, Harris said.
Banks or title companies can hold back one-and-a-half times the costs in damage from the seller's bid amount when insurance companies don't have the resources to make repairs before closing.
For example, if a house receives $10,000 worth of damage, the bank or title company would hold $15,000 from the seller at closing to pay contractors for repairs. The rest is usually refunded back to the seller.
"It can put the brakes on a transaction really fast until work can get done," she said.
Billings' parks were also hit hard by Thursday's storm. The trees at Castle Rock Park were bare, said Mike Pigg, superintendent of parks for Billings Parks and Recreation. Others, like Hawthorne Park, Edgerton Park, Frances Park, and Walsh Park received similar damage.
A large spruce tree fell over in Pioneer Park, he said, but did not damage any structures nearby. Tree debris dammed the creek that flows through the park, causing it to flood on the south side.
On Friday, all parks and recreation staff were out removing items that created a safety hazard. They were still cleaning up from the Aug. 11 storm, Pigg said.
"We basically just worked today to make the parks safe for people who want to go to the parks this weekend," Pigg said. "We will start the big clean-up of actually removing the branches and running them through our chipper and removing the spruce tree that fell over sometime next week. We should be done with our debris clean-up by the end of next week."