Scott Sheets of Frontier Tree and Pest Control uses two handheld blowers to clear snow from the sidewalk around an apartment building at 13th Street West and Princeton Avenue on Wednesday.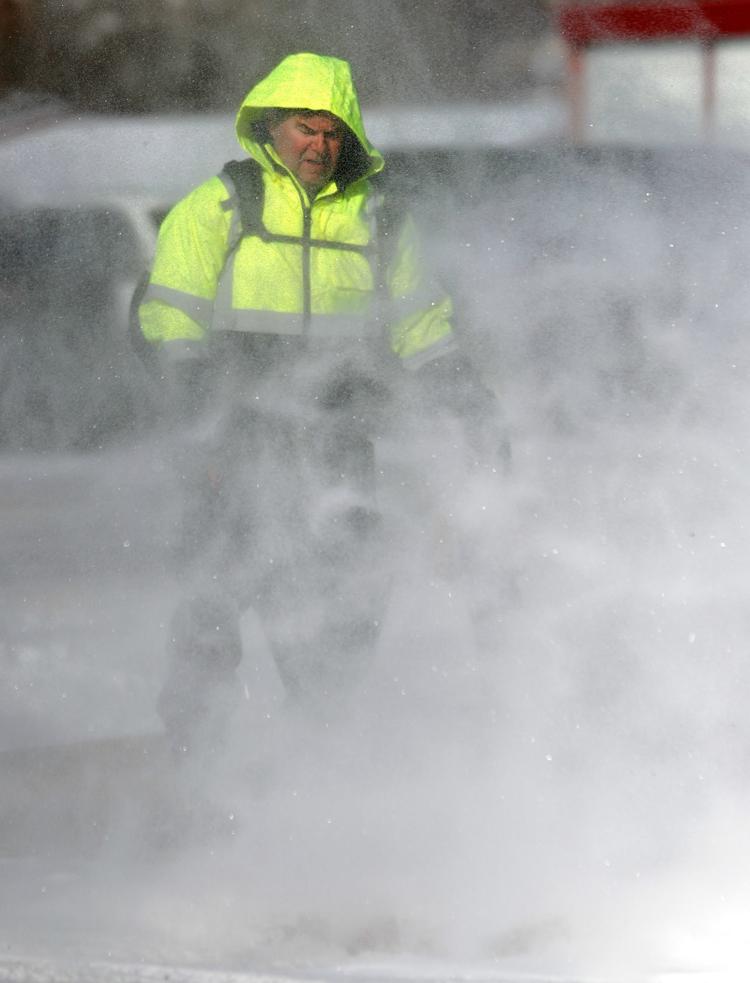 The United States Postal Service sent mailers this week reminding area residents to keep paths to mailboxes clear of snow and ice.
Postal Service employees will make "every reasonable, safe attempt to deliver mail," during and after a storm, according to the Postal Service's website.
"Carriers are not required to deliver to locations where safety issues — such as icy steps, snow-packed paths or icy overhangs — create perilous conditions," according to the site.
Keeps porches, steps and sidewalks clear. Painted porches can be slippery and especially hazardous.
Remove snow from around curbside mailboxes to help make delivery more efficient.
Contact your local post office if your home delivery is suspended to learn how you can eliminate the hazard and resume delivery.
Any injuries to letter carriers may result in liabilities to the homeowner, USPS also notes on its site. "Slips, trips and falls are the leading cause of accidents among letter carriers, according to the site.
In Billings, snow removal is the property's owner's responsibility, according to City Code.
Any pedestrians who encounter an unsafe walkway can file a complaint with the Code Enforcement Division by calling the Code Enforcement Clerk at 237-6146 or visiting the city's website.
Before filing a complaint, the city encourages people first to check with neighbors or property owners and offer assistance if they are unable to shovel their walk.
"Oftentimes there are health or age-related reasons why people are unable to clear their sidewalks right away," according to the city's website.