David Sanderson was born and raised in Billings but has the heart of a Scot.
He learned how to play the bagpipes in 1957 at 15 years old from a Scottish coal miner who hadn't played the instrument in 30 years.
Throughout high school, Sanderson mastered the pipes and started learning the Scottish Gaelic language. He's still learning after 62 years.
His ancestors came over to the Americas from Scotland in the 1660s. A friend he went to high school with made him realize the beauty of the instrument and encouraged him to explore his ancestry. He's the only one in his family who knows how to play the pipes.
"My feeling about it is, somebody maybe in Scotland, or Britain, that was one of my ancestors, probably played the pipes," Sanderson said. "Because I think it's kind of a hereditary thing. It's just kind of passed down and eventually somebody in the family will take them up."
Sanderson and others on Saturday reminisced over memories of high school during a class reunion that celebrated the entire decade of students who graduated in the 1960s from Billings West High School, Billings Senior High School, and Billings Central Catholic High School. The event took place at Urbaska Field.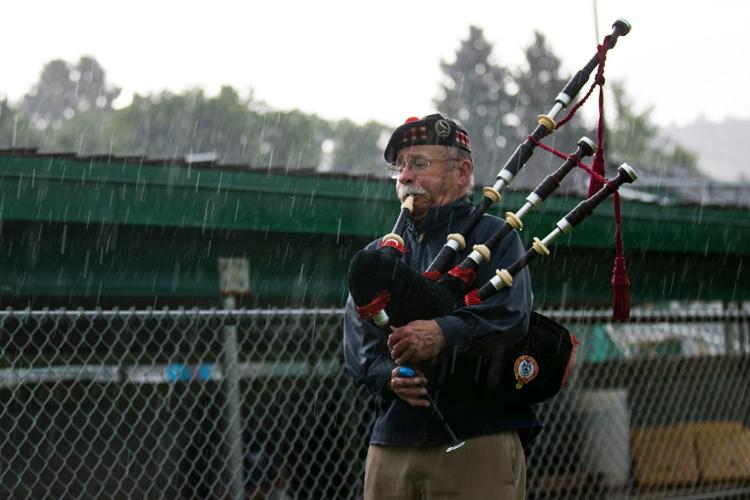 Sanderson graduated from Senior High School in 1962, attended Rocky Mountain College, and was drafted in the U.S. Army during the Vietnam War. He continued to learn more about his heritage, and later on, played in the Billings Caledonian Pipes and Drums group. He plans to retire from the group in September.
"Anymore, I'm just going to go back to solo piping and maybe demonstrate a few different types of piping," he said.
High school sweethearts
When Bob Sporrer was a teenager, he saw his future wife, Sally, at a dance at the Shrine Auditorium in 1965. His knees were weak.
After talking to a few peers, he found out she was his classmate.
"On Oct. 9, 1964, we spoke for the first time and that was our first date," Bob Sporrer said.
The Sporrers, who graduated from Billings West in 1965 and 1967, have been friends with couples Jim and Rhonda Allison and Cathy and Mike Glennon for 50 years.
They try to visit each other five to six times a year, even when they live across the country from one another.
Jim and Rhonda Allison graduated from West High School in 1966 and 1967 and live in Arizona, while Cathy and Mike Glennon, who graduated from Central High School in 1966, live in Billings. The Sporrers find time to fly from San Diego to meet with good friends.
They go camping, fishing, and vacationing together. Their grandchildren are even good friends.
"We reminisce about the same stories year after year, and we laugh just as hard," Sally Sporrer said.
Longing for adventure
Larry Larsen graduated from Senior High School in 1960 and longed to get out of the land-locked state.
He studied sculpture and attended colleges in Bozeman, France, and Italy.
He traveled through Europe and Africa, hitchhiking through France, Yugoslavia, Greece, Syria, Egypt, and other countries over the course of 15 years. He speaks French and Italian.
He collected African art, bought a farm in Italy and helped build low-cost housing and the Kennedy Bridge, named after former U.S. President John F. Kennedy, over the Niger River.
"I wanted to have some adventures in my life," Larsen said.