Kids in Riverside Middle School's ReACT club have strong thoughts about the vaping industry. As one might expect of a club focused on healthy choices, they're not positive. 
But things become a lot more complicated when they talk about their peers. 
The Riverside ReACT kids know about the health consequences of vaping — that nicotine can scramble teenage brains, the outbreak of severe vaping-related lung illness, the uncertainty about substances in vaping liquids. They're convinced that it's a bad idea. 
They hope that could also convince a hypothetical friend that took up vaping, but they know that sometimes facts aren't the most important thing. 
"I would ask them what they're going through," said eighth-grader Laila Robison.
She reckons that peer pressure or a rough time at home would have just as much to do with the hypothetical's friend choice than anything else. She's not wrong. 
Experts point to several reasons that vaping appeals to kids — candy-type flavors, marketing, an incorrect belief that it's not unhealthy — but there's still the tropes with deep roots in the tobacco industry. 
"Every single class said the same thing: because they think it's cool, or because their friends are doing it, or peer pressure," said Robert Miller, a school resource officer at Ben Steele and Will James middle schools.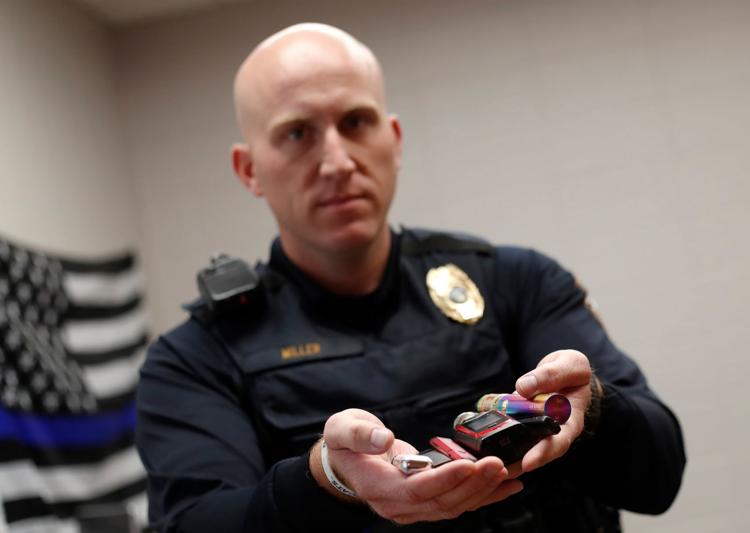 It's hard for education about health risks to sink in with kids, said Tiffany Parish, a Riverside counselor who oversees the ReACT club. 
"I think that kids feel like they're invincible. They feel like these issues aren't going to happen to them," she said. 
You have free articles remaining.
Keep reading for FREE!
Enjoy more articles by signing up or logging in. No credit card required.
Some of the ReACT kids have a different perspective, she said. They've seen health consequences of substance use in their lives.
But there's some social awkwardness about approaching a friend, or any kid, who is vaping — and it's almost always vaping these days, the kids said. Some feel caught between a hammer and nail, wanting to help a friend but not get them in trouble.
Miller said he most often hears from students about a friend vaping not because they want the friend busted, but because they're worried.   
"I think there's a lot of anxiety with that," Parish said. "That's stressful."
But the ReACT clubs themselves represent a recognition that information from kids can be more effective than from adults. The statewide group got off the ground in Billings middle schools with help from RiverStone Health. 
"The goal is to frame tobacco prevention as an acceptable, even somewhat 'cool' activity," according to the state ReACT website. 
Educators in several schools acknowledged the idea is a challenge to make reality. But Riverside principal Kevin Kirkman said the school's club is at a high water mark this year with up to 30 members. 
And at least some of them realize that their voice could be powerful. 
"If Mrs. Parish told a sixth-grader advice, and then I told a sixth-grader advice, they would more likely listen to me," said eighth-grader Jocelyn Stanley. "We've just gone through stuff like that."
Or, as Robison put it, "it's just easier to open up."